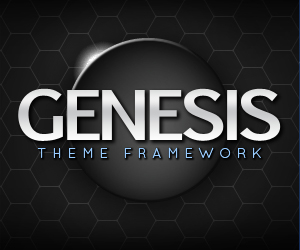 Choose studio press Genesis WordPress Theme framework and use the studiopress discount code to save money.Buy the theme now when the price is low.Join the pro-plus member and download all future studiopress themes and genesis child theme FREE!
The theme framework which is a theme built in such a way as to give users a tool with which they can build new themes quickly and easily, taking advantage of an extensive library of extensible functionality, by using a "Child Theme".The studiopress genesis theme is a great theme framework which is good both for newbies and advanced wordpress users.
If you are new to wordpress, and these words may sounds like a foreign language to you, think it in this way: The WordPress Theme Framework is the engine, and the Child Theme is the paint job. Check out the graphic to the right for a visual. Obviously, WordPress does all the CMS stuff, but on top of WordPress, plugins add extra functionality to your installation. Have you understand the theme framework already?
Studio Press Genesis Theme gives you a lot of additional options, more than most themes. Then, on top of it all, your Child Theme takes WordPress, your plugins, and Genesis, and using a style that makes it look pretty, outputs an optimized HTML document to your site's visitors.
Studiopress Genesis Theme Framework Review
The Price
The price of studio press genesis theme is also $59.95, and the child themes are $24.95, if you buy the genesis theme framework and a child theme, that is $79.95. The price of studiopress Pro Plus All-Theme Package is $199.95 now, and the price of pro plus package will be increasing to $249.95. If you are a member of this package, you can download all studiopress themes free including genesis theme, and all child theme, including the future themes. Join now!
Genesis Discount Code
Use BH10 to get 10% on this theme, and you can get 10% off on genesis theme and the child theme
The Code
Most of the muscle that powers Genesis is located in the theme's /lib/ folder. This contains things like the code that runs the Theme Settings, SEO, custom widgets, a "LOAD" of custom functions, and various CSS and Javascript.
The Settings
We think we've struck a nice balance of "enough, but not too many" features. Tweak your navigation menu options, turn comments on or off, paste in your analytics code, and for all this, you never have to edit code. We do the hard work, and you check or uncheck an option. You win.
The Markup
We worked tirelessly with Genesis to ensure an optimal markup structure output. Proper tag wrapping, order of content, microformats, semantic id and class names … and on top of all that, no matter what Child Theme you use, your markup never changes. Think about that … you can now change your design WITHOUT changing your markup!
The Widgets
Our pride and joy! We think what makes Genesis the bell of the ball are all the custom widgets we've built just for Genesis users. Twitter, eNews and Updates, Page and Category Navigation, and our personal favorites, the Genesis Featured Post and Featured Page widgets. You're gonna love them!
Powerful Hooks
What really makes Genesis a powerful framework is the extensive use of action and filter hooks. Put plainly, hooks give Genesis the ability to become anything you want it to be. Want to insert some code in a particular location in a template file? Don't edit the file … use a hook! It's just as easy, and it keeps the core Genesis code intact.
The Genesis Child Themes
What's that? You say you want sexy designs and loads of choice? We got you covered. Genesis allows us to rapidly develop new themes … sexy themes that you'll drool over … and get this, they're dirt cheap too. If you own Genesis, a child theme only costs you $25 bucks. Pro-Plus customer? You get Genesis and all the Child themes we ever make FOR FREE! Honestly, can you beat that?
Easy Upgrades
Because you'll be making your modifications via a Child Theme, this means that upgrades become precisely-100% easier
. Seriously, when we release Genesis 1.1, you can feel confident in deleting 1.0 and installing 1.1, knowing that all of your modifications are safely snuggled up within your child theme, safe from your delete button. Bug fixes, security updates, and new features … you get to enjoy them all, FOR LIFE, without having to worry about screwing up your mods. Can I get a witness?!
The Marketplace
Let's say you're a slick designer. We want to take your design and turn it into a child theme, sell it in the upcoming StudioPress Marketplace, and share the money with you. Yep, you read that right. Not only will your designs be featured on StudioPress, but every single person who has Genesis installed on their WordPress site has the Marketplace in their dashboard too. You get massive exposure AND you get paid for your work. What more could you want? Read more about the Marketplace here.
The Support
Let's say there's something about Genesis or a Child Theme that you just don't get. Where can you go for help? The Genesis community is here to help. And just to put that in perspective, before Genesis 1.0 was even released, we had well over 1,000 posts in the Genesis community forum. Believe me, you'll get the help you need from one of the strongest and most vibrant WordPress Theme communities in the world. I'd put the StudioPress community up against any other … they are the shizzle.
The Future
Because you now have access to Genesis updates, the future is bright. No more fooling around with upgrades; no more frustration over bugs that never get fixed; no more being stuck with outdated features. With Genesis, you get it all.
Download Studio Press Genesis theme framework now!
If you do now like this framework, you can try ohter two popular theme framework, the Headway theme (headway theme coupon code) and the DIYtheme -Thesis theme
Keywords:Genesis theme download, download studiopress Genesis,studiopress Genesis rapidshare,Genesis torrent,studiopress Genesis free download,studiopress discount coupon code
You can use studiopress genesis coupon code to get 25% off.