Download the woothemes latest new premium wordpress theme now: Biznizz. Built on our winning formula, Biznizz will give your website a fresh new look. It's integrated slider and custom homepage layout, in addition to the optional portfolio page template, makes Biznizz a great candidate for your next business website. The theme includes 10 alternative color styles which you can preview in the demo, and also has styling options for background color/image and setting link and button color. Google love new fresh codes, this unique layout will help rank better than others. This is really a good wordpress cms theme for business websites.
In 2011, you can expect a handful more releases like Biznizz purely because our business themes are our most popular, and as a result we'll make sure to give you as many, amazingly designed options as possible. The feature sets for business themes are pretty standard, and instead we'll focus on spicing up the design and then including the odd new, perhaps niche feature.
A custom home page featured area to showcase your work or products with style, all powered by jQuery. Optional slider pagination gives your visitors easy overview.
Woothemes CMS WordPress Theme: Biznizz
Biznizz' Beautiful Homepage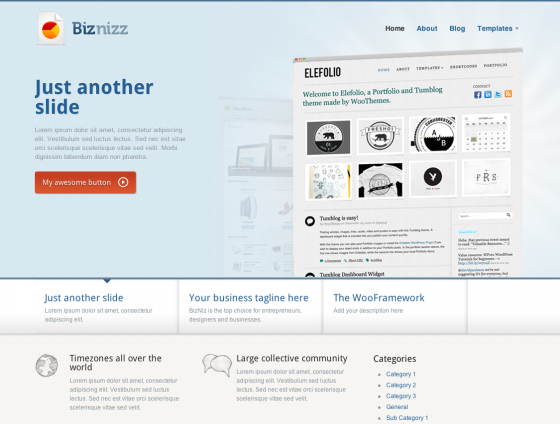 Demo / Download
The theme has a widgetized sidebar and footer, and as always comes with custom Woo Widgets (Ad Space, Blog Author, WooTabs, Subscribe, Feedback, Search, Flickr and Twitter).
So let's have a look at Biznizz' design, the beauty of which is most focused on the custom homepage. The homepage showcases probably the biggest featured slider we've ever developed (or included in a theme), but we figured that with the right graphics, your visitors / customers will be completely unable to ignore your marketing messages (in a very Jedi mind trick kinda way). Further down you'll see the same kind of mini features – icon / symbol along with some copy – that have been very popular and is also very prominent on our homepage. In addition to this, there's enough space to have a biggish section for your blog posts, as well as a widgetized sidebar to do just as you please (and with our Sidebar Manager you'll have even more control).
The theme takes full advantage of the new custom post types functionality than came with WordPress 3.0, so adding slides, mini-features and portfolio posts is dead easy!You can customize the typography in the theme to suit, and there is full support for Google Fonts in the font selector.
For the inner pages, you'll find that everything pretty much adheres to what we consider to be best practice and you'll even find that most of those layouts are modeled in a very similar way to how our own website looks. Which brings us to another point…
Just Like WooThemes
We get so many e-mails asking whether the design we are using on our own website is perhaps available as a theme. The answer has always been "no" for two reasons:
We prefer to be unique in the exact same way that we recommend to all our users that they modify our themes to suit their own brand / identity.
There's too much custom design & development work that has gone into the theme and it would thus never work for as a generic theme for thousands of users; and
But that doesn't mean we can't release a theme that is at least close to our own design. In the past, we had a handful of options that you could consider if you wanted a design that closely resembles our own: Inspire, Optimize & Coffee Break. When we were however working on Biznizz, we realized that we might have subconsciously stumbled onto something here…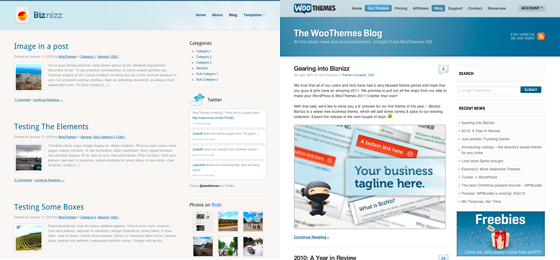 Side-by-side comparison of the Biznizz & WooThemes.com blog pages.
Custom home page layout with Mini-features area, and option to insert any page above/below mini-features area.An optional integrated portfolio section driven by custom post types, which utilizies jQuery prettyPhoto script to display your work in a lightbox. You can find a lot cool business wordpress themes here.
Biznizz – as mentioned above – is incredibly similar in layout & flow to our own site and we think that if you wanted to replicate what we were doing on here, Biznizz would be a great option for you. We're not suggesting copying us (or anyone else), but a winning recipe stays a winning recipe…
Price
Standard: $70
Developer: $150
WooThemes Club Membership: $15 – $20 per month
You can use woothemes coupon code to save. Because of all of the woo themes discount codes are limited time offers, so make sure you get the valid ones.