Here is a new portfolio WordPress theme deFolio from themeshift. This brand new wordpress portfolio theme comes packed with custom post types, WordPress 3 goodness, jQuery, shortcodes and much more. If you are looking for a stylish new unique portfolio wordpress layout for your project, this theme is a good one.
Premium wordpress theme for portfolio websites: deFolio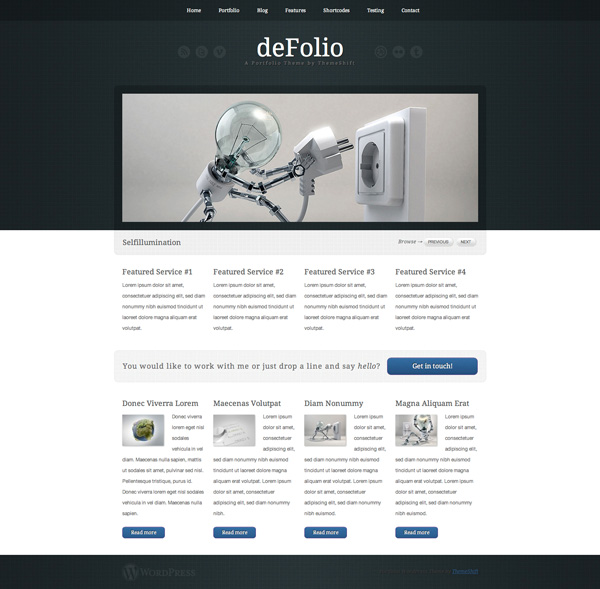 Demo / Download
Creating this portfolio wordpress theme has been a lot work because it is so complex and flexible. Apart from the jQuery image sliders, that can display recent posts or portfolio items or image-only galleries, the deFolio home page is a huge widget area that can be personalized with a set of custom widgets. You control where the sidebar appears and what size the post thumbnails have (in general or post by post). Even the width of the post boxes are in your hands without touching any code.
A useful set of WordPress shortcodes let you organize and format your content with ease. The outcome will be more than professional. If you do not like this theme, how about the studiopress' latest new premium portfolio wordpress theme: Crystal Theme? And if you do not like use premium wordpress themes, here are some quality free portfolio wordpress themes for you to choose from.
Features:
jQuery Image Slider
The jQuery image slider allows you to professionally showcase your featured content as an eye catcher on the home page and on portfolio pages. You have full control over content, effects and more.
Custom Post Type
deFolio comes with a custom post type for portfolio items to easily manage and showcase your work. Custom taxonomies like categories and skills help you organize your portfolio.
Custom Background (WordPress 3.0)
Another useful feature of the newest WordPress release is the custom background option. You can easily change the entire look & feel of your deFolio theme with your custom background image ? see example.
Custom Menu (WordPress 3.0)
As a matter of course deFolio supports one of the most important new features of WordPress 3.0 – the custom menus. Create your menu in seconds via drag & drop without touching any code.
Advanced Custom Widgets
deFolio comes with several custom widgets for home page and sidebar. The sidebar is a nested widget area. Create a general sidebar and a different one for the home page, category pages, single posts and static pages.
Shortcodes
The theme also comes with a bunch of comprehensive shortcodes to create buttons in different sizes and colors or with icons, info boxes with or without icons, icon links and horizontal rules.
Theme Options Page
The comprehensive ThemeShift theme options panel lets you make the basic theme settings within minutes. Upload your logo, control the content on your website without touching any code.
Layout Options
deFolio comes with many different options for a custom widgetized home page, home and/or archive pages with or without sidebar, post thumbnail sizes, different post box widths and more.
Find good free wordpress themes is not easy these days, but find professional paid wordpress themes are easy, just as you know that a good design need A LOT TIME. You can find a lot quality premium wordpress themes on the right sidebar, these are good wordpress theme companies that provide professional themes for your business.
Price:
39€
Demo / Download

There are no valid themeshift discount coupon code at present, I will update the themeshift coupon code as I get new promo codes.