WordPress is an award-winning CMS, which enables you to build Blogs, Web sites and powerful online applications. As you know that more and more people use WordPress these days, even the mySpace users have moved to WordPress. Many aspects, including its ease-of-use and extensibility, have made WordPress the most popular blog software available. And there are tons of WordPress themes and plugins for us to choose from!
In this best free wordpress themes collection, you'll find more than 60 high-quality, fresh, excellent, free WordPress themes for this year! This is not the traditional long list with all the available WordPress themes on the internet but its an refined collection of Best handpicked free WordPress themes which was created with the online professional in mind as we also know that Personal blogs reflects the identity of each of us on the Internet.
Shaken and Stirred Theme [Demo]
"Shaken Grid" uses the jQuery Masonry plugin which "arranges elements vertically then horizontally according to a grid." The result is a gap-less layout even if you have varying post heights.
Free WordPress Theme Functionalism [Demo]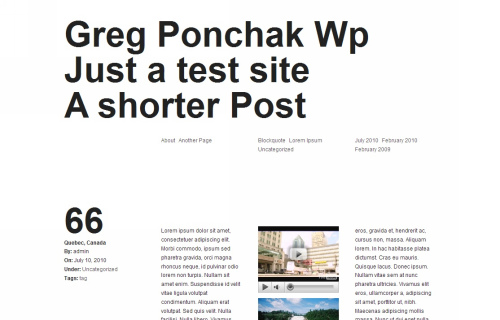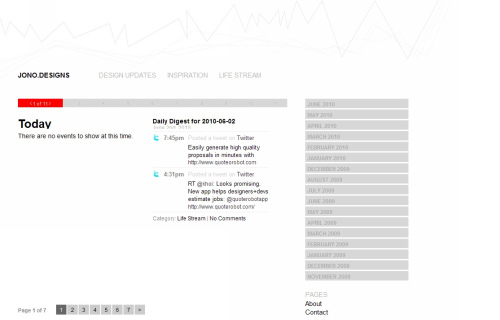 Modernist [Demo]
The theme is based on the design ideas of Jan Tschichold, Josef Müller-Brockmann, Dieter Rams, and other modernists.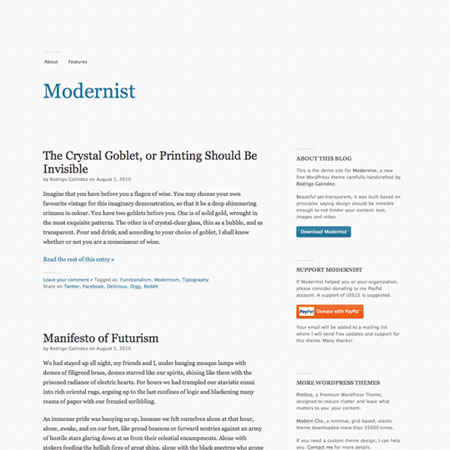 Best Free WordPress Theme:Titan Theme [Demo]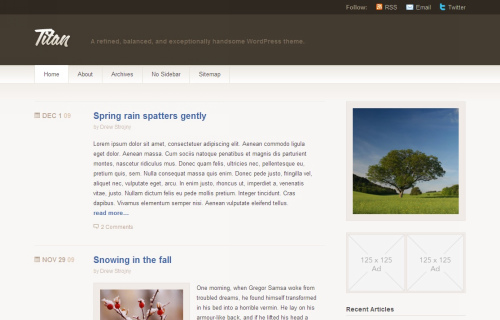 FolioGrid [Demo]
This theme contains a fluid grid-based layout, jQuery-based transitions and automatically resizing thumbnails.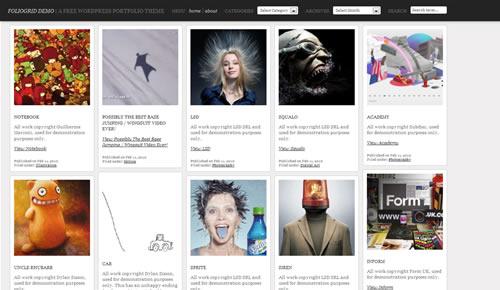 The Columnist
The Columnist WordPress theme is inspired by traditional newspaper layouts and the grid structures and typography techniques they employ.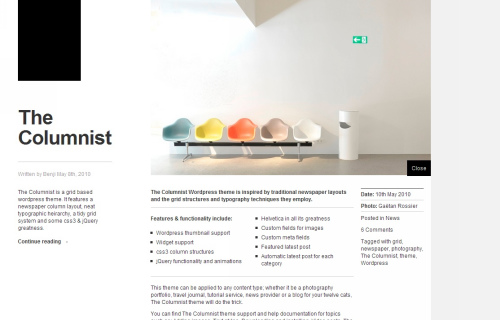 The Structure Theme the link was removed because the pricing was changed after the article was published, [Demo]
The Structure Theme is a free WordPress theme with a modern minimalist design.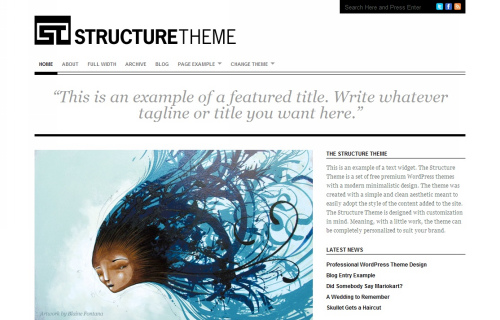 WordPress Free ThemeMaimpok [Demo]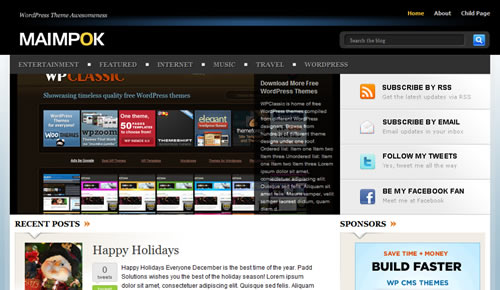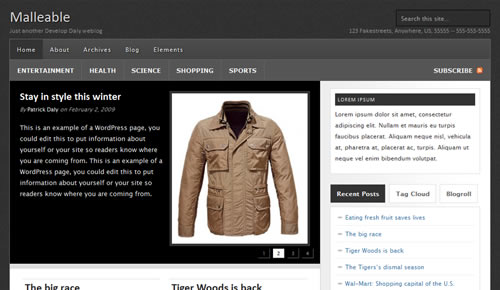 Selecta [Demo]
WordPress 3.0+ compatible
Selecta's rounded edges and bold, modern color palettes make for a fresh theme that's best suited to blogs where video will be the main focus.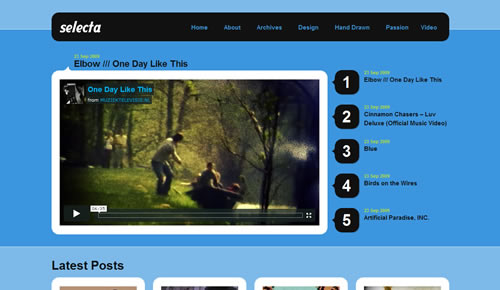 Free WordPress ThemeWork-a-holic [Demo]
Work-a-holic is a free two and three column WordPress theme that focuses mainly on showcasing portfolios for artists, web designers, photographers and illustrators.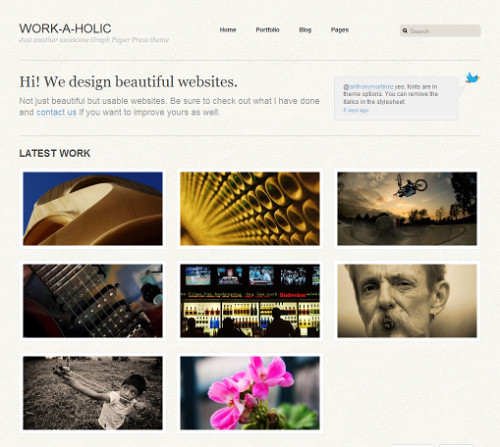 Neutra [Demo]
Neutra is a simple and elegant theme for WordPress. Grid-based with focus on simplicity and typography.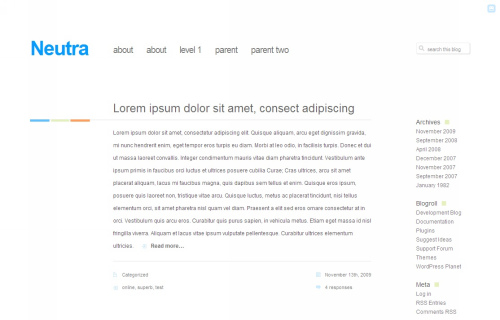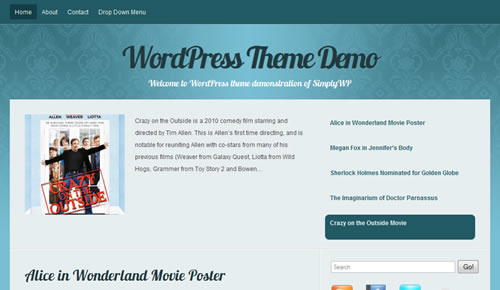 Free WordPress Themes: Obscure [Demo]
A dark magazine wordpress theme suitable for any site nitche and best fit for community-based sites.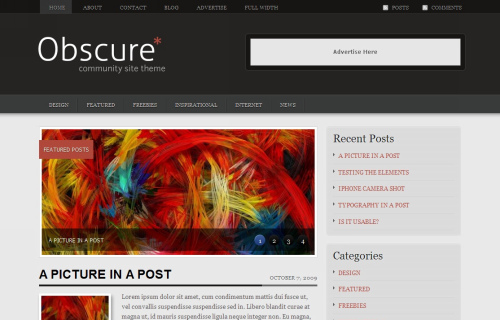 Furvious [Demo]
A nice theme coming with 5 color styles, powerful admin framework and featured posts area.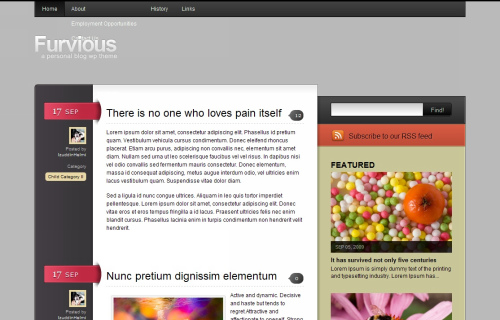 Dangdoot [Demo]
Dangdoot is a free e-commerce theme for WordPress and requires the e-Commerce plug-in.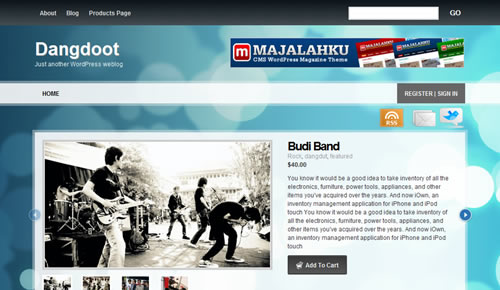 2011 Free WordPress Theme: AppCloud [Demo]
AppCloud is another free e-commerce theme for WordPress.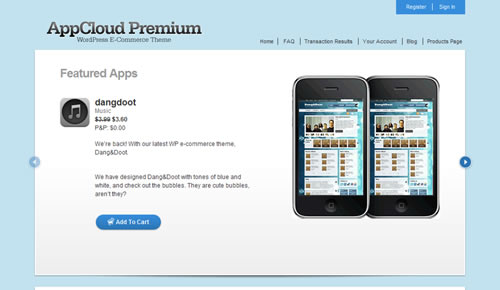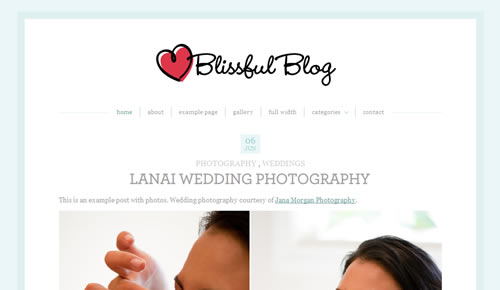 Smashing Multimedia [Demo]
This theme was designed especially for podcasters, photographers and users who can now easily embed videos and images, rate them and showcase them in their own WordPress-based blog. It has a parent theme and an easily customizable child theme.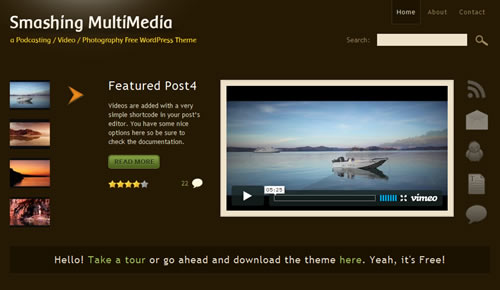 Fullscreen Photo and Multimedia [Demo]
Fullscreen is a free one-column photography and multimedia theme for WordPress that can be used for portfolios, photoblogs, videoblogs, and virtually anything else where you want your content to be front and center.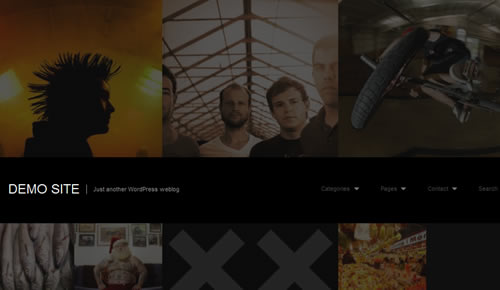 BlueBubble WordPress Theme [Demo]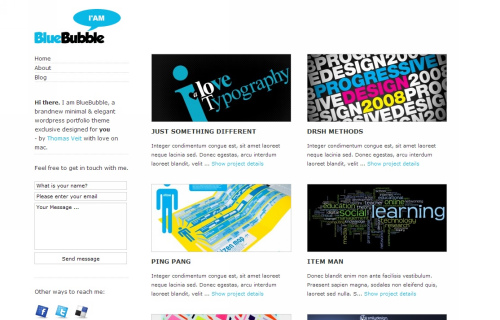 Lap of Luxury [Demo]
This theme uses gold in the logo, and white and black are used as the main colors.A special feature of this theme is the logo changer.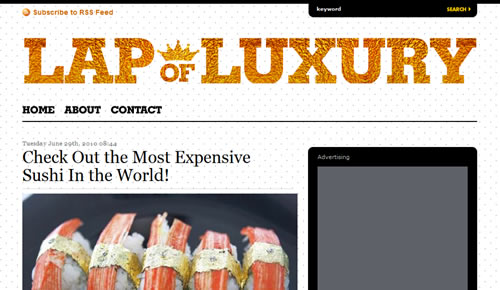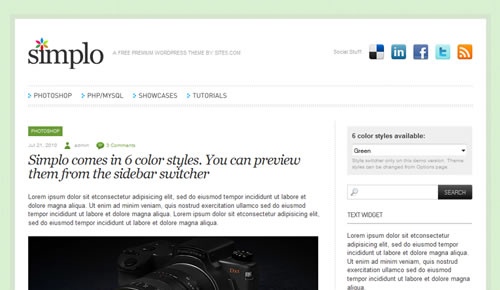 Galaxy [Demo]
The Galaxy WordPress theme is a two column theme that supports banner ads and the WP-PageNavi plugin. Perfect theme for personal blogs.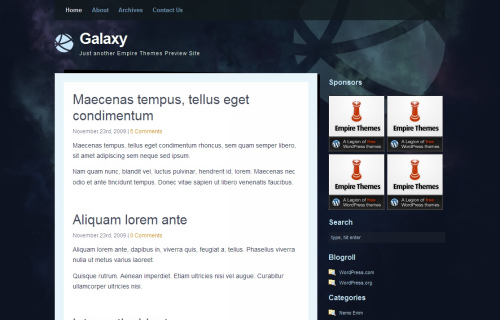 Mansion [Demo]
Mansion is perfect for those who want to primarily showcase their photographs and occasionally write blog posts.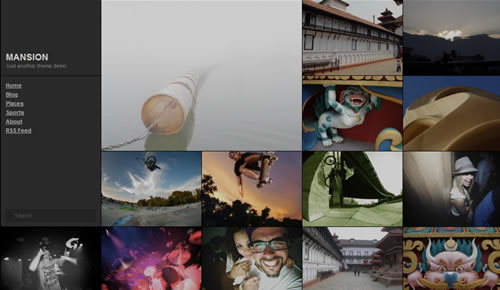 PhotoView was designed for displaying photos and videos in a simple and clean manner.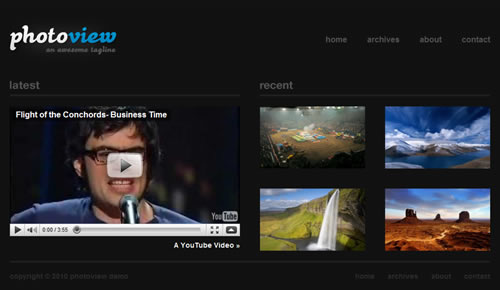 Free WordPress Theme 2011: Katana40 [Demo]
This theme has a simple layout based on anime or game niche. Theme will be suitable for blogs of such niches. Theme has features like featured post section, post thumbnails, banner ads, adsense, twitter widgets etc.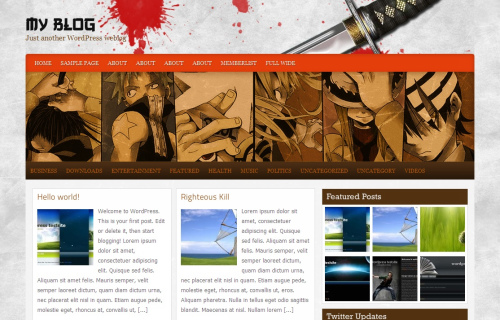 Koi Theme [Demo]
This theme includes an option page to manage dropdown menus, favicon, footer tracking code, and social media buttons. Requires WordPress 2.9+.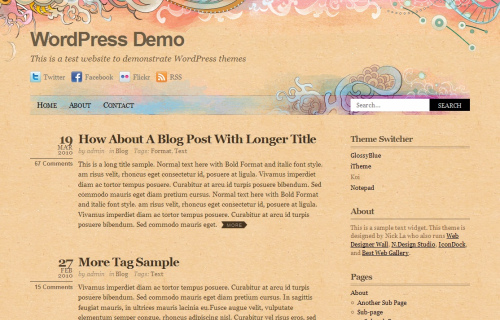 SimpleFolio [Demo]
SimpleFolio is a portfolio theme that includes a blog and a very extensive option page that allows you to exclude all your portfolio items from the blog page.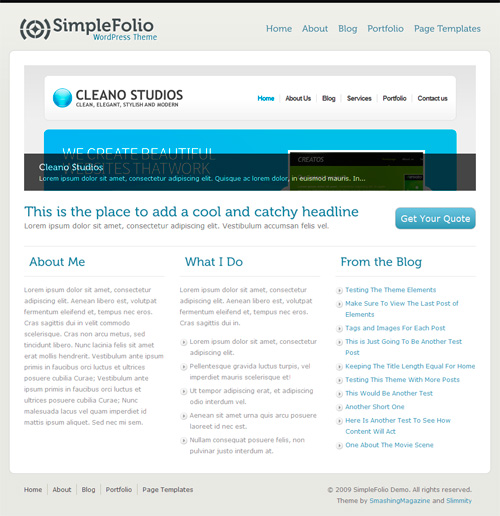 Brave Zeenat[Demo]
A clean Portfolio Theme ideal for photographers, artists and designers to showcase their portfolios.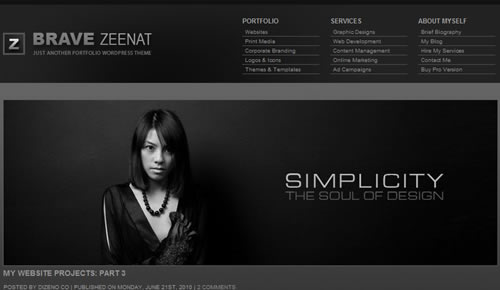 Cumulus Free version [Demo]
This free portfolio theme contains a large block for featured projects and images and a nifty blog posts navigation in the sidebar.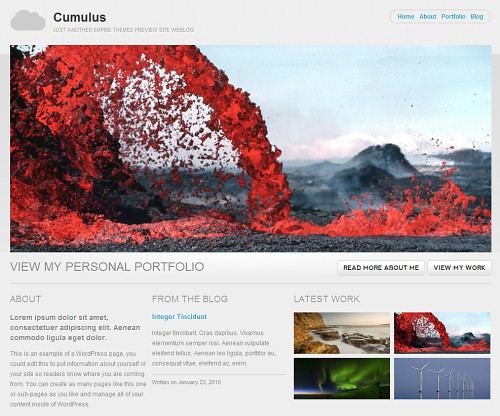 The Erudite [Demo]
A theme for writers who want readers, not visitors, traffic, click-throughs, CPMs or what-have-you. Carefully crafted typography and generous use of whitespace lets your writing shine. Version 2 includes a dark theme option.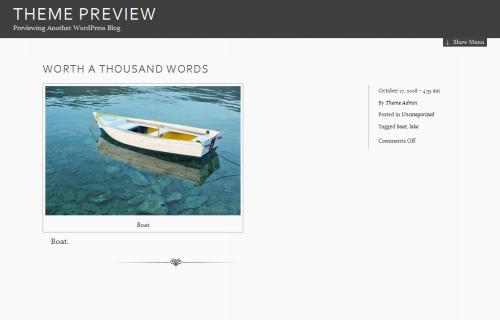 Imbalance [Demo]
Free wordpress theme in modern-minimalist style.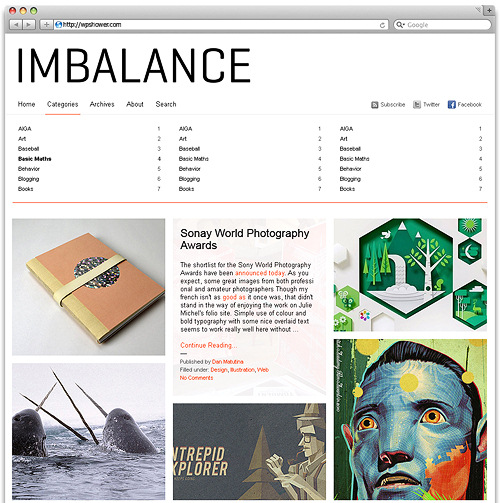 2011 Free WordPress Theme: Aurelius [Demo]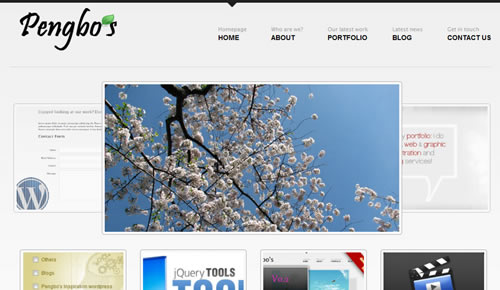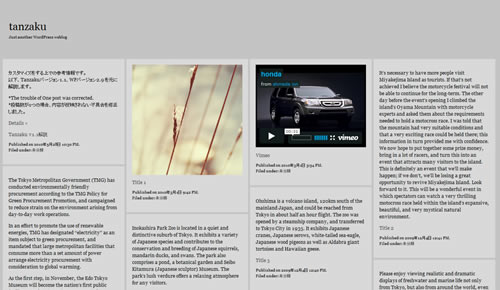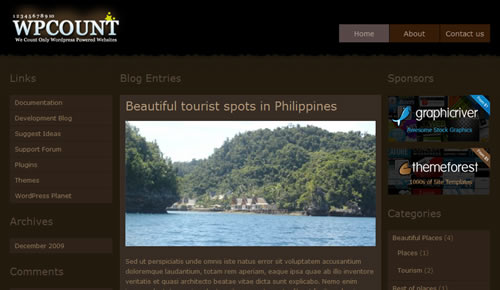 AutoFocus+ [Demo]
The theme is designed on an 800px, 8 column grid layout that truly allows your images to shine. The theme boasts a sharp typographic approach with a 22px baseline grid, and a Garamond/Helvetica Times/Arial for you PC users font stack that's much easier to read.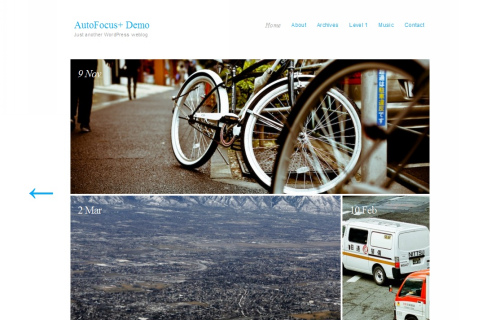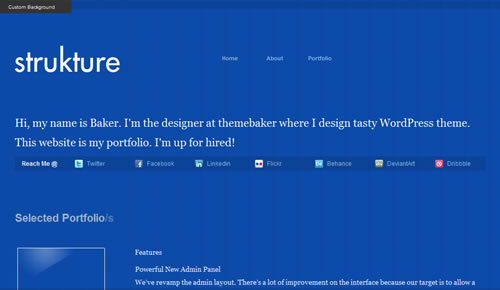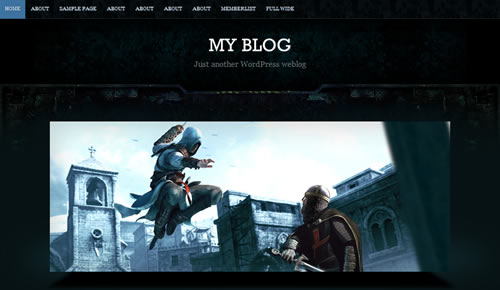 The Seven Five [Demo]
A minimalist blogger/social theme including several customization and layout options.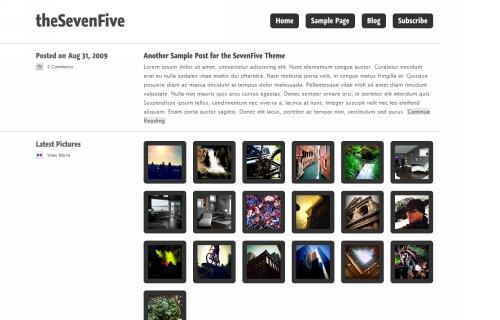 2011 Best Free WordPress Themes: Fotofolio Landscape[Demo]
A nice dark WordPress theme with sidebar navigation and jQuery-powered lightbox for images. A good choice for photographers who want to feature their works in an online portfolio.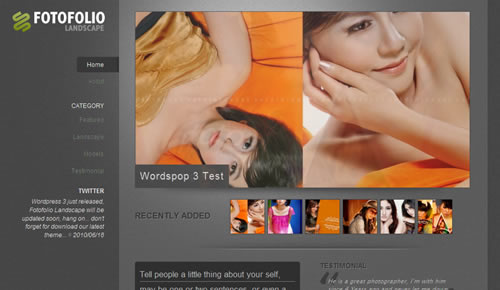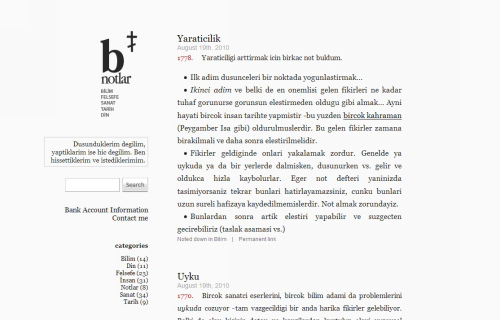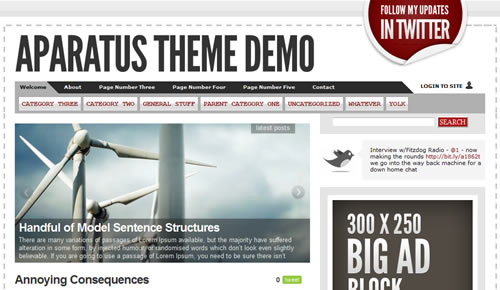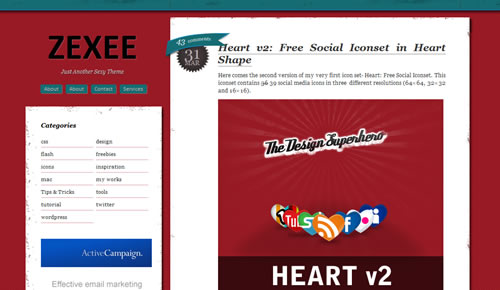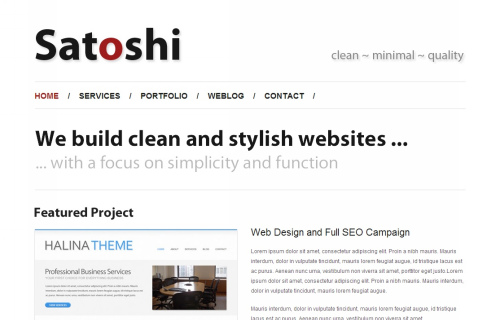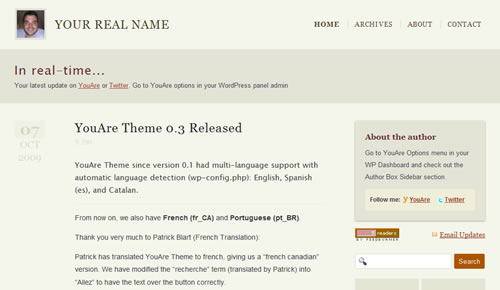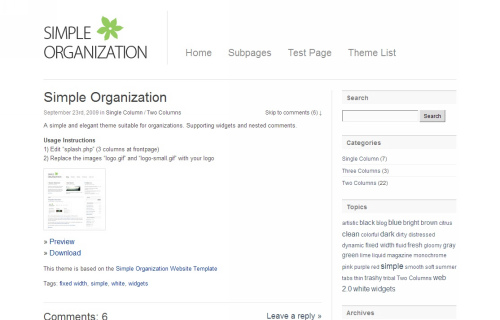 Monokrome [Demo]
This grid-based theme is widget ready and has a Twitter stream and Flickr integration.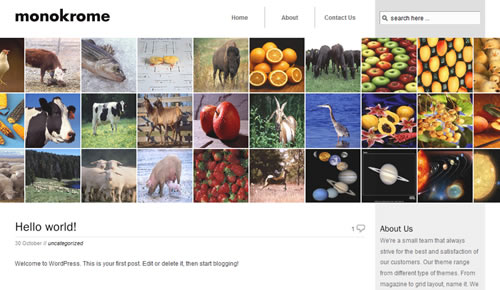 Free WordPress Themes 2011:Portfolio WPESP Theme live [Demo]
The Theme is a starting point in the creation of portfolios, using WordPress as CMS.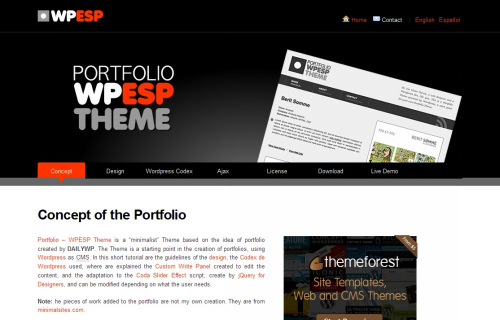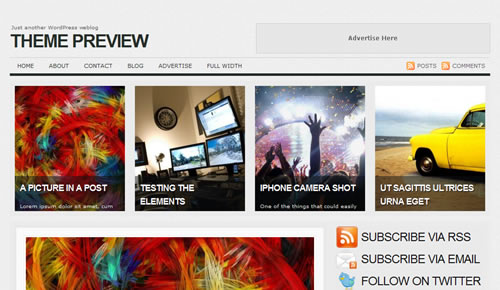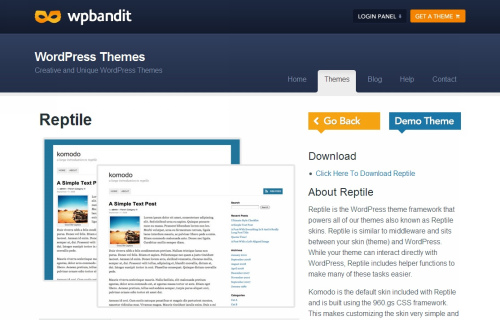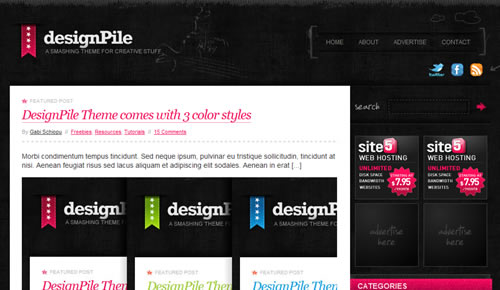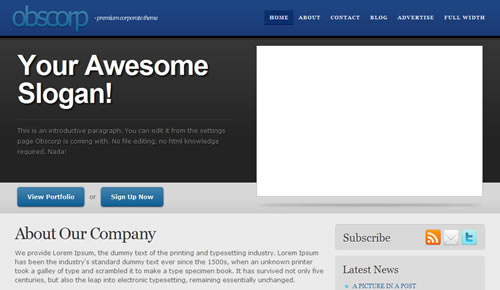 The Side Blog Theme [Demo]
A free blogging theme with all sorts of customization and content management options.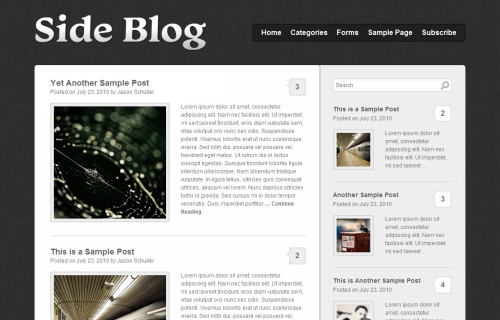 The Ideal Website
The Ideal Website is designed to fit Fibonacci's Golden Section – otherwise known as the divine proportions.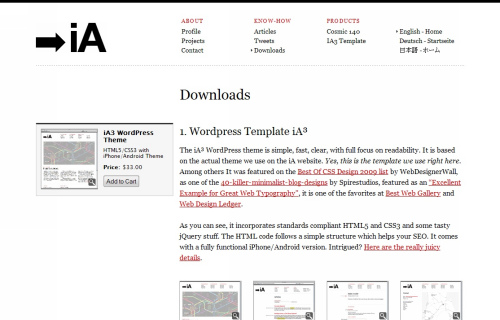 Un.complicated Theme [Demo]
This theme, are built on Starkers and implements the The Golden Grid. here is a wigetized sidebar, which looks like a regular three column row.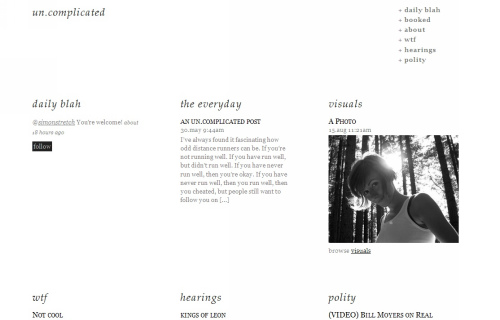 Voidy [Demo]
Voidy was designed to make your content stand out and make everything else get out of the way.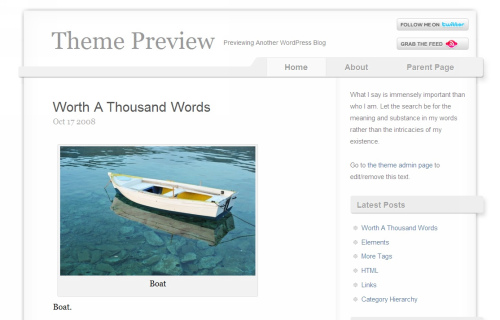 e-Commerce Theme: Kelontong70 [Demo]
The theme has a simple layout, clean, professional look, is integrated with WP e-commerce and features a slideshow for products.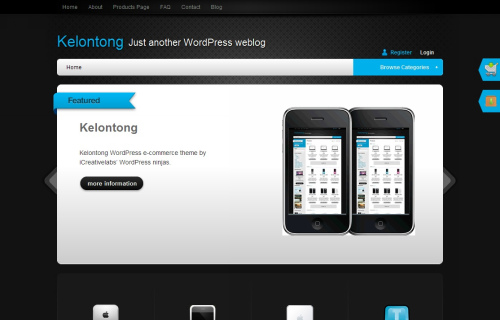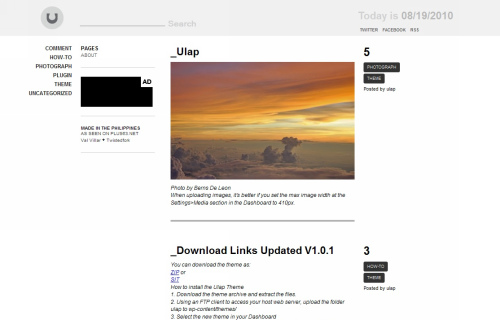 Manifest
The goal with Manifest was to create a clean and streamlined theme that focused on the content and not the distractions. It utilizes a single column, 500 pixel wide layout. No sidebars. No widgets.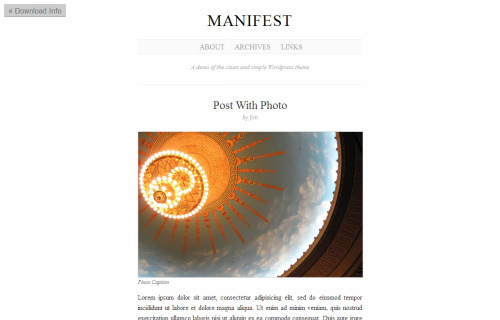 Free WordPress Theme: Miniml Press Theme[Demo]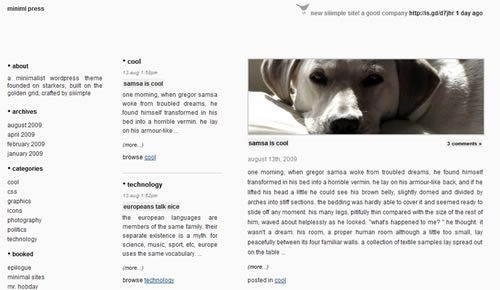 Bueno
Bueno is a clean, minimalistic design which sophistication in both its typography and structure. It uses a grid-based design, has integrated banner ad management, widgetized sidebar and 7 different color schemes. Also, the theme is packaged wth a .po file for easy theme integration.
Notepad Theme [Demo]
This new theme is widget compatible with threaded comments, social media buttons, and multi-level dropdown menus.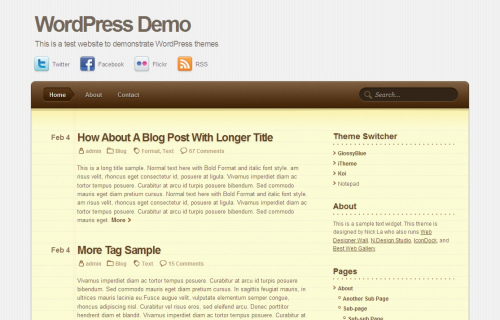 Clear [Demo]
Clear is the perfect theme for great authors. It is clean, clear and beautiful. It is minimalistic one-cloumn theme with the widgets all arranged at the bottom.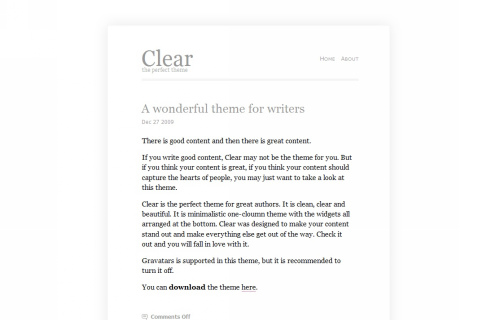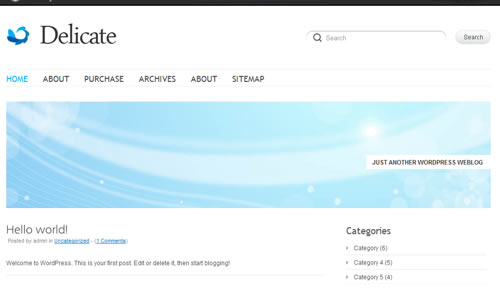 Boldy [Demo]
A free theme that includes support for WordPress 3.0 Menu Management, has in-built slideshows, jQuery-based forms and live form validation as well as a widget for Twitter.