I need a small portfolio website for one small project, as usually, I use Google to search some good portfolio website templates, of course, I'm looking for quality portfolio wordpress themes. For me, all of my sites are running on wordpress now. The wordpress is a great CMS platform. I was a little bit surprised, because I got even better results than I expected- there was a plenty of interesting portfolio, photo gallery themes, where homepage was static, but still you can tie together static with dynamic content and add blog as well.
Portfolio, is really a record of development of a project from inception to completion. It really is frequently what other individuals see 1st before deciding whether or not to contact you. Your portfolio is also a way to attract, advertise and organize your products and designs, specifically for photographers and designers. It ought to be suitable to the scenario and really should show creativity, abilities, range, thought, and ambition. Here is a list of the latest free portfolio wordpress themes.
Irresistable (demo)
Use as a standard blog or use the customized homepage layout, as shown in our demo, that you can activate via our options panel
Irresistible is a visually-rich personal blog, with a little bit of a multimedia focus. Incorporating some nifty video-options and widgets, Irresistible should meet all of your personal blogging needs. Just add your content to the mix.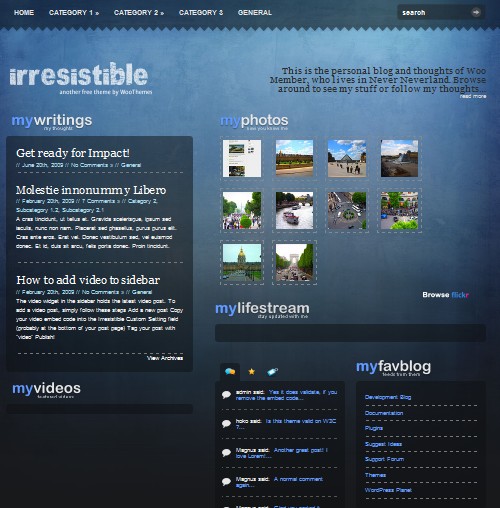 Sharpfolio: WordPress Portfolio Theme (demo)
Sharpfolio is a WordPress theme designed to enable Web Designers, Graphic Designers, Photographers, Motion Designers, Artists or any creative professional to showcase their work in a simple, clean, beautiful portfolio. Sharpfolio aims to focus primarily on your work, because after all, this is what's most important.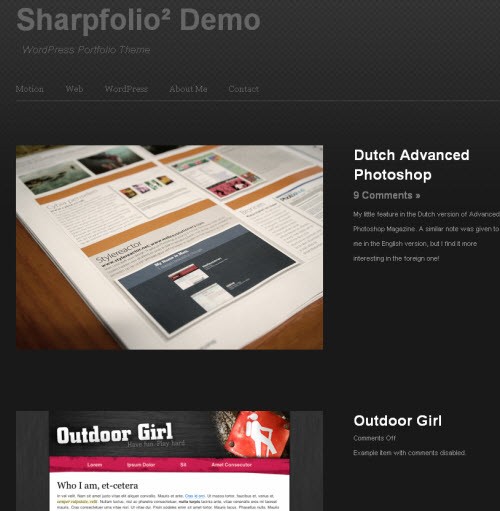 Cumulus (Free version) (demo)
Cumulus is a very clean and calm portfolio theme. It contains a large block for featured projects and images and a nifty blog posts navigation in the sidebar.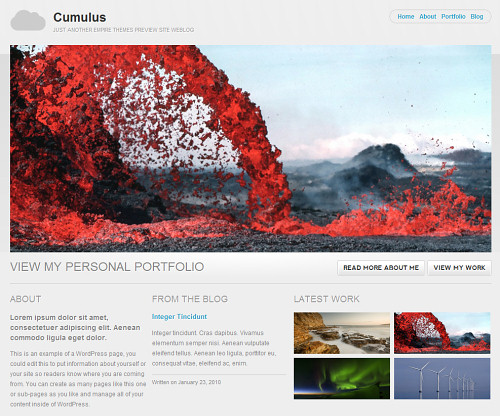 Imbalance (demo)
Free wordpress theme in modern-minimalist style. Imbalance is a very user friendly, jQuery powered theme which looks really well under any browser and OS. Perfectly fits for your blog, online magazine or portfolio websites. It is optimized for high-loads, contains WordPress 3.0 menu support, Twitter widget, jQuery-based gallery and WP Post Thumbnails support.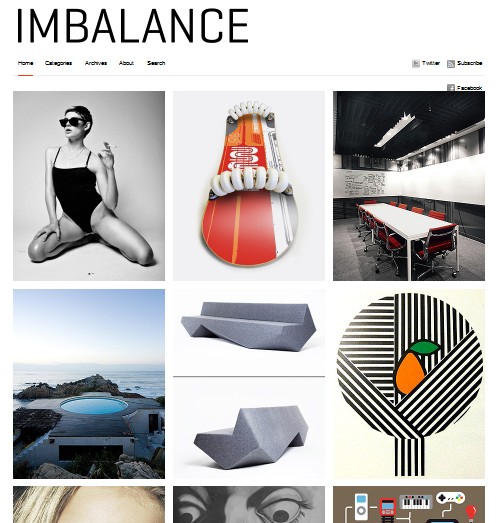 Fotofolio WordPress Theme (demo)
Fotofolio is a free wordpress template designed for easy creation online portfolio for Visual Workers; Photography, Graphic Design, Manga, Architect, etc. Fotofolio is very simple and easy to use, please read the instalation and usage for details. Fotofolio is created by Pupung Budi Purnama. Fotofolio is released under Creative Common Licence.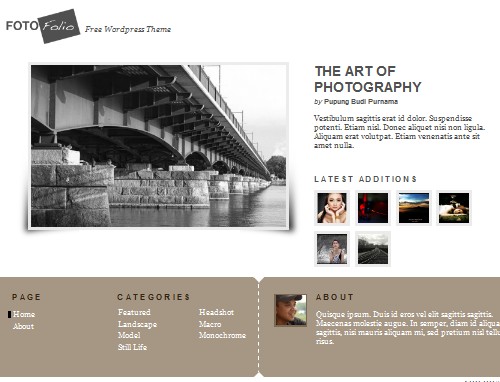 Shaken and Stirred Theme (demo)
This free portfolio wordpress theme is perfect for you if you're in need of a gallery/portfolio website or if you just want a website with a unique grid layout that not many websites have taken full advantage of yet. "Shaken Grid" uses the jQuery Masonry plugin which "arranges elements vertically then horizontally according to a grid." The result is a gap-less layout even if you have varying post heights.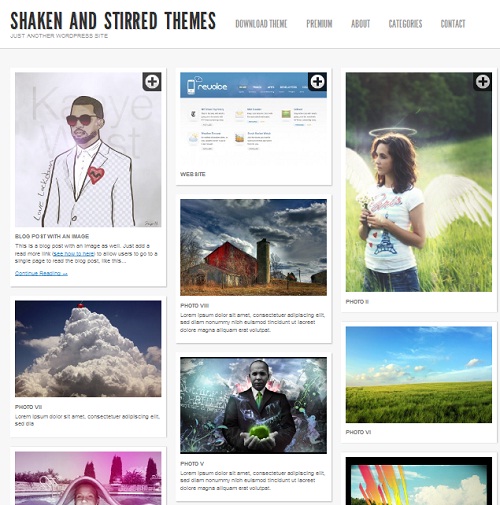 Fotofolio Landscape (demo)
A nice dark free portfolio WordPress theme with sidebar navigation and jQuery-powered lightbox for images. A good choice for photographers who want to feature their works in an online portfolio.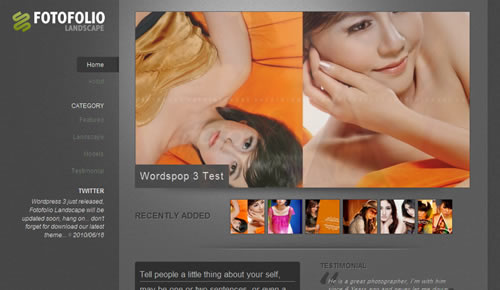 BlueBubble WordPress Theme (demo)
This free portfolio wordpress theme is clean and simple, contains a theme options page, uses post image thumbnail plugin, has 2 widget ready sidebars and uses jQuery/PHP-based contact form with easy customization. Requires WordPress 2.9+.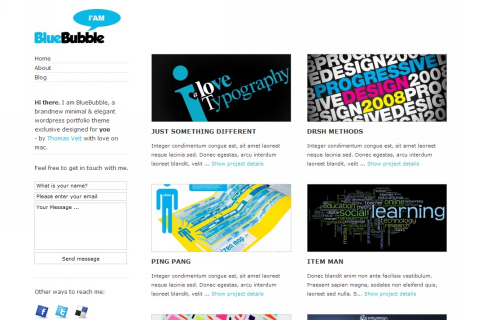 SimpleFolio (demo)
SimpleFolio is a portfolio wordpress theme that includes a blog and a very extensive option page that allows you to exclude all your portfolio items from the blog page. It also includes a front page slider. It has 2 different widget areas and threaded comments, and also supports paged comments and has 2 different page templates for advanced usage. The control of images is done from the post page.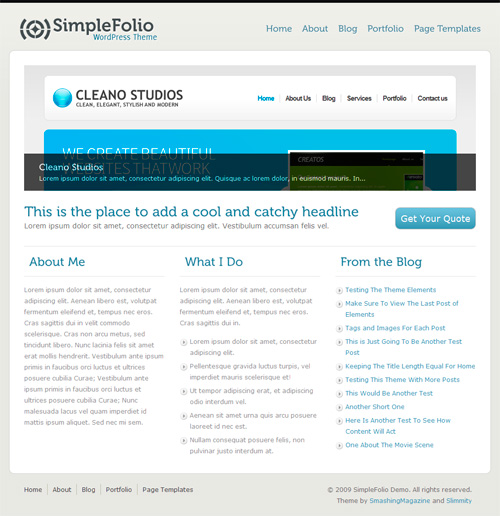 Portfolio WPESP Theme (demo)
Portfolio – WPESP Theme is a "minimalist" Theme based on the idea of portfolio created by DAILYWP. The Theme is a starting point in the creation of portfolios, using WordPress as CMS.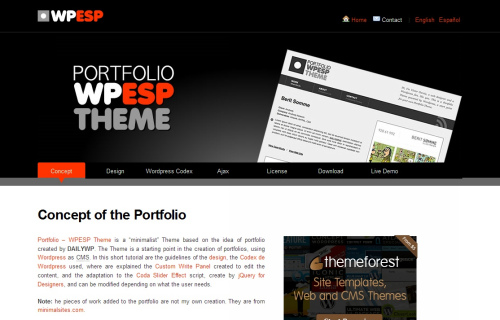 Work-a-holic (demo)
Work-a-holic is a free three column portfolio WordPress theme that focuses mainly on showcasing portfolios for artists, web designers, photographers and illustrators.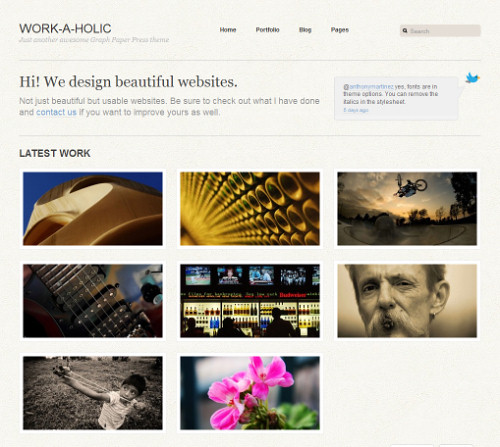 And we will update this Free Portfolio WordPress Themes post as we get new quality themes. PS: you can get more free wordpress themes here.