First off, I just want to wish you a Merry Christmas and Happy Holidays. I hope things are well for you this time of year, and that you can enjoy the season with those you love. Elementary is a new free wordpress theme from ithemes. It's almost Christmas, and things are getting pretty festive around the iThemes office today. In the spirit of giving, the team from ithemes wanted to share this brand new simple clean free wordpress theme with our awesome community, as well as the WordPress community as a whole. This new free wordpress theme Elementary, in 5 color versions. If you are looking for a simple clean wordpress theme, this theme is an ideal one.
Free wordpress theme: Elementary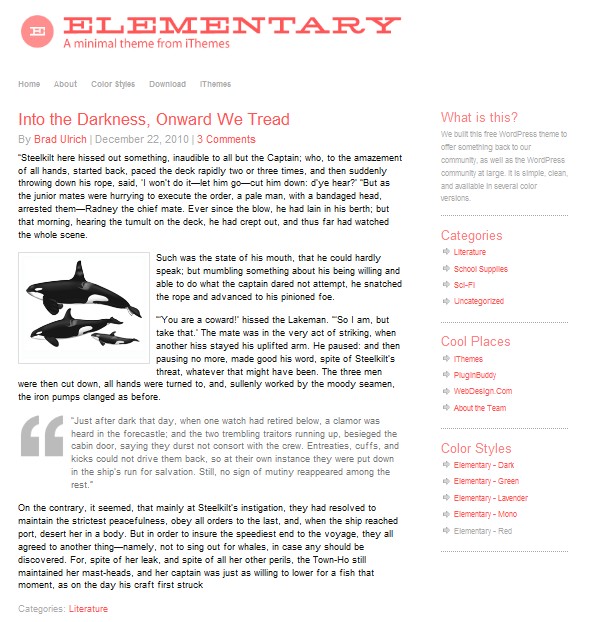 Demo / Download (see the links below)
This new free worpdress theme is slick, clean, and easy to use. They've included PSDs of the header for each color for easy customization if you want to keep the same look. While you're on the demo, make sure you click through and see all of the color versions.
Below, you can download each of the color versions. On behalf of the iThemes crew, we hope you have a great holiday season, and we can't wait to bring you more awesome themes, plugins, and training in 2011.
Free wordpress theme download
Hope you love this new wordpress theme, if you are looking more free wordpress templates, here is a gallery of the latest new free wordpress themes.