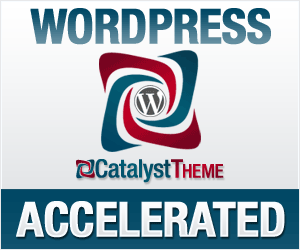 Catalyst Theme is a feature packed, extremely powerful WordPress theme framework. If you are looking for a cool easy to use wordpress theme framework, the Catalyst theme is an ideal framework for you. With the Unlimited Custom Layouts, Widgets & Hook Boxes Provide Amazing Flexibility, No longer are you subject to the limits of a single layout and a Sidebar Widget or two. With Catalyst and its many "Smart Hooks" scattered throughout its framework, you are provided with the ability to frame up your individual pages the way you want to. With the Catalyst WordPress Theme Framework, you can create Unlimited Custom Layouts, Custom Widgets and Custom Hook Boxes and then mix and match as you see fit. If you can think up a page structure, Catalyst can help you build it with ease. If you love this theme framework, you can use Catalyst theme coupon code to save.
From the unlimited layouts, widgets and hook boxes to crazy amounts of design control, they've created a WordPress Theme that lets your imagination be your only limiting factor.
It doesn't stop there, though. Every aspect of Catalyst is so far refined from its core concepts that you can't help but get excited. A Custom CSS Building Tool that actually writes CSS code for you! Import/Export options that don't stop at simple option controls, but that go so far as to spit out Custom Child Themes with a single mouse click.
The point is that the Catalyst Premium WordPress Theme was built from the ground up to be much more than a set of options you can check off your "Which WP Theme to buy" list. From the core framework to the 600+ no-coding design options provided by the included Dynamik Child Theme, the Catalyst Theme is the total package and then some!Do you love this cool wordpress theme framework? Get it now and you can use Catalyst theme discount code to get 20% off.
Catalyst Theme options: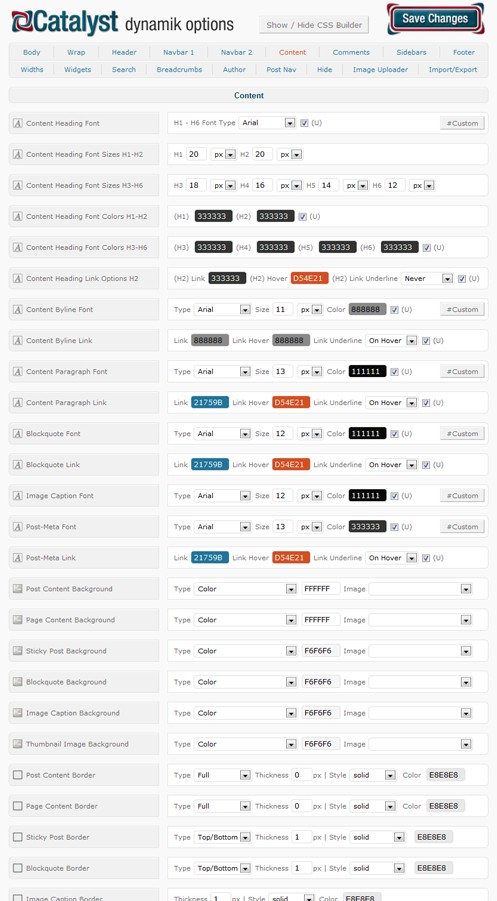 Demo / Download
And there are more cool features:
Unlimited Custom Layouts, Widgets & Hook Boxes Provide Amazing Flexibility
The Dynamik Child Theme Provides Over 600 No-Coding Design Options
22 Included Custom Skins Get You Up And Running Fast
Create Your Own Custom Child Themes With A Single Mouse Click
A Custom CSS Building Tool That Writes Custom Code For You!
The Most Comprehensive Font Control Offered In A WordPress Theme!
Taking (SEO) Search Engine Optimization To The Next Level
Fast, Efficient, HTML5 & CSS3 Validating Code
Always Run The Latest Version Of Catalyst With Automatic Updates
The Catalyst Zero Limits Philosophy Extends To Its License
Full Import/Export of ALL your Catalyst and Dynamik Options
Page Templates from Powerful to simply essential
Image Uploader Built into the Dynamik Child Theme
Comprehensive Documentation that's built right into the Theme Options
A Pure Framework Filled With Hooks & Filters Galore
Built-In Custom Widgets: Excerpt Widget, Author Bio Widget, Ad Widget and a PHP Text Widget
And A Gazillion Other Things You'll Have To Buy Catalyst To Find Out About!
Easily Add Your Own Custom Favicon & Avatar To Your Site
Fully Compatible With WordPress MU (Multi-Site)

Price
Catalyst Theme Personal Edition: $97
Catalyst Theme Developer Edition: $174
Demo / Download
Catalyst Theme coupon code
CatalystTheme coupon code 20% off:CatalystWarriors
(limited time offer)
And here is another Catalyst Theme discount code
Catalyst Theme coupon code 10% off:CATALYST10