GET ITHEMES BUILDER FOR JUST $79 – SPECIAL BUILDER BIRTHDAY BLOWOUT SALE!
iThemes has just announced that iThemes Builder — their hit theme framework — has turned one-year-old this month!
In honor of this special occasion, starting Dec. 13, 2010 until Dec. 31, 2010 (midnight Central time), the ithemes having an iThemes Builder Blowout Sale and reducing the price from $127 to $79! It's really the best time to get the ithemes builder wordpress theme at a lower price! If you are going to buy ithemes builder theme, why not get it now? Do the math and that's a $48 savings! Yes, you can get $48 off now! You can purchase Builder, or renew or extend your Builder license for just $79, through the end of the year. You can get the builder theme here.

iThemes Builder Theme Promotion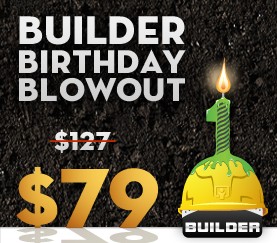 Also, iThemes team will having a party tomorrow and you're invited!
Tuesday, Dec. 14th at 11am Central Time, join us for their live show at http://iThemes.tv to join in the celebration, get the inside scoop on what it means, plus you can win a bunch of prizes.
If you were one of the early adopters, you know that Builder started out as a core theme with a handful of child themes. It was easy for web developers to use, and a teensy bit harder for do-it-yourselfers.
But all that has changed.
Builder has undergone a huge growth spurt in its first year, and has now
evolved into:
* An even more massively powerful, feature-rich core WordPress theme
* Licenses for use on unlimited sites
* Advanced SEO features to make your site Google-ready right from the
beginning
* With more than 16 ready-to-use child themes
* A Style Manager plugin to tweak css fast – without even having to know
css
* Thousands of questions and answers on the support forum, including
tutorials and videos, with ways to do virtually anything you want to do.
* And last week the developer team added a full-time staff member, Sridhar Katakam, to
specifically focus on supporting our valued Builder users. Sridhar is a true expert and will not rest until you have the answer you need. (One grateful user even photo-shopped Sridhar's head onto Super Man to show how powerful Sridhar's help is!)
Download iThemes builder theme now!
Get the ithemes builder theme at a lower price now, no ithemes coupon code needed. Just for $79, not $127!