Studiopress not only design wordpress themes, but also they develop wordpress plugins. Here is their latest new useful wordpress group plugin for wordpress based websites: the StudioPress GenesisConnect Plugin.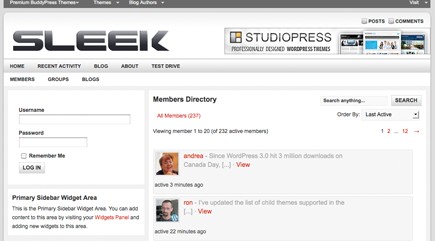 With Genesis Connect Plugin, you can build a social network for your company, school, sports team or niche community all based on the power and flexibility of the Genesis Framework and WordPress. Activate the free BuddyPress plugin along with GenesisConnect and instantly your website becomes a social network!
This wordpress plugin support the following wordpress themes:
Currently the GenesisConnect Plugin for BuddyPress Integration Will Work With the Following Child Themes:
Agency Theme, AgentPress Theme,Amped Theme, Bee Crafty Theme,, Mocha Theme, News Theme, Outreach Theme, Pixel Happy Theme, Platinum Theme, Prose Theme, Serenity Theme, Sleek Theme, Streamline Theme Church Theme, Corporate Theme, Delicious Theme, Education Theme, Enterprise Theme, Landscape Theme, Lexicon Theme, Lifestyle Theme, Magazine Theme, Metric Theme, Executive Theme, Family Tree Theme, Freelance Theme, Going Green Theme
The price of the StudioPress Genesis Connect Plugin is just for $45!
Download it here.
There are no studiopress discount code at present.