ThemeShift Review: Read the review before you buy Themeshift WordPress Themes
ThemeShift are relatively new to the world of WordPress themes, but already they have made large inroads when it comes to gathering a loyal customer base, mainly thanks to their fairly priced and professional looking themes. This ThemeShift review is going to look at the good – and not so good – aspects of this site and help you to determine whether you want to head over there are download one or more of their themes for yourself!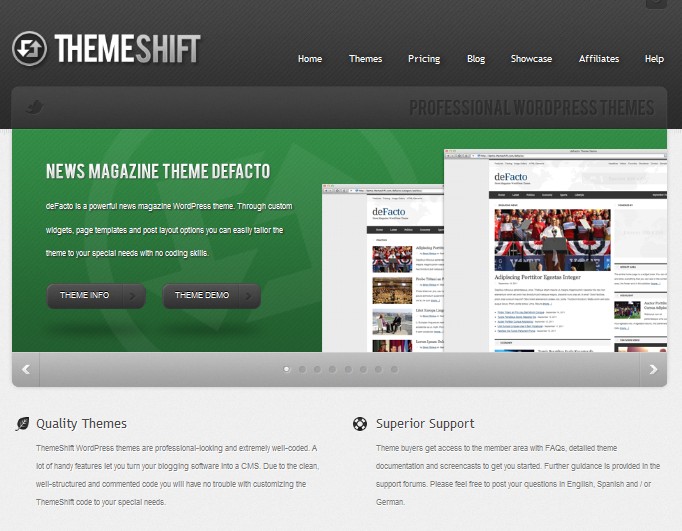 ThemeShift Selection
To say that the selection of themes on ThemeShift is small would be an understatement; in fact, there are only 15 currently available to purchase on this site. Of these themes, the selection is split evenly over themes for business, portfolios and blogging, and although the selection is small, the themes are of a very high quality. This means that you should certainly take a few minutes to look over what they offer, as if you do find a theme that you like, you can be guaranteed that it will both look good and be incredibly intuitive to use.
ThemeShift Features
As already mentioned, the quality of each of the themes on his site is fantastic, and this really shines through both in the front and back-ends. They all have the standard features of any good WordPress theme – such as the option for a slider and the integration of a blog – but there are some more important features that this ThemeShift review has unearthed as well, which are detailed below…
The code on all of the themes is extremely clean, which is incredibly important if you are looking to customize the theme in any way. In fact, it is so well-structured that even those with only a tiny knowledge of code should be able to make basic changes without any hassle!
Every single theme has a comprehensive set of different options within the dashboard, which complement – and often improve upon – the options that WordPress already supply.
Each theme has its own set of custom widgets, which are designed to complement the way that the theme both looks and feels. There are also a huge amount of different areas in which the widgets can be used, to ensure the maximum amount of customization possible.
Most themes support videos being embedded either into the page, or onto the slider.
ThemeShift Support
¿Tienes un problema? Hast du ein problem? Either way, it's no problem, as the support for ThemeShift customers is not only available in English, but in Spanish and German as well! This support can be accessed after you have purchased a theme by going into the member area, which has comprehensive tutorials and FAQ sections, as well as a support forum for all of your questions as well. If you have questions pre-purchase, you can contact them via email, using the link on their site. If we had to pick the most impressive aspect of this site from this ThemeShift review, then the support they offer would be it!

ThemeShift Pricing
The pricing of the different themes offered by ThemeShift is excellent, with one theme coming in at just €39, which equates to about $50. If you buy more than one theme, you will receive a discount; 25% when purchasing two, 33% when purchasing three, and 38% when purchasing four. If you buy more than four themes at once, this discount jumps to 40% or more, but you have to contact the site for information on this. You can use themeshift discount code or themeshift coupon code to save.
ThemeShift Conclusion
Despite the small number of themes available, this ThemeShift review has noticed one thing; the company might be a small one, but the support and care that they give to their customers is huge. If you can find a theme that you like from the 15 available, then snap it up, because you can be sure that you will have no problems with it at all!