This is a great news for studiopress Streamline WordPress Theme users, you can download a brand new theme now for FREE, because studiopress changed the Streamline theme layout completely. They released a modern WordPress theme today, yes, the Streamline!A modern sleek clean CMS like WordPress theme!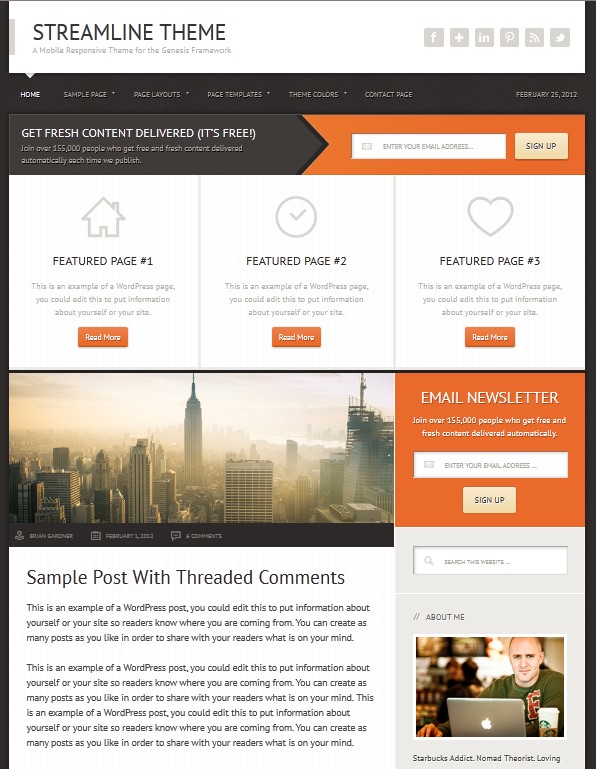 This new 2012 WordPress theme works on the Studiopress Genesis Frameworkand this cool WordPress theme can be downloaded by Pro Plus members in the support forum, also this new version can be download by the users who bought this layout before, the updated version will be sent out to the email address you used to purchase.
The Studiopress Streamline WordPresstheme is the fourth layout released at StudioPress which has been developed to be mobile responsive. The first three mobile responsive WordPress themes built with mobile responsive webdesign are eleven40 theme, Balance WordPress theme and Generate theme. If your site has a lot mobile readers, it's time to get a cool PC, mobile responsive theme at one time without extra fees.
What's new in this Streamline 2.0 theme? The new version of this layout underwent a major design change and code update which means there's not an easy update path. If you're happy with your site built on a previous version of the theme, there's no need to update.If yo love this new design, you can download it from your email studiopress will send the new theme to you who have purchased this theme! A redesigned of this theme, that means you get a new premium WordPress theme for FREE!
The Streamline WordPress child theme includes the following features: 3 layout options, custom header, custom menus, custom background, 3 color styles (blue, green, orange), fixed width, mobile responsive, theme options,featured images, threaded comments.
At first glance, this is officially my favorite theme from StudioPress! It's got all of the elements I look for…with the exception of two that are missing (Landing Page & Portfolio Page). Everything else is tight, has social signals, has direct response, good typography. Really, really well executed.
Price:
StudioPress Streamline 2.0 Theme + Genesis Framework = $79.95
StudioPress Genesis Streamline 2.0 Theme = $24.95
Studiopress All theme pro plus package: $349.95
Download Streamline 2.0 Theme / Demo
You can use studiopress coupon code to save.