A review of the biggest photography wordpress theme provider: Graph Paper Press
Graph Paper Press promises to deliver "killer WordPress themes." The site manages to make good on that promise with an array of elegant themes that can enhance the look of any WordPress site. The Graph Paper Press homepage maintains a subtle WordPress-based style throughout, with unique (almost hand drawn) icons and a glimpse of available themes to entice the visitor to learn more. Not that the user needs much enticing once they begin exploring the site's collection of sleek WordPress themes. If a picture says a thousand words, then Graph Paper Press themes are telling many amazing stories in a vivid language of color and design.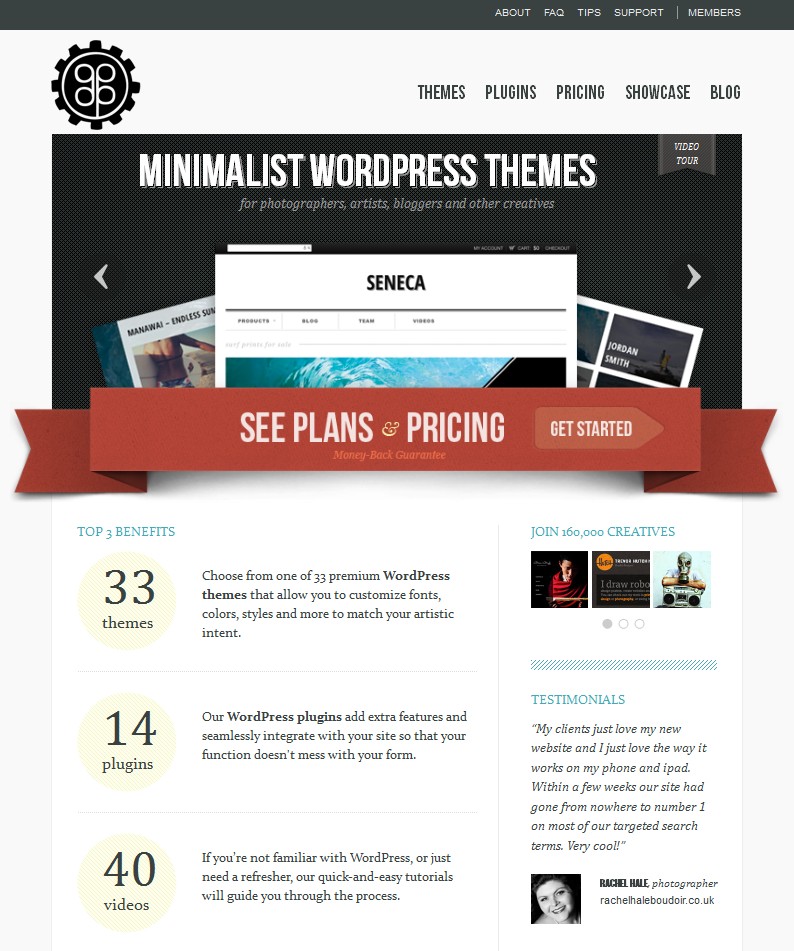 Graph Paper Press Introduces Your Dream Theme
It is difficult to classify all of Graph Paper Press' WordPress themes into one or two categories. Many of the designs seem to favor large, detailed images that give the user wide open spaces to tease the eye and grab a visitor's attention. Attention-grabbing is vital to businesses, organizations and anyone else promoting a product, service or message. Graph Paper Press seems to understand that and has presented a collection of original themes that gives the user plenty of real estate to showcase their subject or purpose.
Graph Paper Press isn't all about images, but they are a very big part of the themes found on the site. Others present a visitor with text organized for easy readability with visible headlines and comfortable spacing so columns and paragraphs don't run together. Each theme clearly contains the touch of a professional designer.
A variety of colors are used throughout, with some themes favoring more black and white and others incorporating blue hues. The palette may not be diverse, but that also stems from the focus on detailed images. The basic color schemes ensure that the user's images and headers will always take center stage when a new visitor discovers their WordPress website. This design approach opens up many doors for users, especially those selling products or services.
Graph Paper Press Fits Comfortably in Your Wallet
Cost is very important to many WordPress theme buyers. Graph Paper Press covers all bases by offering five purchase options that start at zero. Users can access a number of beautiful free themes and add plugins at no cost. A quarterly subscription is available for around $50 and includes theme update, support and access to all themes. An annual subscription can be purchased for just under $100.
Serious users may be interested in Graph Paper Press' Forever account. The Forever account includes the same level of access with lifetime updates. A Pro plan is available for around $35 per month and includes lifetime updates and web hosting services. Small businesses, startup companies and casual users can easily afford many of Graph Paper Press' themes and services without breaking the bank for a beautiful WordPress theme.
Can Graph Paper Press Improve your WordPress Site?
The best way to determine if Graph Paper Press is your best option is to experience the themes offered on the site. Users will discover a world of charming designs, many of which focus on the appeal of large, detailed photographs and images. Visitors can also check out the showcase area to see what other users have done with themes purchased from the site. Numerous membership tiers are offered so users can afford the level of access they need without draining their wallets. Overall, Graph Paper Press makes promises that it delivers on and provides visitors with a wide selection of elegant WordPress themes that can be customized and used in any industry or for personal or casual purposes.
You can buy Graph Paper Press Themes here. Or download the Graph Paper Press WordPress themes here