A new cool niche wordpress theme was released by woothemes early today, the name of this new WordPress layout is Announcement. This is a one page theme. You can use this theme for the wedding or birth announcement in particular with a commenting piece attached so that people can add their happiness 🙂 The theme can be used by businesses to announce a new conference / service / product, or individuals for announcing a wedding, the birth of a baby, the graduation of a son or daughter, or any big event in one's life.
Announcement WordPress Theme from Woothemes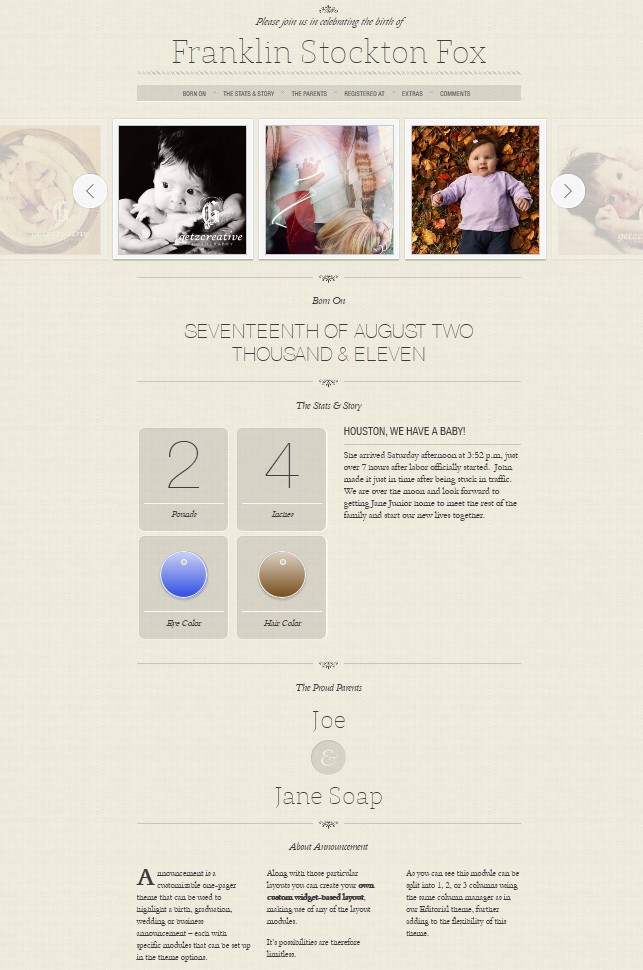 Announcement is perfect for the most special announcements in your life. Use any of our preset homepage templates to announce your wedding, the birth of a new baby, the graduation of your eldest or the launch of your new business. And if you didn't want that, use the flexible component system to bend Announcement to your desire.The homepage is where Announcement's main magic happens. Consisting of a component-based layout (with presets available for births, weddings, graduations and business websites), Announcement aims to showcase your content on a single page using photograph sliders, content areas, blog post lists, comments and widgetized regions in the footer area.
Features
7 Alternative Colour Schemes
4 Layout Presets – for births, weddings, graduations and business websites, as well as a custom layout option using widgets
Custom Homepage – a component-based layout aims to showcase your content on a single page using photograph sliders, content areas, blog post lists, comments and widgetized regions in the footer area
Custom Post Layouts – you can create unique layouts for each of your pages. With the custom settings panel you can specify 1 to 3 columns for the page content and decide on a layout for those columns
Photograph Slider – to highlight noteworthy content on your website
Components Based Layout – layouts are based on a component structure, creating virtually endless layout possibilities. Components include a photograph slider, countdown timer, page content, headline text, baby statistics grid, a video switcher and blog, amongst others
Baby Statistics Grid – if using the theme to announce the birth of your baby, Announcement provides fields to specify your newborn's weight, height, eye colour, hair colour and a page with more details about your new family member
Built in SEO Options – help you take control of your search engine readiness with in-built theme options
Backend Theme Options – allows you to make simple changes without editing code, like adding your own logo, changing to an alternate color style, adding Google Analytics code etc
Custom Topography – you can customize the typography in the theme to suit, and there is full support for Google Fonts
Custom Page Templates – come packaged with a full width page template without the sidebar, and site map/archives page templates
Sidebar Manager – allows you to replace all widgetized sidebars and footers in our themes with unique custom sidebars
Custom Navigation – WP Menus allows you to customize the themes navigation to include pages, categories and custom links
Cross Browser Compatible – compatible with all the modern web browsers like Firefox, Safari, Chrome and Internet Explorer
Custom Widgets – Ad Space, Blog Author, WooTabs, Subscribe, Feedback, Search, Flickr and Twitter etc
Auto Sizing Thumbnails – an image re-sizer script built into the Woo framework automatically scales your post images for pixel perfect display in the templates
Custom Shortcodes – that allow you to easily add buttons, boxes, social buttons, columns and more to your posts, pages and widgets
Localisation for Translations – come packaged with a language file for easy WordPress theme translations into your desired language
Price
Standard: $70
Developer: $150
WooThemes Club Membership: $15 – $20 per month
Demo / Download