Good News! The studiopress has released the new wordpress theme! No, it's a cool theme framework! And the most important, the studiopress genesis theme framework price is also as other studiopress themes, just for $59.95! This theme has been an ongoing development project for over two months and they're ready for liftoff!Save money with our StudioPress – Genesis Theme Framework discount coupon code, get 20% off on this theme!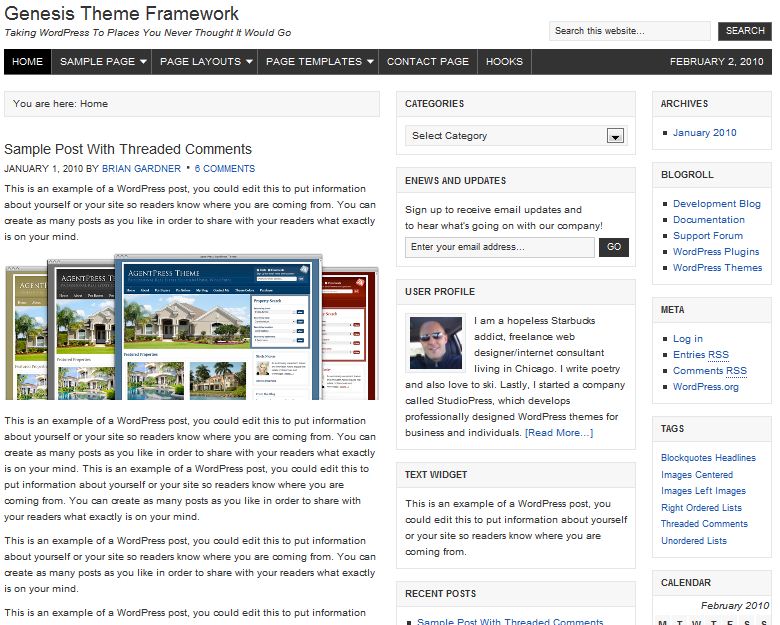 Because this is a theme framkwork, which is a simple clean basic theme, you can customize the template the style as you like, and this theme is very easy to use.(Headway theme and Thesis theme is a little harder for newbies.)In addition, studiopress have also pleased to announce that two child themes are available – the Executive child theme and the Mocha child theme, and the price of the child theme is $24.95,also you can use our studiopress discount coupon code to get 20% off.
Price of studio press genesis theme:
Child theme + Genesis Theme Package:$79.95
Child Theme:$24.95
Pro Plus All-Theme Package:$199.95 (you can download all studiopress themes free,including all studiopress themes,genesis themes,genesis theme framework child theme! And download all future themes FREE! Save big now because we have a 20% off discount code for this package.)
Get 20% off now and save big!
Try our studio press discount code and save money now!We will update more coupon code for studiopress wordpress themes in the future.
PS:Also you can try the other two popular theme framework, which are good for advanced wordpress users and designers:
1 Headway theme
2 DIYtheme -Thesis Theme