More and more people want to build their online business, because more and more people are shopping online these days. Some of you may think build a ecommerce website too hard, or some of you may think it will spent a lot of money if I setup a store website. Yes, of course, the answer is true, but just for the old times. With the development of technology, build a professional online store is easy (of course for small business).
If you want to build a online store to sale your products or services, you can sale it on ebay etc, but the best way is build your own store website, you can use some good CMS to set up the store website, the best one is WordPress.
As you know the wordpress is the most popular script, which is really easy to use! You can build your professional online store just like blogging!
You can find a lot ecommerce wordpress themes online. As a wordpress fan, I have used and found a lot related themes, the best store wordpress themes are coming from templatic and shopperpress.
The shopperpress is a cool store wordpress theme, which has a lot skins for you to choose from, you can check it out here.
Today I'd like to introduce you the templatic's new store wordpress theme:Store Front theme.
The Store Front is the finest e-commerce wordpress premium theme you can use to create your online e-commerce business easily in WordPress. This time the theme is introduced in a bit different structure that many businesses use.
Templatic Store Front WordPress Theme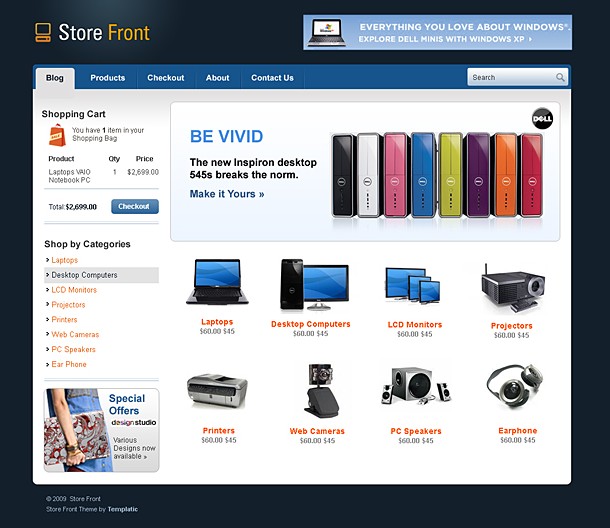 The logo at the top along with wide banner is definitely a cool thing to have. After the menu part, the sidebar on the left starting from the top is nice to have – it feels a bit different than the current boring trend everywhere. Also this widget ready sidebar remains consistent throughout your site showcasing the mini shopping basket and other widgets such as shop categories, ad banner, archives, pages etc.It transforms your WordPress install into a fully functional Ecommerce store complete with backend administration. Use wordpress to easily manage your store that sells Tangible or intangible/digital goods.
And this store wordpress theme for sale has a lot color scheme: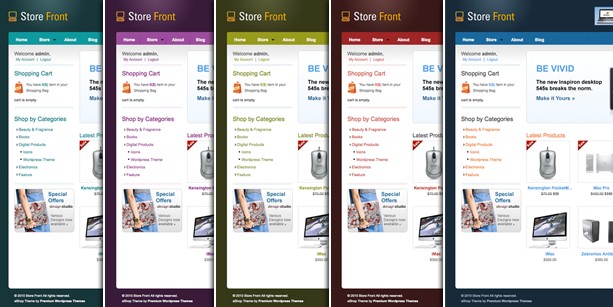 Different colors
Download Templatic Store Front Here