RichWP is giving away all full-versions of Regular and Pro of RichWP themes. The previous richwp premium wordpress themes are free now, you can download the Starter Pack here, this pack contains 10 Design Presets and will be delivered free of charge with every purchase of the RichWP Theme FrameWork. It has been designed to help you understand the possibilities of the FrameWork's Design Editor. Feel free to use the presets as you wish, customize them a little to fit your needs or take them as a starting point for your own endeavors. Also richwp provide premium themes, you can use richwp coupon code to save.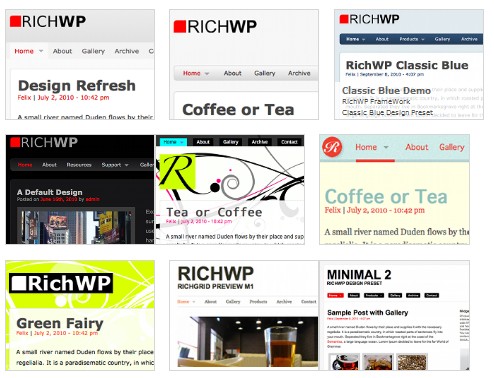 If you want to set up a business or corporate Web site, a blog, a photo gallery, an online portfolio or a full-blown magazine site, look no further. Use the state-of-the-art WordPress content management system (CMS) together with the RichWP Theme FrameWork to easily build and maintain your presence on the Internet. RichWP Theme Framework is easy to use and gives you full control over your design and layout!
RichWP Themes are Easy to Use. Based on the RichWP Theme FrameWork, the Point & Click Design Editor lets you customize your design exactly how you want it, no programming skills required. Authoritative SEO features let you sleep better and the free One-on-One Customer Support helps you out when you're stuck. You can download richwp premium wordpress themes here and you can use richwp discount code to save.
Here is the list of the free wordpress themes from richwp, and all these themes are based on richwp theme framework. All the themes you can download are tested and are working under WordPress 3.0. Please take a look at these theme screenshots, or just go to visit RichWP to see the demo.
Muted WordPress Theme
A retro look served in a slightly muted color scheme. Do you believe me now, that there are almost no limitations to what you can create with the RichWP Theme FrameWork?
RichWP Classic WordPress Theme
This is the classic smooth RichWP look that you learned to love. Its rounded corners and subtle gradients stand for an unmatched elegance. The Classic Preset is available in three color variations: Light Grey, Dark and Blue.

Minimal WordPress Theme
Two presets that use minimal design elements to achieve a maximum of impact.
RichWP Design Refresh WordPress Theme
This is the new RichWP Design. Still elegant, but a bit bolder and much more simple. A great starting point for minimalistic designs.
Simple WordPress Theme
The name says it all. This is a minimalistic design approach focusing on usability and accessibility. This preset uses fonts from the Google Font Directory to achieve a fresh-looking typography.
Green Fairy WordPress Theme
An experimental design with a strong driving color and excellent navigation and icon placement.
Elegant Pop WordPress Theme
Popping colors and semi-transparent backgrounds achieve a modern pop culture look. The GoogleFont-API has been used to enhance the typography of this preset.
All themes are designed to make you easy to manage your WordPress blog. Just check yourself to see how easy to manage your blog using WordPress themes from RichWP.
Update: The RichWP Theme Framework is a Premium Web-Site Design System that streamlines the process of WordPress-based Web site development. RichWP is no longer offering its framework theme for free, it would cost you $127.00
If you love richwp wordpress themes, you can download it here. And if you want to try richwp premium wordpress themes, you can use richwp discount code to save.