Do you want to move your business online? If the answer is true,then you will need some e-commerce script to build your online shop to sell your products or services. The best and easiest way to build a online store is use wordpress as CMS (content management system), as you know the WordPress is no longer a blogging tool anymore.A lot folks use wordpress to build huge websites/business sites/ e-commerce/. After you choose wordpress as your e-commerce CMS script, then find a professonal ,well designed wordpress e-commerce theme is very important.
Here are 2 professional e-commerce wordpress theme and 1 newly released good looking e-commerce wordpress template for you to choose.
All of these cool ecommerce wp theme are from templatic, their previous 2 e-commerce wordpress templates sell so well, and they released another new theme. You can your own online store easily! And their themes are best e-commerce themes so far with balanced features!
1. 2010 new e-commerce wordpress theme:KIDS STORE

Demo – Download
This is really a good looking,cute wordpress theme for online kids stores.You even don't believe this store run on wordpress!Yes, WordPress is an awesome script,and with a functional wordpress theme/ plugin, the wordpress become more powerful!
Kidz Store theme – Front end screenshots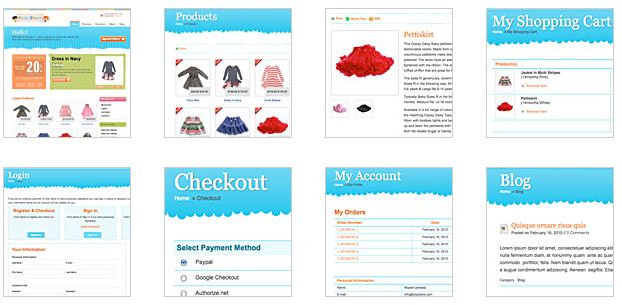 Kidz Store theme – Back End screenshots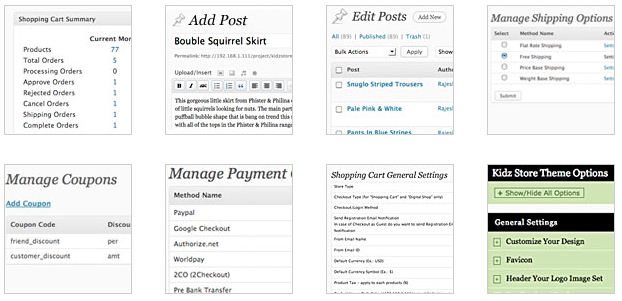 PS: Templatic Coupon Code for this new theme, Just Enter Coupon Code KIDZSTORE during check out , Get 20% off for the Kidz Store Theme .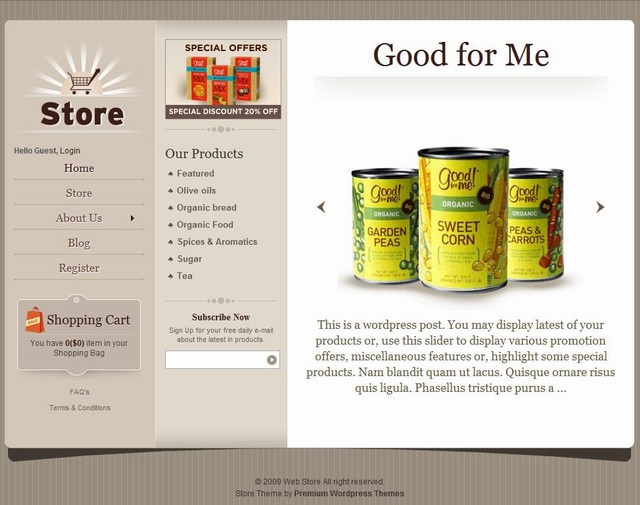 Demo – Download
This is the first ecommerce wp theme from templatic, they have designed a lot cool magazine/CMS/business/Blog/Gallery/Video/church/restaurant wordpress themes before, then they focus on ecommerce wordpress themes. At present they have released 3 professional ecommerce themes ! How powerful this theme? Just check out the details, you will find how good this theme.
3. The last e-commerce wordpress theme is eShop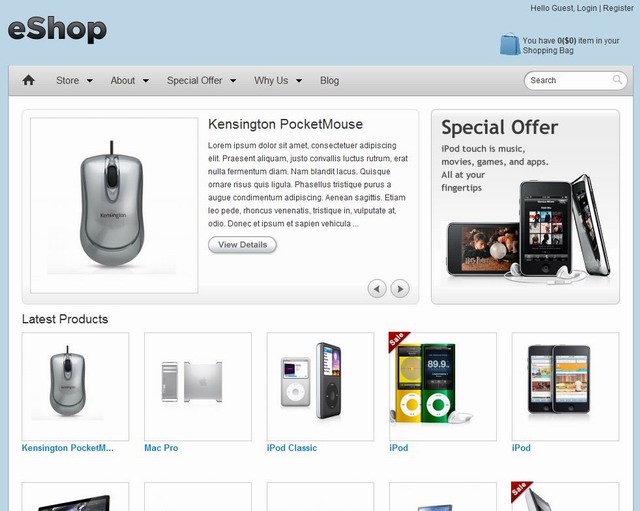 Demo – Download
This is the second e-commerce wordpress layout from templatic,a functional e-commerce theme without e-commerce plugins.As you know, there are premium and free e-commerce wordpress plugins,why use them? Just try this cool eShop theme! In fact, all of templatic e-commerce wordpress templates are NO e-commerce plugins NEEDED!
All of these e-commerce wordpress themes are very beautiful and functional, these are the reasons you should buy them if you want to create online stores and sell your products well.
Price :
Basic License : $65.00 for lifetime subscription
Developer License : $99.00 for lifetime subscription
Premium Themes Club : $279.00 for each year (you can download all more than 30 themes and future 1 year themes! Including PSD files! Really cool,right? )