Here is a collection of the best free video wordpress themes and video premium wordpress template for video/ gallery blogs/websites.Find the best video themes here.
Many video bloggers have searched that there are hardly any good WordPress themes for vlogs, there are few professional video wp themes on the internet! It is definitely one area where developers have not paid much attention while the demand for video blog themes is not great either. It could be the result of this mismatch of demand and supply that there are hardly any WordPress theme for vloggers.Then we tried to help you find the best video templates for your blogs/websites.we knew all along that there are very few of them but we had no idea that some of them are just Good.
Here is a list of best and popular wordpress themes for video blogs/websites.While not listed in any particular order, the themes below represent the highest quality video / multimedia premium WordPress themes currently available. We will update  new video themes as soon as we get new high quality ones.
1.Premium video wordpress themes
Object Theme for video websites

If you want to build a photos album/gallery or video related website based on wordpress, there is an ideal gallery wp tempate for you.Object is a supremely flexible theme designed to publish your photos and videos perfectly. The design sports 1 – 5 column layout options, 15 amazing colour schemes and one of the sexiest jQuery image galleries you've seen in a WP theme.
Object Theme is a quality WordPress template perfect for photography & video blogging.This multimedia wp theme has an elegant interface to publish both photos and video, and features a 1, 2, 3, 4, or 5 column design layout, neat javascript photo gallery slider, 15 colour scheme options and more.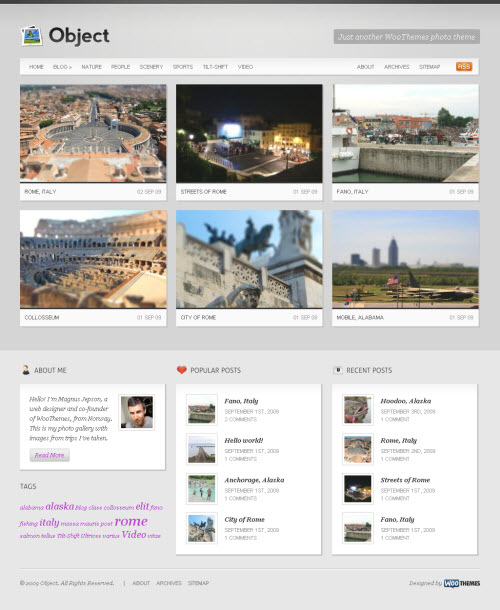 High-Def
Hi-Def is not grim and dark unlike other WordPress themes mentioned so far. It has a built in HD video player with full screen video display. It has a sliding content region in the top which is pretty Mac-style. The footer is wide like we see in the blogs of big blogging networks. It has integrated advertising spots while it is compatible with most browsers.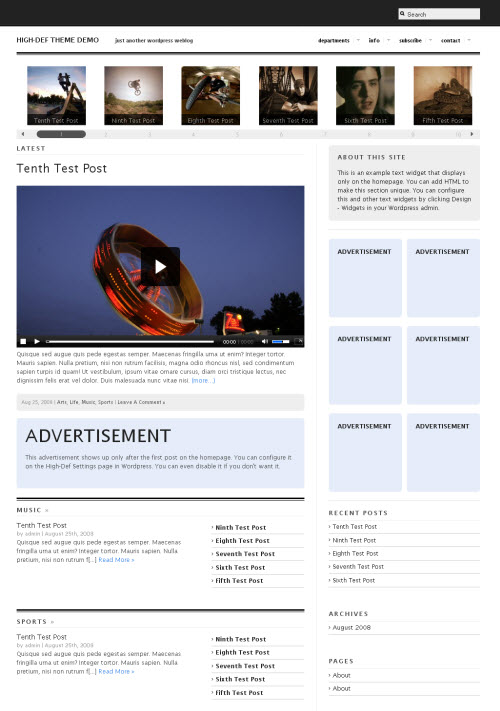 Video Flick 2.0 wordpress theme for video websites
A video centric premium WordPress theme from Press75. The theme allows you to seamlessly blend standard Blog and Video posts and features two colour scheme options (light or dark) and a theme administration page for detailed configuration and management.
Features
Supports a number of services and formats including Vimeo.com, YouTube.com, MetaCafe.com, Revver.com, Google Video, Seesmic.com and FLV (Flash Video)
Two Colour Schemes (Dark and Light)
Drop down navigation menu
Post Thumbnails and Videos in a Matter of Seconds
Theme administration options page for theme configuration and management
Integrated advertising placements
Video or standard blog posts
Full documentation and support provided
WordPress 2.7+ compatible
Video Elements 2.0 video wordpress template
A video centric premium WordPress theme from Press75. Video Elements 2.0 has been re-designed and re-built from the ground up providing the features you need to easily run and maintain a video website using WordPress.Video Elements was designed with the video blogger in mind featuring traditional and gallery style layout options, a fully wigitized and customizable sidebar, Instant View for viewing videos on the fly and much more. Video Elements includes two ways of displaying videos including the traditional linear layout as well as an optional gallery layout.
Features
Easily publish any embeddable video format
Seamlessly blend non-video posts
Breadcrumb navigation
Integrated advertising placements
Featured Content Widget
New theme options page
Automatic thumbnail creation
Drop down navigation menus
Easy logo uploader
Threaded comments and gravatars
Groovy Video wordpress theme for vblogs
A trendy, colourful video blog premium WordPress theme from Woo Themes. Creating video posts is quick and easy with just a copy / paste of the video's embed code. The theme features automatic video resizing, completely widegtized sidebar with other custom widgets, integrated themes options page and comes with 17 cool colour schemes.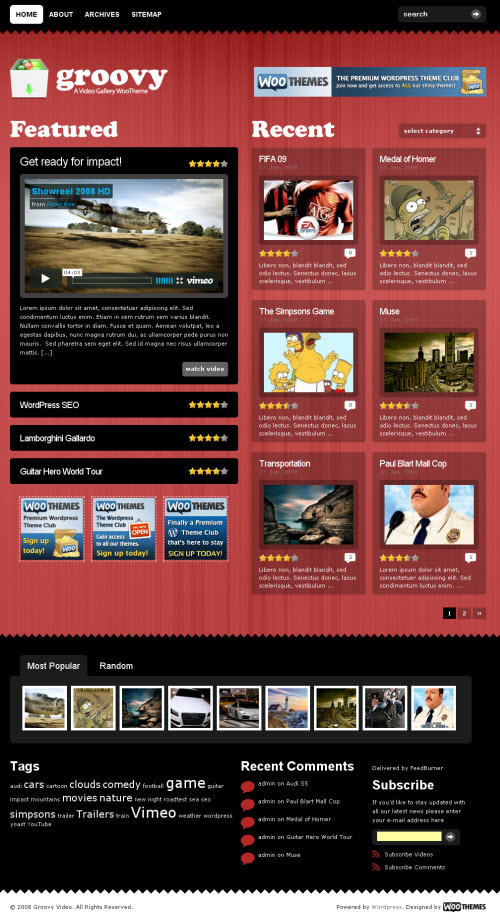 Features
17 amazing colour schemes to choose from!
Integrated Theme Options (for WordPress) to tweak the layout, colour scheme etc. for the theme
Videos are resized automatically and Groovy even publishes the embed code for your readers
Integration of the WP-PostRatings plugin for some added fun & interactiveness
Super-easy functionality to create video posts
A completely widgetized sidebar with custom widgets included in the theme packaging. No third party widgets required
Threaded Comments for WordPress 2.7
Custom Page Templates for Archives & Sitemap
Built-in Gravatar Support for Comments
3 Integrated ad spaces, which can accommodate both image banner ads or AdSense embeds
If you want to buy this video wordpress theme from woothemes.com, why not try woothemes coupon code to save money?
Tubular video wordpress theme from studiopress
A video premium WordPress theme from StudioPress which can also be used as a used a static website and/or a blog. The theme is also available in a light version.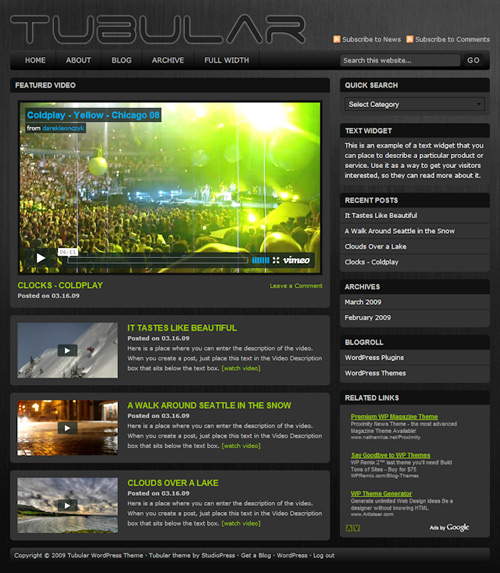 Features
Featured video post on homepage
2 columns
Integrated blog
Widget ready
Drop down navigation menu
Full width page option
try studiopress coupon code to get 25% off, just use BH10 as discount code to save money.
Woo Tube wordpress video theme
A video / multimedia premium WordPress theme from Woo Themes. The WooTube theme is great for daily video blog posts with super easy posting functionality, automatic video resizing, a completely widgetised sidebar and 7 different colour schemes. The theme can be used a normal blog / gallery / portfolio or any other way you like.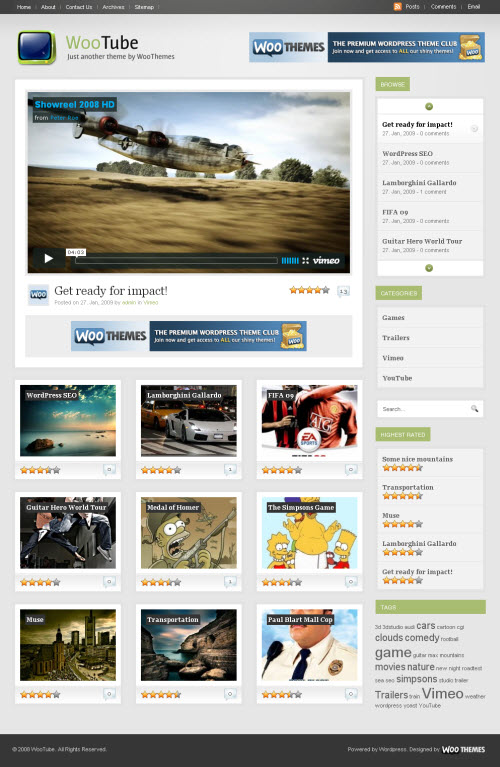 Features
7 colour schemes to choose from.
NEW! Optional homepage layout gives endless possibilities for usage of this theme e.g. gallery, portfolio or blog.
3 Integrated ad spaces, which can accomodate both image banner ads or AdSense embeds.
Super-easy functionality to create video posts.
Completely widgetized sidebar with custom widgets included in the theme packaging.
Videos are resized automatically and WooTube publishes the embed code for your readers.
Integration of the WP-PostRatings plugin for added fun & interaction.
No third party widgets required.
Integrated Theme Options to tweak the theme layout, colour scheme etc.
Built-in Gravatar support for comment.
Playtime wordpress theme for video blogs
A video WordPress theme from Zidalgo designed for video & multimedia websites. The theme allows you to easily embed videos from video sharing websites or your own video files. Other features include a rotating featured video section, multiple layout options, auto thumbnails, custom widgets, and more.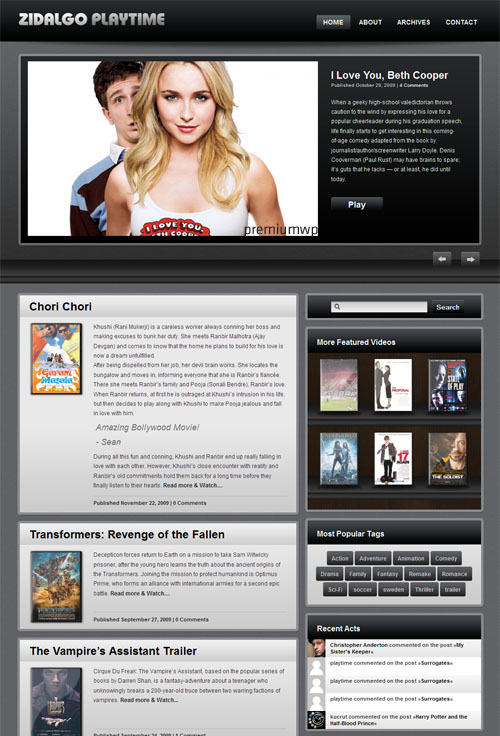 Features
Easily embed videos from YouTube (including playlists), Google Video, DailyMotion, Vimeo, Veoh, Viddler, Metacafe, Blip.tv, Flickr videos, Spike, and MySpaceTV. As well as these file types: Flash Video Files (FLV), QuickTime (MOV, etc.), Generic video files (AVI, MPEG, WMV, etc.)
Rotating Featured Video Header Section (can also be disabled)
Custom widgets such as Flickr gallery display, top rated posts, latest tweets, recent acts, jump menu, more featured videos, sideblog, and live-search
Multiple theme layout options – choose between 1 or 2 column display.
Theme options
User ratings system
Easy language translation
Smart jQuery integration for dynamic and impressive user interface features
eVid Theme for wordpress video blogs/websites
eVid is a theme designed for video bloggers. I have set it up to easily integrate videos from video hosts such as Youtube, Vimeo, Veoh, MetaCafe, and so on. This theme does not have a native video player, but it does include a custom video interface with added "blogger-related" functions. This theme is only for sites that plan to showcase videos within their post pages. I have test the theme with all the most popular video hosts, but I expect that it will work with any website that offers a flash embed code.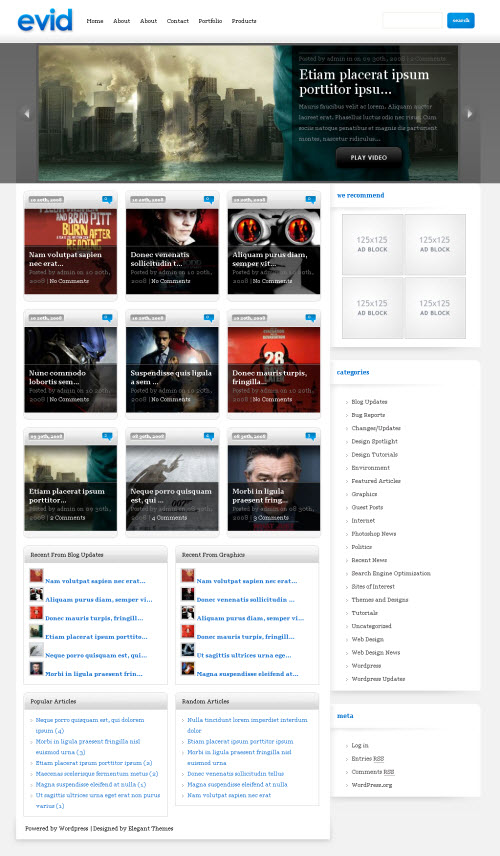 Features
2 colour styles – light and dark
Widget ready sidebars
Theme Option Pages
Custom thumbnail images
One Demand Theme for video/movie wordpress blogs/websites
The On Demand premium WordPress theme from Press 75 provides a fully featured video site solution.Inspired by the popular video site Hulu.com, the On Demand WordPress theme provides a fully featured Video solution. Stream videos from high definition services such as Vimeo or Blip.TV, or host your own collection of embeddable flash video. The On Demand theme can handle any embeddable video format out there up to 1024px wide.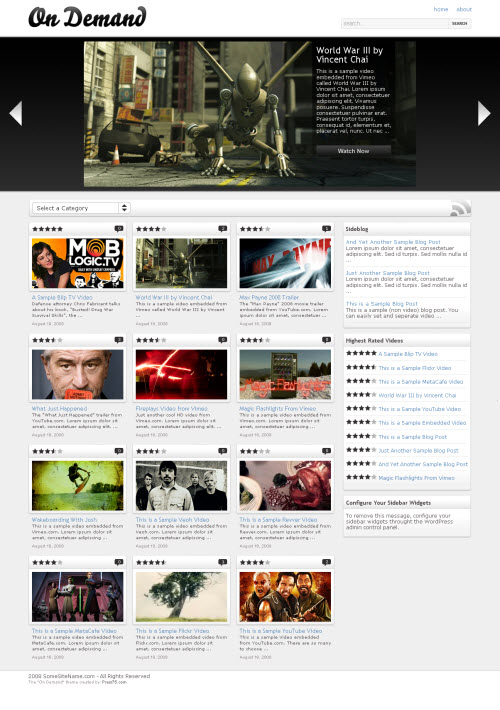 Features:
Posting Video is Simple: as simple as copying the embed code from the source site and pasting it into a field
4 unique sidebars
Works with any embedded video up to 1068px wide including: Blip.TV, Flickr, MetaCafe, MySpace, Veoh, Viddler, Vimeo and YouTube.
Fully compatible with the more popular web browsers including FireFox 2 and above, Internet Explorer 7 and above, Safari and Opera
Integrates video and standard blogging in one single package
Social links for each video are automatically populated
Hash One video wordpress theme
A unique and stylish personal blog premium WordPress Theme sporting a large featured video section on the homepage.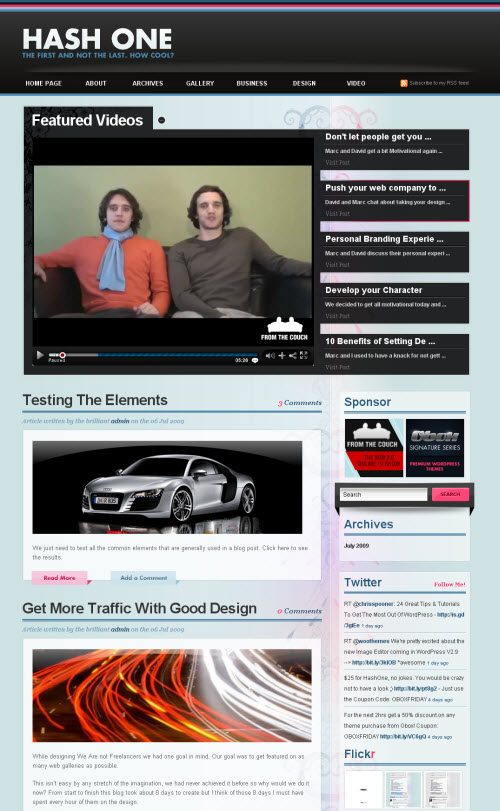 wpShow – multimedia and video theme for wordpress
wpShow is a video theme for your blog enables you to feature videos as posts alongside with the regular blog posts.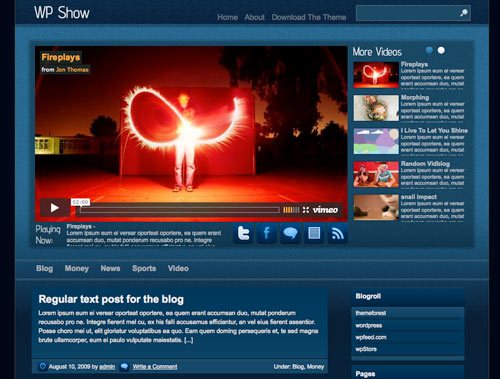 Features
Video Player Box On Homepage With Featured Videos Carousel
Supports Video Posts
Two column tableless layout
Custom Writing Panel
Supports Regular Text Post
Sidebar Widget Ready
Gravatar Ready
TV Elements 3.0 wordpress theme for video blogs
The TV Elements WordPress theme is a welcome addition to my Video centric theme collection, bringing an entirely new element to the way you browse and interact with video on a website. This theme was built around video and specifically designed for higher resolution services such as Vimeo, Blip.TV and several others.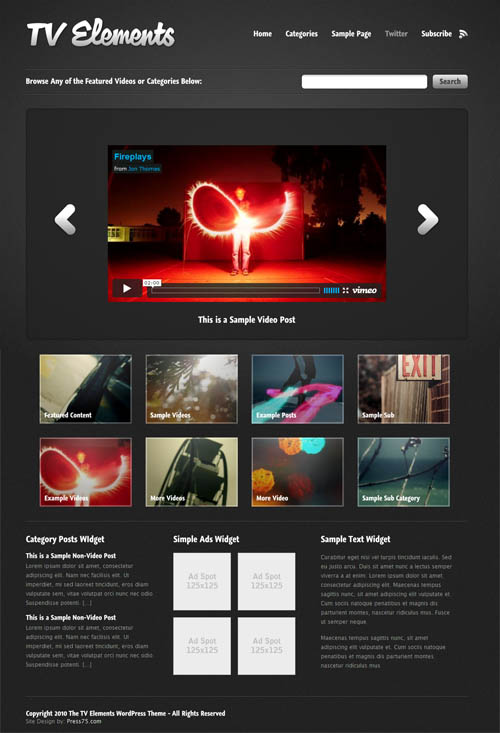 Features
Featured video carousel on the homepage
Display any number of featured videos
Automatic thumbnails
Drop down navigation menu
Numerous widget areas
Integrated advertising placements
Theme options page
Display up to 12 "channels" (categories) on the home page
Custom widgets for featured content, sidebar ads and related posts
use press75 discount code to save money.
2.FREE video wordpress themes
Video theme by foxinni
if you ever wanted to run you own "No sweat" Vlog (Video Log/Blog), you can do so now with my Video Theme. Making use of the most simplest of wordpress functionalities, you can embed your own Videos, YouTube, Meta Cafe, MySpace, Veoh and many more.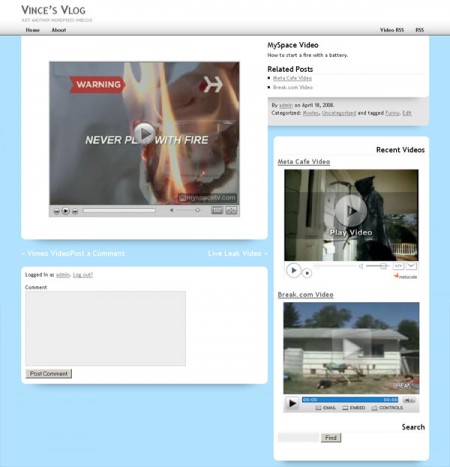 Demo /Download
Features:
Dark or Light Layouts
Multiple Color Schemes
Built-in 'Recent Videos' Widget
Embed personally hosted videos (.flv)
Embed from any site

Embed from supported videos sites:

YouTube
Meta Cafe
Daily Motion
Vimeo
Veoh
Break.com
Blip
MySpace
Live Leak
Hulu
More to come, on request…

Video RSS Support
Add multiple Videos form different sources to a post.
Smashing Multimedia wordpress theme for video blogs/websites

Here is a great free video wordpress theme:Smashing Multimedia! Smashing Multimedia was designed especially for podcasters, photographers and users who can now easily embed videos and images, rate them and showcase them in their own WordPress-based blog. It has a parent theme and an easily customizable child theme. This WordPress Theme comes with layered PSD source files, a visual help guide and is fully localized ready for you to translate it into your target language.
The free  wordpress theme for video website is released under GPL. You can use it for all your projects for free and without any restrictions. Please link to this post if you want to spread the word. You may modify the theme as you wish.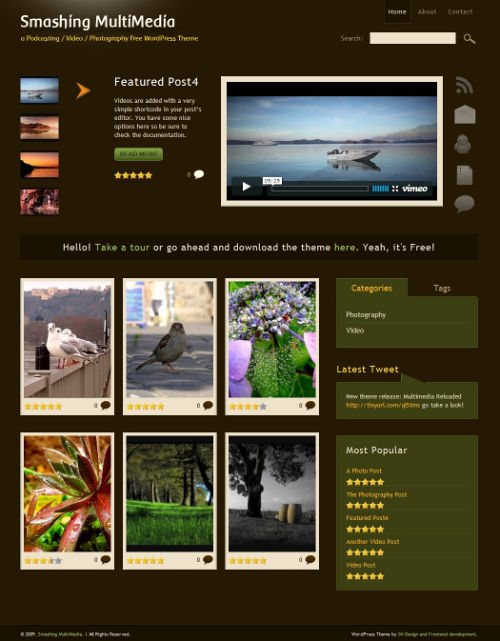 Features
Easy media embed method, with shortcodes in the post content area or use a media plugin of your choice (supported are YouTube, Vimeo, Google Video, Blip.tv, Veoh, Viddler and Revver),
Feature any post, any category – the easy way – just make them sticky! Why restrict yourself to one featured category when you can have the freedom to pick and choose any post from any category to feature!
Choose and put together your Site's Main Navigation without touching the code in the template files. All available options are right there for you included in the Theme Options.
Choose and put together your Site's Category Navigation (appears in sidebar) without touching the code in the template files. Again, all available options are right there for you included in the Theme Options.
Choose the type of splash image for your media posts: sliding or static splash image. Do the same indepently for Category pages.
Choose the type of post teaser (the usual excerpt or text from the content) to appear on multible post pages and customize it's word limit through theme options. The word limit can be adjusted independently for sticky (featured) posts or multimedia posts on the front page and on category pages.
Subpages appear dynamically in sidebar when created
Related posts: if there are any, appear in the single page sidebar. How many should appear is set by you from the theme options
8 Independent widget areas: front page seperator (1) just below the featured area, front page (1 – index), category(1), archive (1 – daily, monthly, yearly, author and tag archives share the same widgets), single (1), page (1), search (1), 404 (1).
Security: 2 common sense security precautions already hooked in just for you; hidden login page error feedback and hidden WordPress version number,
Preventing Spam: a useful little function to deny Comment Posting to No Referrer Requests
Extra goodies: cformsII styles, wp-Pagenavi, wp-PostRatings, WP125: Easy 125×125 Ad Management For WordPress styles included, show your last tweet (shows on the front page and can be removed and replaced by any plugin of your choice so in other words you are not stuck with it if you don't like it), Social share media, Feedburner Rss and Email, Follow on Twitter, "Give it a Tweet" call to action to your readers, styles for threaded comments (if enabled), seperated comments and trackbacks (appear in animated dropdown), styled admin comments, custom avatar image for when your users don't have their own!
…and even more features! (pdf)
More Free Podcasting, Video and Photography WordPress Themes