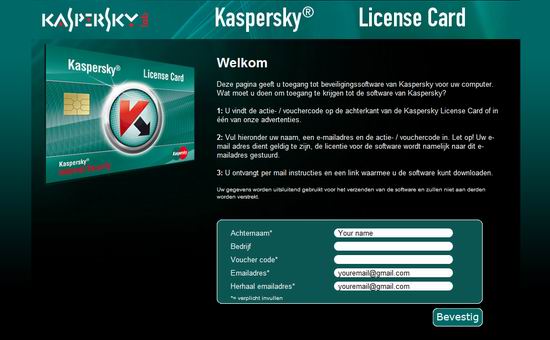 Kaspersky Lab is a world famous computer security company, co-founded by Natalya Kaspersky and Eugene Kaspersky in 1997, offering anti-virus, anti-spyware, anti-spam, and anti-intrusion products. For many years, their safe wares protect our PC and keep the virus away. Their latest security software Kaspersky Internet Security 2010 have published for month, you can buy the kaspersky internet security 2010 activation code online or get one from some free kaspersky internet security key websites.
Usually the Kaspersky Lab will cooperate with other companies and will give a lot free kaspersky activation code for their users. Recently, Kaspersky Lab Benelux provide an unique offer in collaboration with the PC Magazine. If you are PC Magazine reader, you can get a FREE 6 months Kaspersky Internet Security 2010 license, no, infact, you can get more kaspersky internet security 2010 activation key if you have more valid emails.
In order to get the 6 months free kaspersky internet security 2010 key , you need: valid email and a coupon.
* The Kaspersky Internet Security 2010 working well on Windows 7 , Windows XP, Windows Vista (both 32 and 64 bit OS).
I do not know how long this voucher code will work, but at least you can get the free six months KIS 2010 license key.
Here we go:
First of all,visit the website: http://free.kaspersky.nl/
Then fill up the form.
"Achternaam" box: Your Name
Voucher code box :HP2NT3X2
Emailadres* box: Your valid email
Herhaal emailadres* box:  repeat Your valid email

Click the Bevestig button, soon you will get an email from Kaspersky Lab Benelux with the kaspersky internet security 10 activation code.
Active your kis 2010 now!