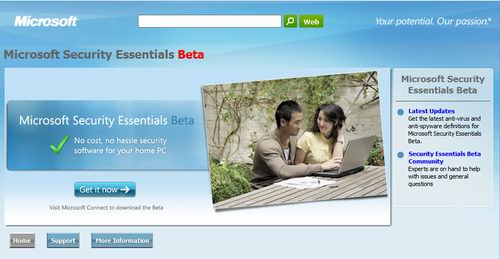 If you do not want to pay for the security wares, there are a lot free wares just like AVG Antivirus,Avast and Avira which are think the best free Antivirus Softwares, and now, you have another choice! The Microsoft Security Essentials.
If you want to download Microsoft Security Essentials, please read the post first.
This Microsoft Security Essentials beta is available only to customers in the United States, Israel, China and Brazil .I have download this free software for test, and it works well(I am using Kaspersky internet security 2009 on my computers)I tested it on Windows XP sp3 and was quite impressed with it.
Notice:In order to void problems, you should uninstall other anti-virus wares before you install this free security software if you have one.AV-Test GmbH tested Microsoft Security Essentials on Windows XP, Vista and Windows 7, putting it up against nearly 3,200 common viruses, bot Trojans and worms.The malware was culled from the most recent WildList, a list of threats actually actively attacking computers.All files were properly detected and treated by the product.
Security Essentials is easy to install and easy to use. Updates and upgrades are automatic, so there's no need to worry about having the latest protection. It's easy to tell if you're protected – when the Security Essentials icon is green, your status is good. It's as simple as that.
read more:Microsoft Security Essentials Review (With Screenshots)
Download Microsoft Security Essentials