A review of gorillathemes.com premium WordPress themes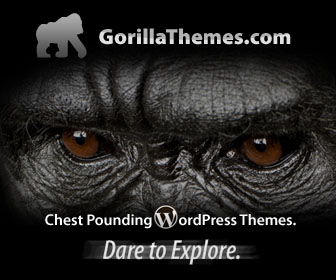 The first thing that you are likely to think about when you stumble on to this site is "where did they get that name from?" Love it or loath it though, you will soon see that the site has a few very good themes for you to look through, even if some are a little bit on the niche side. In this Gorilla Themes review we'll take a look at the different elements of this site and its themes, therefore meaning that you can come to a conclusion regarding whether you are going to check them out for yourself!
Gorilla Themes Selection
You'll probably work out by the layout of the site that Gorilla Themes is not a large site, and this is reflected in the amount of themes that they currently have. That being said, the 20 themes on there are all of a good standard and will serve a purpose very well, should you decide that the design is right for you. As mentioned in the introduction to this Gorilla Themes review, some of the designs are for quite a niche audience, such as "The Vistas", which is solely aimed at real estate companies, and "NightClubbing" which, as you can guess, is aimed at nightclubs. In fact, going back to real estate, nearly half the themes are dedicated to this industry!
Download Gorilla Themes
Gorilla Themes Features
Gorilla Themes really don't have the variety of features offered by some of the other WordPress sites, but they still have a few that are definitely worth mentioning in this Gorilla Themes review. These are:
All themes feature Gorilla Press' very own 3 minute installation, meaning that you can install the themes in no time and begin posting!
Most themes have the option of a stylish and well-designed slider, which can be placed near to the top of the page.
Twitter and Facebook widgets can easily be added to the site, simply by inputting your IDs for these services into the relevant fields.
When adding videos, they will generally automatically be resized in order to fit the area that you have posted them to.
 Banner management is included in themes, meaning that you can easily start making money from services like Google AdSense.
Gorilla Themes Support
The support that is provided by Gorilla Themes is up there with the best of them, as they have a forum for posting those burning questions in, as well as the option to email them too. They also provide comprehensive documentation for all of the themes that they produce, which will answer the most common problems. If you want more advanced help, such as help customizing a theme, the Gorilla Themes offer professional services at a small price to complete these. They'll even install the theme and getting running for you for just $99!
Gorilla Themes Pricing
On Gorilla Themes, you pay for every theme that you download, unlike some sites where you have to sign up to a membership plan or pay a lump sum to get all of the themes. There are three prices for every single theme, coming in at $39.95, $69.95 and $99.95. While there are some minor differences – such as increased support for the two more expensive options – this Gorilla Themes review really can't see enough to justify the price differences. Obviously the final decision is yours, as you might feel that you need to spend that little bit more for increased support. You can use gorilla themes discount coupon code to save.
Gorilla Themes Conclusion
In conclusion, Gorilla Themes produces solid themes that are great for those looking for niche websites. They have good levels of support and, while their pricing might be a little awry, we recommend that you take a look at what they have to offer before you buy from anywhere else.