Woothemes.com released a new premium business wordpress theme early today, the simple clean business cms wordpress theme is named Simplicity. Woothemes Simplicity is a business theme that is hugely customizable with a clean layout, custom post types for testimonials, and featured home page slider, mini-features, portfolio items, and slides etc. Make this new cms wordpress theme your own and completely configure your home page how you want.
Business CMS WordPress Theme: Simplicity
With Simplicity we tried to create a theme that could become your one-stop / all-in-one option for new business websites. This means that the theme had to have extreme flexibility in both design & functionality without compromising on either of those.
Starting with the homepage, you'll see the following modules available: a Featured Slider, Mini Features, Portfolio & Testimonial. You will also note that we've taken this flexibility into the featured slider as well, where you have multiple layout options, which allows you to use that space as you wish.
We also believe that by including basic portfolio functionality, Simplicity enables you to showcase your products. Whilst this functionality only includes the basics for now, we can totally see it possible – in future – to integrate WooCommerce to add an online retail aspect to the theme.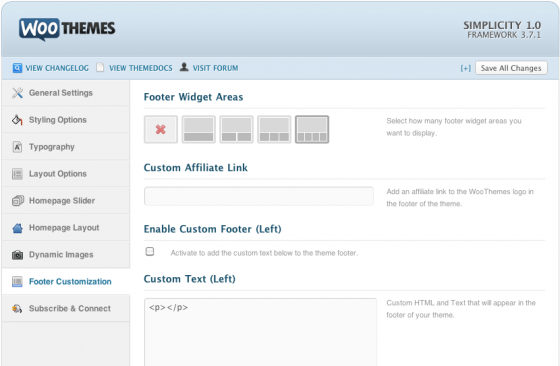 Under Simplicity's hood you will find woothemes established WooFramework at the core, making sure that everything runs just perfectly.

Customize your footer (1 / 2 / 3 / 4 columns isn't a problem for Simplicity and we'll even remove it if you want), tweak the typography or switch around the layouts/sidebar of the inner pages.
Sounds too easy, right? But the WooFramework really is that awesome and if you consider it is being used in all 89 of  woothemes wordpress  themes, it needs to be incredibly flexible already.
As far as opinions go, Simplicity is our answer to the question "How should a new business website look?". If one of us were to start a new consulting firm or photography studio, we would most probably use Simplicity. And if that sounds like we're just saying that for the sake of it, we have some "evidence" to prove this: we actually use our own stuff often!
More Features:
Custom Post Types?The theme takes full advantage of the new custom post types functionality than came with WordPress 3.0, so adding slides, mini-features, testimonials and portfolio posts is dead easy!
Custom Homepage?Custom home page layout with mini-features, portfolio and testimonial modules.
Featured Slider?A custom home page featured slider to showcase your work or products with style, all powered by jQuery. Optional slider pagination gives your visitors easy overview.
Portfolio Page Template?An optional integrated portfolio section driven by custom post types, which utilizies jQuery prettyPhoto script to display your work in a lightbox.
Custom Widgets?The theme has a widgetized 1 sidebar (that you can even include on the home page) and 4 footer, and as always comes with 8 custom Woo Widgets (Ad Space, Blog Author, WooTabs, Subscribe, Feedback, Search, Flickr and Twitter).
Alternative Styles?The theme includes 9 alternative color styles which you can preview in the demo, and also has styling options for background color/image and setting link and button color.
Custom Typography?You can customize the typography in the theme to suit, and there is full support for Google Fonts in the font selector.
Price:
Woothemes Simplicity Theme: $70
Woothemes Developer package: $150
Woothemes Club: $125 — $200
Demo / Download
WooThemes is giving an 11% discount on their brand new business theme called Simplicity theme until the end of the month. Use the coupon code below to claim it! It's a good time to buy the theme so go for it! Use the woothemes coupon code "SIMPLE11? to redeem that discount on your purchase of Simplicity. Valid until 23 March 2011 only.