If you are looking for a good wordpress theme for your personal blog, why not choose studiopress latest new micro blogging wordpress theme Tapestry? this is the first of what will be many Tumblog-style child themes for Genesis. With the release of WordPress 3.1 which includes post formats, we want to take full advantage of the awesomeness that WordPress provides. Tapestry takes everything you make online, and makes perfect, beautiful sense of it. The Fabric of Your Life is Made of Many Layers. You take pictures, you write stories and opinions, you make videos, you link to cool stuff all the time.
Tumblog Style WordPress Theme: Tapestry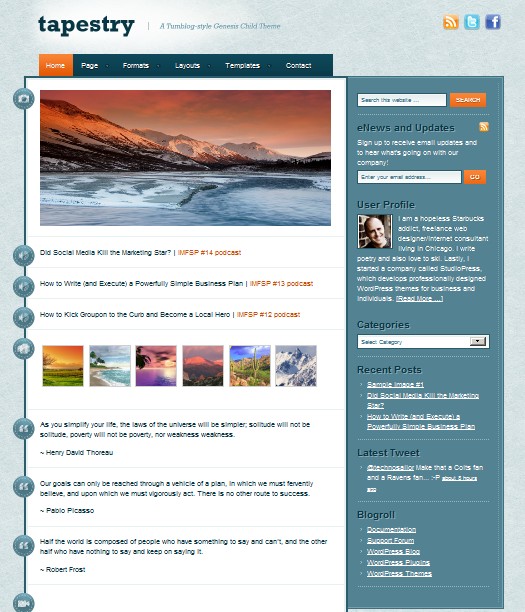 This Microblogging w/Genesis WordPress theme works on the Genesis Framework and can be downloaded by Pro Plus members in the support forum. Another reason to be a member of the best WP theme generation club! I needed a theme that would allow me to highlight specific content and provide detailed navigation for my readers. The theme I'm using meets my every need and helped increase my site's page views.
Features:
3 layout options
featured images
fixed width
post formats
theme options
threaded comments
With Genesis, You Get Access to Beautiful Turn-key Designs
Unlimited support. Unlimited updates. Unlimited websites. There's no "Developer Option" here.
One low price entitles you to unlimited support, updates, and domains you can build on.
State of the art code and smart design architecture mean search engines clearly see your content.
And with automatic updates to Genesis, you never have to think about it again.
Price:
StudioPress Tapestry child Theme : $24.95
StudioPress Tapestry WordPress Theme: $79.95
Genesis theme: $59.95
Studiopress Pro Plus Membership: $249.95 (all present and future themes are FREE!)

If you love studiopress wordpress themes, why not get it now? There are no valid studio press discount code /promo code at present, but we will update the studiopress coupons as soon as we get new one.