With the release of studiopress Genesis v1.6, studiopress released a new version of the popular focus wordpress theme. Studiopress have update the Focus child theme to take advantage of the new custom header function that is now a part of Genesis.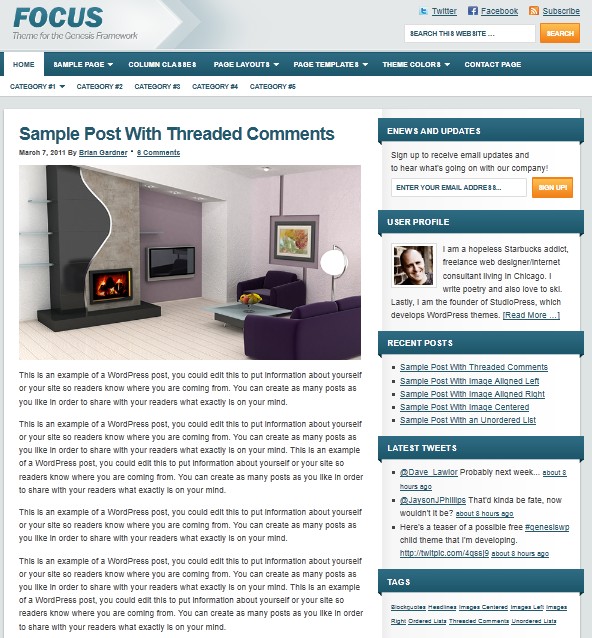 Demo / Download
The Focus cms corporation wordpress Theme was built to bring your words, pictures and videos into sharp relief. It's a clean and powerful theme with one critical objective: concentrating your priceless reader's attention. This is a functional, easy to use wordpress cms theme, you can use it build your site easily.
While the original Focus child theme included support for footer widgets, studiopress' team have replaced the method in which the footer widgets are registered. Prior to Genesis v1.6, they had to include the footer widgets with a lot more code than is required now. Thanks to Genesis, which does the heavy lifting, you can register footer widgets with a single line of code.
If you are currently using an earlier version of Focus, you don't have to update to the v1.0.2. If you already have a logo header then there really isn't a need to include custom header to your site. The footer widgets code was simply consolidating code which you already have, so there isn't any additional benefits to updating. More and more people using wordpress now and a lot people choose studiopress themes for their site, if you love this theme, why not get it now? The price of this theme is just $24.95! If you haven't purchased the Genesis, the price is $79.95, of course, you can get the full package, that means you can download all present and future studiopress themes FREE for life and the price is just $249.95! There are no valid studiopress discount code at present, but we will update the studiopress coupon code as soon as we get new one.