More and more websites/blogs use wordpress these days, backup your site and keep your data safe is a must. Do you know which is the best wordpress backup plugin?
If you want to use the free wordpress backup plugin, of course the WordPress Database Backup plugin: On-demand backup of your WordPress database. Navigate to Tools ? Backup to get started, you can download WordPress Database Backuphere.
If you choose the paid ones, of course the BackupBuddy, and the author released a new version of Backup Buddy today, the BackupBuddy 2.0 is ready, more powerful! You can use this plugin backup all your files not just your database: including upload images, files, database, and this plugin CAN restore your site just some clicks! You can backup restore and move to another hosting easily! This major new release includes over 75 new features and enhancements. The goal with this update was to make BackupBuddy more versatile and even easier to use. Early reviews say we hit it out of the park! If you love it, you can use backupbuddy coupon code to save.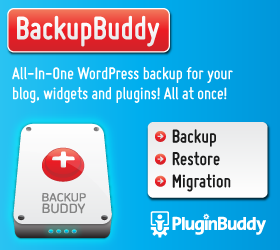 New Features:
Some key improvements of the BackupBuddy 2.0 include:
Streamlined flow & usability – making it even easier to use than ever before.
Built-in pop up tutorial videos – right in the plugin so you don't have to go anywhere to learn.
New server tools for viewing status and troubleshooting, including file permissions so you can make sure your most basic security is correct.
Background manual backups – so you can start the backup, close the page,and the backup continues to run.
Improved performance and compability – so it supports larger sites and slower servers.
Added support for Rackspace Cloud Storage for remote backups.
Malware Scanner – a huge stress reliever!
BackupBuddy is already in use on over 20,000 sites!
Just use Backup Buddy coupon code: APRIL30PB and you can take 30% off the Personal,Business, or Developer Membership Plan.
(Note: this must be used before the end of the day Friday)
Download BackupBuddy 2.0 and start experiencing greater peace of mind knowing their backups are solid and secure!