More and more people use wordpress these days, and more and more professional functional wordpress themes and plugins created for us. There are free wordpress themes and paid ones, no matter what, you can find quality ones. Here is a free wordpress theme from press75, which is a RSS Aggregation WordPress Theme, this theme is good for webmasters and readers who want to get the latest rss news, it is useful!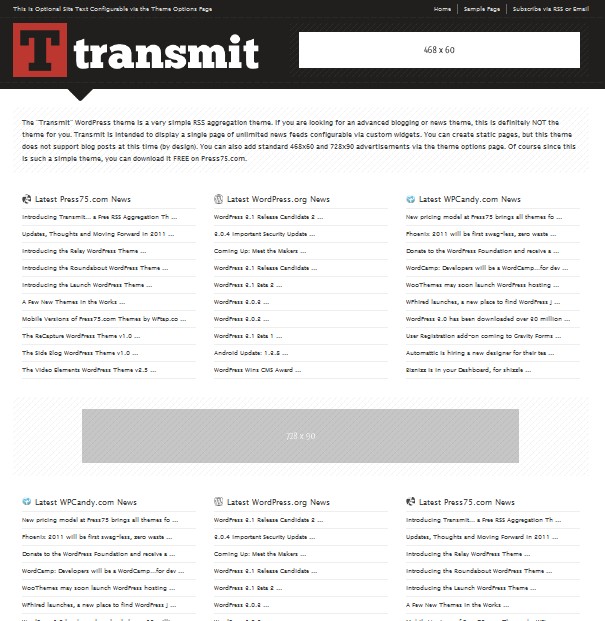 Demo / Download
The Transmit theme is packed with all the amazing features listed below:
Press75.com "Simple Panel" 3.0 Options Page
Logo Customization Options (Image or Text)
Compatible With the Latest Version of WordPress (Currently 3.0.4)
100% Valid XHTML & CSS
Custom Footer Text Options
Twitter Integration Options
Header Customizatin Options
Custom Menu Options (Use Default or Completely Customized Menus)
Custom Widgets
Google Analytics Integration Options
Comletely Widgetized
Browser Compatibility
This theme has been tested and verified to work within the following browsers:
Mozilla Firefox 3.5 and Later (for Windows, Mac and Linux)
Safari 3 and Later (for Windows and Mac)
Google Chrome (for Windows, Mac, and Linux)
Microsoft Internet Explorer (IE) Versions 7.0, 8.0 and 9 Beta (for Windows)
Price:
FREE
Demo / Download
If you love press75 premium wordpress theme, you can use press75 discount code to save. Also, if you are building auto blogs, you can try wp robot plugin, and use wp robot coupon code to get $91 off.