If you are looking for a flexible wordpress theme which you can control the design and give your website a unique look, the prose theme is an ideal wordpress theme for you!
The Prose theme is a child theme of the leading wordpress theme provider Studiopress, this is the first WordPress theme for the Genesis Framework that includes a full set of design controls, so users can customize the look and feel of their theme without any custom CSS. If you want to design your own unique professional layout, this theme is for you.
Prose is an elegant theme with point-and-click design controls. With Prose, you can easily change things about the appearance of your site (like colors and fonts) without knowing anything about code.
StudioPress Prose Theme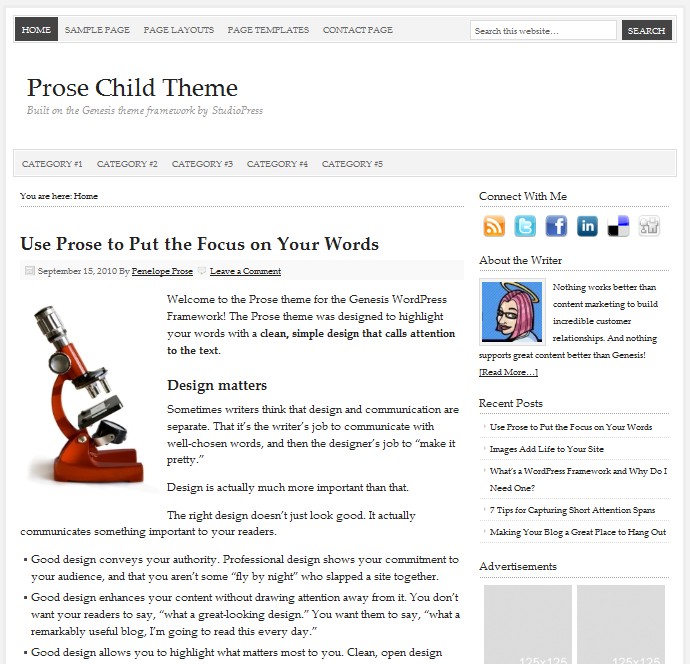 A flexible wordpress theme designed by studiopress
Maybe your readers prefer a larger font. You probably have certain colors you've chosen to reflect your individual brand. If you can point-and-click, you can customize Prose.
This is such a great theme that you can control almost every thing! Font size and typeface, site colors, and many other key visual elements can be customized, while still retaining the professional design that keeps Prose looking sharp. The theme has a clean, streamlined design that's perfect for content marketing, or for any site that wants to put content front and center.
Prose was designed by Rafal Tomal, and showcases his love of uncluttered but sophisticated design. Special thanks also goes out to Gary Jones and Daisy Olsen for helping with the development.
The price of the studiorpess genesis theme is $59.95,
while the price of Genesis + Prose is $84.95.
don't worry, you can use our valid dobeweb.com readers only studiopress coupon to get 25% off!
Of course this studiopress discount code also works on studiopress proplus package, also you can get 25% off.

The best value:
Buy pro plus package, you can get:
Includes Genesis and Prose
Includes EVERY Theme studiopress Make
Unlimited Updates, Support & Sites
Access to Detailed Tutorials
Savings of more than $500!
Click here to get the pro plus membership!

Also you can choose the popular wordpress theme frameworks just like Headway themes, diy -thesis theme and ithemes builder, flexx themes.