Studiopress released a new wordpress theme today, this is really a cute wordpress theme you can see. This theme is from designer Chris Ford, who has design another cute wordpress theme before, that is Family Tree theme. Yes, both of them are really cute, looks so great!
If you are looking for lovely wordpress themes, I do think both themes you may love. A unique design that should suit a whole new customer base!
Here is a picture of this new lovely wordpress theme: Bee Crafty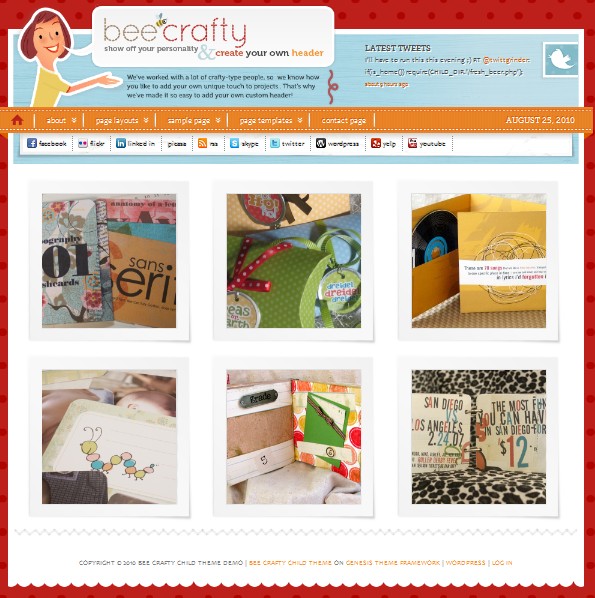 This cute theme looks like the studiopress expose theme, a galley on the homepage, you can showcase your story pictures directly, yes, visitors love images. also you can showcase your products or photograph, also a good photography wordpress theme. Some days ago, press75 released a gallery wordpress theme, but as you know, not that cute and lovely than this bee crafty theme.
Here is a inner page of this studiopress new theme: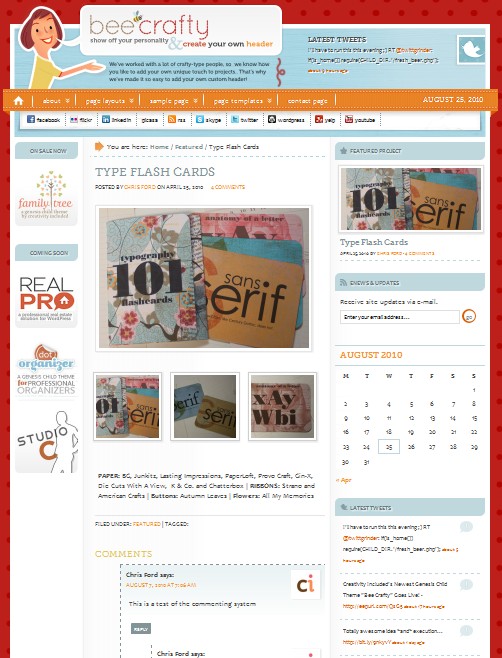 3 column, popular design, cute graphic background. Lovely!  A good wordpress theme for female. If you are going to buy this studiopress wordpress theme, why not use studio press coupon code to get 25% off? If you want to download more studiopress themes, you can buy the pro plus package, you can download all current studiopress themes and future themes FREE! Yes, a life time fee. No extra fees every month. Not like the woothemes, if you joined their theme club, you have to pay extra fees every month!
Why not backup your wordpress based websites/blogs now? Use backupbuddy plugin, you can backup all your wordpress databse, themes, plugins, upload files easily! Also you can use this plugin to restore your website easily. Trasfer your website from one hosting to another hosting is easy now! You can use backup buddy coupon code to get 25% off!
If you are new to wordpress, you can buy this book: Digging Into WordPress, and you can use Digging Into WordPress discount code to get 25% off.
*Chris has been designing websites since there was a web to design for. She fondly remembers the highly anticipated release of the animated gif, as well as her extreme overuse of said technology in the early 90s. She has worked for clients from Wynn Hotels and Sony Pictures Entertainment while a corporate designer to Tara Whitney Photography, Digital Scrapbooking magazine and Autumn Leaves as a freelancer.