Fresh, Clean and Unique WordPress Themes. Use Relay to display all your social media services such as YouTube, Twitter, Flickr & more! Relay is a simple clean, minimalist premium WordPress theme from Press75 which is designed to display your blog posts as well as all your social media services such as Twitter, YouTube, Flickr etc. Relay includes 9 exclusive social media widgets that allow you to customize your home page however you like with whatever content you like. Once you configure your widgets, your content is fully automatic and updates itself as you use your social media services.
Social Media Galore Premium WordPress Theme Relay
Relay: New Simple clean wordpress theme from press 75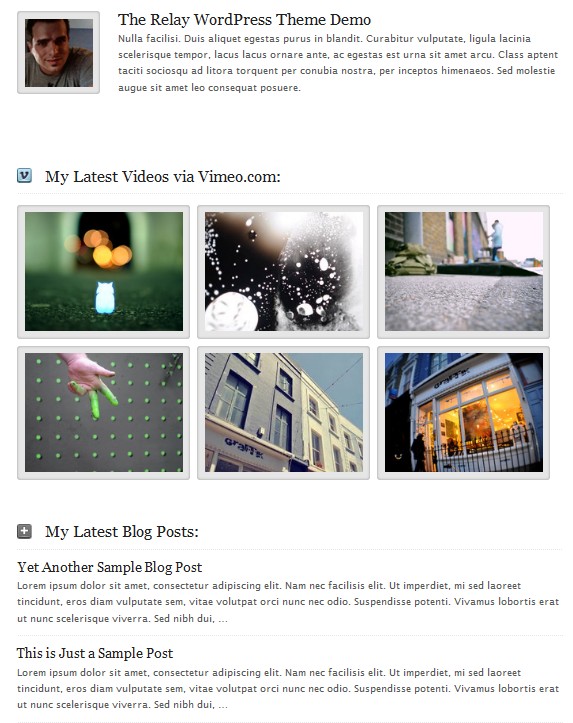 Demo / Download
This simple clean wordpress theme includes header, menu and style customization options (color, fonts etc), featured content options, theme options panel and more.
For this initial release, you can configure relay to display (in no particular order) YouTube.com Videos, Twitter.com Tweets, Dribbble.com Shots, Delicious.com Links, Flickr.com Photos, Vimeo.com Videos, Last.fm Tracks, Custom RSS Feeds and Featured Posts. Each of these custom widgets in this premium wordpress theme can be used as many times as you like allowing you to aggregate as much content (even from multiple sources) as you like on the Relay home page. As the requests pour in, I will be adding more social media services. As with all my newer themes, Relay includes extensive custom style options which can be used to change the look and feel of the entire theme right through the theme options page. Change your background image/color, font and link colors, menu colors, image background colors and more. If you love this design, why not get a copy?
Features
Press75.com "Simple Panel" 2.0 Options Page
Style Customization Options (Background Image/Colour, Font Colours)
Custom Menu Options (Use Default or Completely Customized Menus)
Header Customization Options (Image & Text)
Exclusive Press75.com Widgets (Dribbble.com, YouTube.com, Last.fm, Twitter.com, Flickr.com, Vimeo.com, Delicious.com, RSS, Featured Posts)
Featured Content Options
Completely Widgetized
Compatible with the Latest Version of WordPress
Custom Footer Text Options
Google Analytics Integration Options
100% Valid XHTML & CSS
Some of the best WordPress themes will take the design of your blog or website to a whole new level. All of them are really professional designed and look that we feel had a little something extra that made them stand out from the crowd. This press75 relay theme is a good one.
Price
Relay WordPress Theme: $50
Press75 All Themes Package: $275
Demo / Download
You can use press75 discount code to save more.