This is a brand new stylish wordpress theme from woothemes. It's the best wordpress theme for promoting books! If you have write a new book, why not promote it on the internet? On the internet, people can learn more about your book, and this marketing idea do make sells.
WordPress Themes for Selling books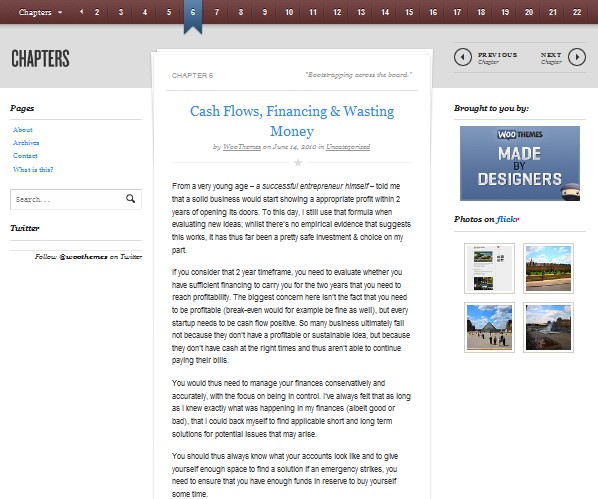 Demo / Download
The Chapters WordPress theme was originally designed by uber-designer, Tim van Damme, and was used to to promote the book "Rockstar Business" (which has since been re-designed to gear it towards it's post-release marketing strategy)..Having sold more than 1000 copies of this self-published debut book, It is a perfect match for anyone wanting a unique design for their blog, and also a perfect way to promote a book.
Alternative Styles
The theme includes 10 alternative color styles which you can preview in the demo, and also has styling options for background color/image and setting link color.
Unique Book Layout
The unique design of Chapters makes reading a blog post feel like you are reading a chapter in a book.
Post Navigation
Navigating between blog posts/chapters is easy with the navigation.
Post Index
The theme provides a nice dropdown which provides an index over your blog posts/chapters.
Custom Widgets
The theme has 4 widgetized areas in the footer, and 2 widgetized sidebar, and as always comes with custom Woo Widgets (Ad Space, Blog Author, WooTabs, Search, Flickr and Twitter).
Post Bookmark
The top post/chapter list provides easy overview of the number of chapters and also a visual bookmark of the current post.
Custom Typography
You can customize the general typography, and there is full support for Google Fonts in the font selector.
Chapters is a niche theme, specifically designed to be used to preview, tease & promote a new book. Whilst it's coded to be as flexible as possible, Chapters will perform best when used to do just that: sell your book. You can use woothemes coupon code to save.
"When I started writing my book, I knew I wanted to create a mechanism, and channel by which I could start promoting the book, so that once it was ready for release, it would've already gathered quite some traction. The biggest stumbling block in this regard, was obviously to convince people that my book was worthy of pre-ordering… And the only way to do that was to share teasers / previews of some of the content."
Yes, this theme rocks! Why not get a copy and promote your books online?
Don't have a book to sell? The Chapters wordpress theme is still perfectly geared to help publish blog content in a non-traditional, yet hugely usable manner. Tim seems to have a knack in re-inventing the wheel when it comes to navigating website page content, take his early css-revolutionary design 24ways.org as a prime example of that.
Price:
Woothemes single theme: $70
Developer package: $150
You can use woothemes coupon code to save. As you know that most of the woothemes coupon are limited time offer, but you can use the wootheme Permanent 3-for-1 promotion: Buy any one of woothemes WP themes, and get two more FREE!