Good news for all, iThemes new Restaurant Builder Block and Child Theme Released! This is a beautiful, functional wordpress theme for cafe,Restaurant related websites. Use wordpress as CMS and manage your website easily.
Builder Blocks basically package everything you need for niche site creation, including custom post types, custom taxonomies, and any needed custom widgets in to one easy to deploy package. The first Builder Block is one for Restaurants.
Entrée is a new theme from iThemes that takes advantage of WordPress custom post types and makes them easy to use for restaurant owners and developers.
* It's easy to show a location of your restaurant, using Google Maps integration built right into your Dashboard by just entering the address.
* It's easy to build a menu with detailed options and prices. All in easy-to-use entry forms in your WordPress Dashboard.
* It's a Builder child theme, so you still have all the great layout features of Builder, but with all the options that the Restaurant Block offers.
iThemes entree wordpress theme for Restaurant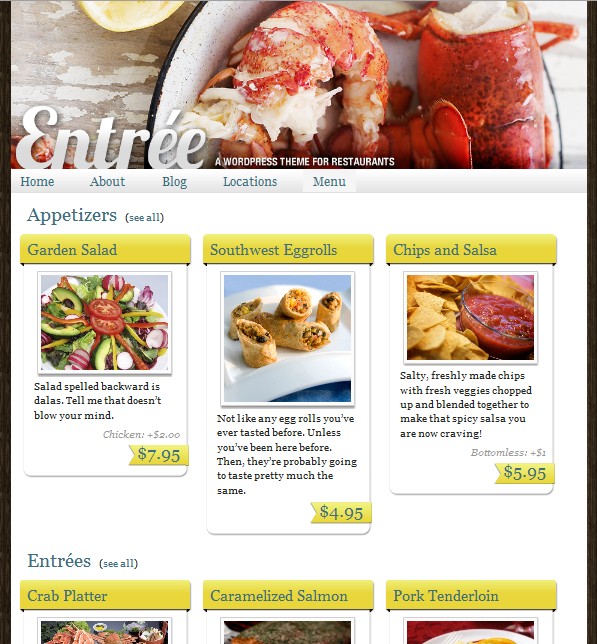 Download iThemes Builder or get more details here
Remember to use ithemes discount code to get 25% off.
And here is a video about it. For a lot of folks, that last sentence was just jibber-jabber, so itheme's team made a video that explains it much better.

The ithemes released Builder Block today, alongside a Builder Child-Theme that has specific styling for it. Also this including both the Builder Restaurant Block and Builder Child – Entree as a special bonus to Builder customers as well as All Access Pass customers. Download it and build your websites now! Use ithemes coupon code to get 25% off!
Here are 4 of the free child themes included with iThemes Builder:
* BONUS: Builder Child – Entree Restaurant Theme w/ Builder Blocks
* Builder Child – Astro
* Builder Child – Slate
* Builder Child – Anchor
You can use iThemes Builder coupon code to get 25% off. Grab the iThemes Builder theme discount code now!
Here are some more Restaurant WordPress Themes for you.
* iThemes is one of the leaders in producing high-quality premium WordPress themes for photographers, designers, and businesses. Simply put, we love WordPress, the open source software that runs our designs.