Do you think the blogging platform WordPress can do the commerce? or WordPress should be a CMS? The answer, in fact is TRUE.
The wordpress become more and more powerful, and more and more websites are running on wordpress, no matter a personal blog, or a online gallery, corporate websites, and the ecommerce websites! WordPress is a great platform for setting up an online store, and there is a wide range of themes available to help sellers reach target customers.
If you are going to build a online store, you can consider these professional ecommerce wordpress themes for your online shop.
Best eCommerce WordPress Themes for online stores
Shopperpress WordPress Theme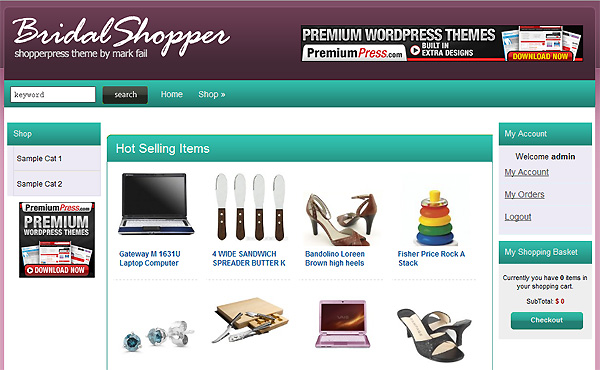 Demo / Download
ShopperPress is a fully featured shopping cart theme for WordPress, suitable for selling all types of products, services, and digital downloads online. And this theme includes 20+ store designs, unlimited installations, lifetime free support and upgrades!
ShopperPress is a turn-key ready "out of the box" shopping cart solution. You simply install, select your template, add products and your ready to start accepting orders. This is the ideal solution for anyone starting their own store online selling their own products or services, affiliate products or even ebooks, music or file downloads!
There are more than 20 professional layouts for you to choose from: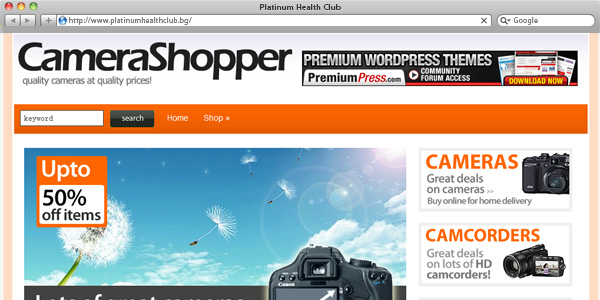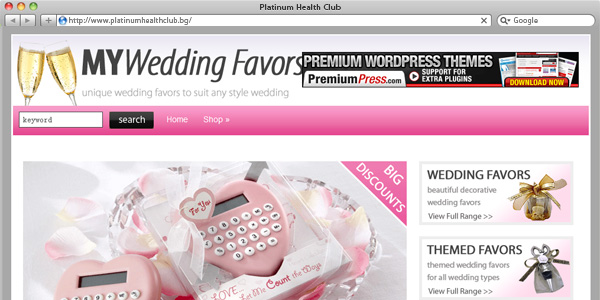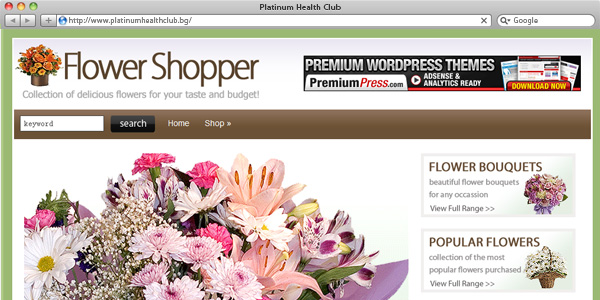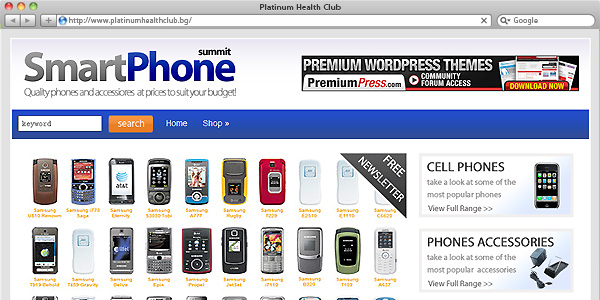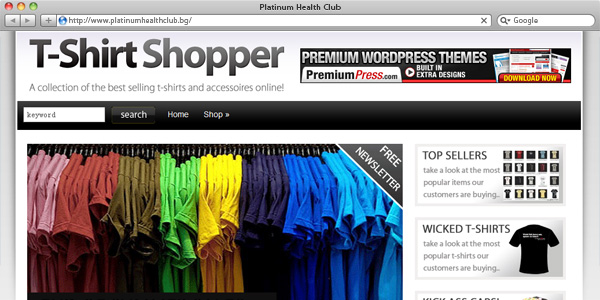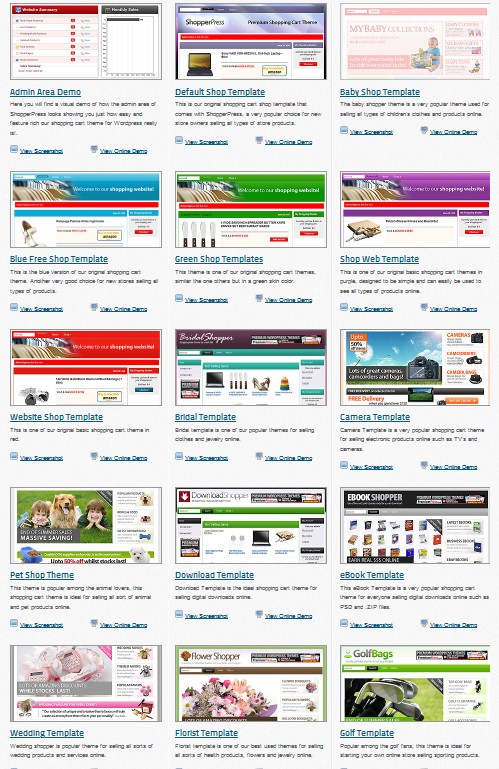 And you can use shopperpress discount coupon code to get 37% off now!
Sofa Shoppr – WP3.0+ Webshop Theme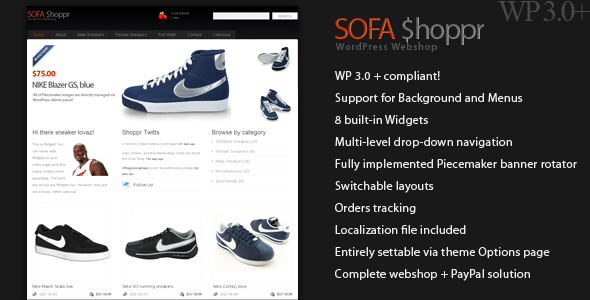 Demo / Download
Sofa Shoppr is WordPress based webshop (e-commerce) theme. It works in conjunction with PayPal payment gateway which means that users can safely checkout either by using their own PayPal account or a credit card. Beside the fact that this theme is extremely easy to setup and maintain, it does include all of WP 3 .0+ features, built-in widgets, advanced layout control, user reviews and an ample Options page through which all the crucial sections of your future webshop are settable.
Another cool thing is a featured products banner rotator – Piecemaker (Adobe Flash app), fully integrated into system. Webshop owner can simply upload all the slides through WP Admin panel and set all of Piecemaker variables via theme Options page so no need to edit XML file or upload slides by using FTP client. On top of that, each banner can be linked to a certain/featured product page – if needed.
You can select between 3 different layouts for your webshop Home Page; it can consist of Widgets only, it can be a grid of listed products (no sidebar) or a combo of grid and sidebar. Both grids may optionally be mixed with Widgets too which is another great feature – you can literally create your own layouts.
There's plenty more but I guess you'll discover on your own as soon as you install Sofa Shoppr.
The Jewelry Shop – WordPress eCommerce
Feel free to test the shop using the following payment methods: Bank transfer in advance, Cash at store, Cash on delivery as those do not take you to a payment gateway.
A Flexible, Plugin Free and Localized (Translation-Ready) eCommerce theme!
Viroshop – Professional Ecommerce Theme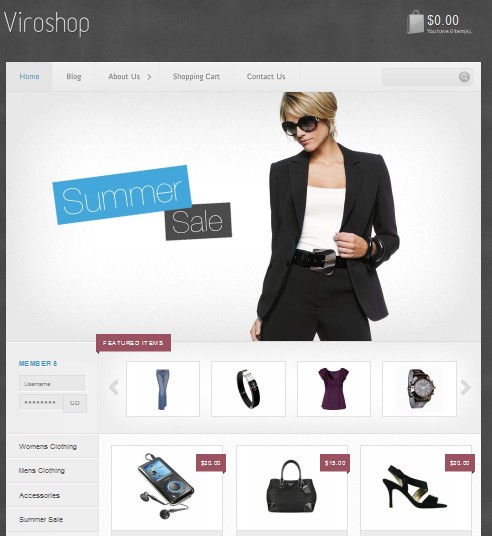 Demo / Download
Your eCommerce website should be a high converting machine that not only looks great but also builds tremendous credibility.
Viroshop turns your default wordpress installation into a fully functional online store. Viroshop can be run entirely in your wordpress admin, so whether you're a WordPress Pro or just starting out anyone can use this theme and you don't have to touch a single line of code.
The Furniture Store – WordPress eCommerce Shop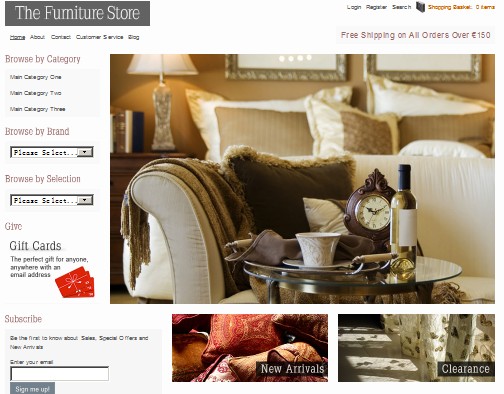 Demo / Download
Another Flexible, Plugin Free and Localized (Translation-Ready) eCommerce theme!
The Clothes Shop -WordPress eCommerce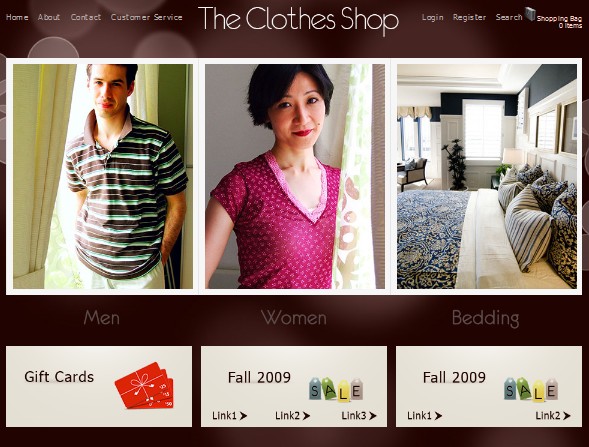 Demo / Download
Ecomerce solutions in general require more performance, you are running a shop so you need some power behind it and not to forget that your goal is to get many, many visitors, so choose a decent hosting package.
WPA Storefront – The Ultimate WP-E-Commerce Theme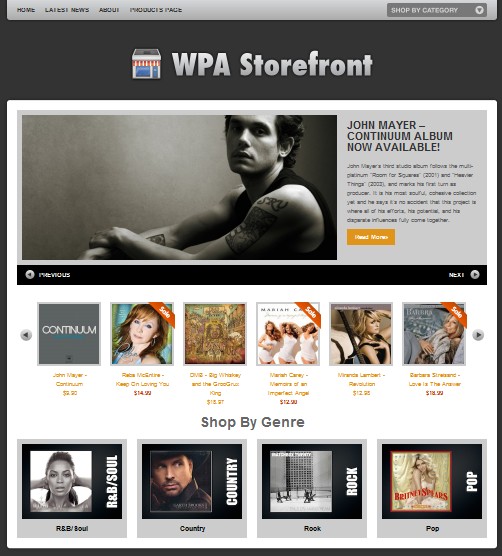 Demo / Download
This is the ultimate WordPress ecommerce theme built specifically for the WP-E-Commerce plugin!
If you've ever used the WP-E-Commerce plugin, you probably noticed the same thing I did…the plugin has a lot of potential and power, but no themes are available that really harness it's power to show products. This theme solves that problem by using the existing WP-E-Commerce code combined with some new custom coding to display your products and product groups like never before! We've created new custom styles for the product page and shopping cart without touching the plugin files. Then, our custom homepage options gives you a myriad of options for displaying your products.
In short, this theme is all about making your ecommerce site more successful. By focusing on the homepage, we've put your products front and center and given you more control over how your customers shop on your site.
eStore WordPress Ecommerce Theme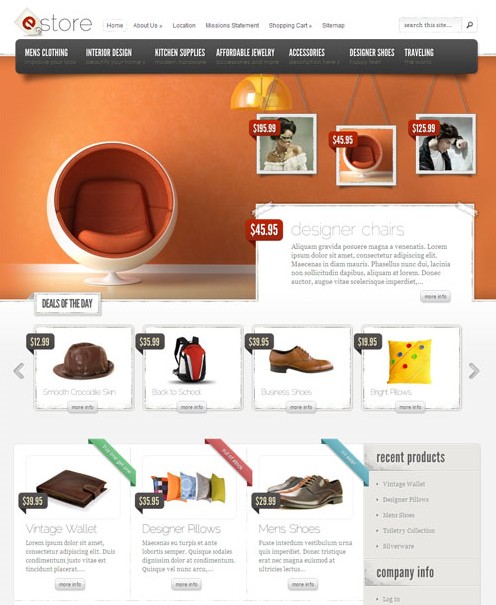 Demo / Download
eStore from Elegant Themes is a stylish premium theme that helps transform a WordPress blog into an online store website ideal for selling products on the web. The theme doesn't include its own shopping cart, but rather keeps itself open for integration with some of the most popular (and free) ecommerce WordPress plugins, including eShop and Simple PayPal Shopping cart. The theme features 5 colour schemes, drop down menus, options panel and more.
2010 eCommerce WordPress Thmee Store Front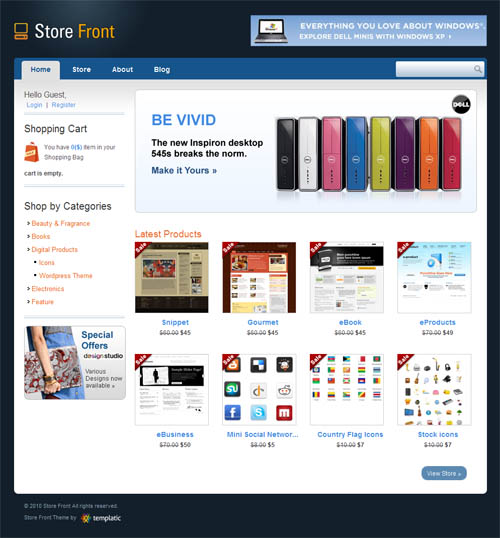 Demo / Download
Store Front is an ecommerce WordPress theme from Templatic that allows you to create an online store website with WordPress. The Store theme comes with 5 alternative colour schemes and has a long list of features and options (see below) making it easy to setup and run an ecommerce WordPress site selling digital or physical products.
Features:
A lot Colour Scheme Options
Easy to Use
One Click – Auto Install
Shipping Options – you can choose Free, Flat rate; Weight or Price based shipping option for your store, you can even set free shipping for particular items
Order Management – you can manage the order – approve, process or cancel / reject an order.
Specify product size(s), colour(s), and other miscellaneous features
Multiple Payment Gateways – PayPal, Autorize.net, Google Checkout, WorldPay, bank transfer and Cash on Delivery as payment gateway options
Manage Tax – specify overall tax percentage that applies to all your products and, you may choose to leave individual products tax free
3 Different Shopping Cart Modes: Shopping Cart, Digital Goods, Catalogue Mode
Grid View / List View – option to see the products in list view or grid view
Coupon Codes – generate coupon codes for sales promotions
Product Images – Built in multiple product image upload. Uploaded images are auto re-sized to fit various thumbnails required throughout the site. Also the product zoom functionality is built it
User Registration – Users may register on your site or, they will be taken to registration page on the checkout procedure. They will have their own user area where they can keep track of their order, manage profile and download purchased digital products.
Bulk Upload (CSV) – You can export your data in .csv files and import it in your WordPress installation from other shopping cart solutions
Assign Parameters – Specifying Tax, weight, colour(s), size(s) are easy. Also you may specify different prices for different size/colours etc
Product Management – Add / Edit / Delete products as easy as you create a WordPress blog post
Affiliate Module – you may choose to activate affiliate program where your customers/others can signup as an affiliate partner and start promoting your products. They will be able to track their affiliate data in real time, and as an admin, you will be able to export/check affiliate reports easily
Integrated blog
Online Store wordpress theme: Emporium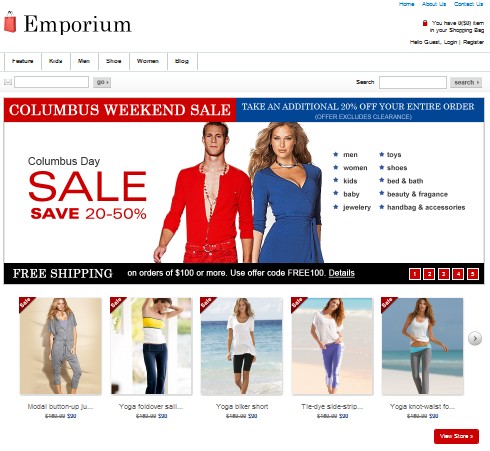 Demo / Download
This is a simple clean functional store wordpress theme for selling products, you can sell bags, clothes, shoes etc.
It transforms your WordPress install into a fully functional Ecommerce store complete with backend administration. Use wordpress to easily manage your store that sells Tangible or intangible/digital goods. It is very easy to use. The layout looks so great! This is a new theme.
e-Commerce wordpress theme for online shopes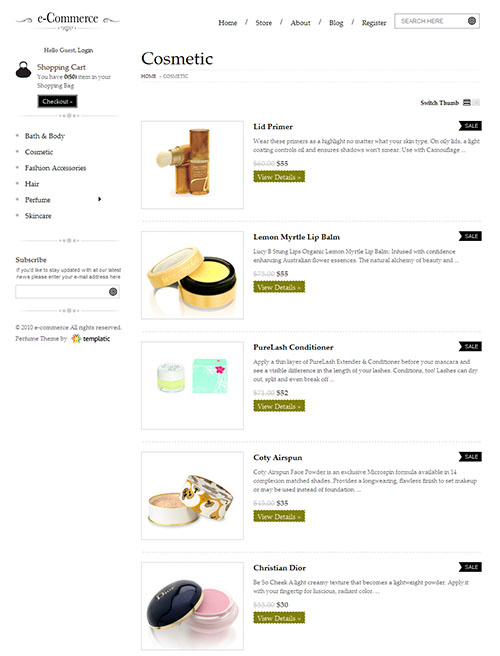 Demo / Download
E-commerce is a shopping cart WordPress theme from Templatic with a clean, minimalist design. Templatic have a number of e-commerce WordPress themes with different designs. The E-Commerce theme comes in 5 colour scheme options and has a long list of features and options (see below) making it easy to setup and run an online store with WordPress.
New store wordpress theme:WP Store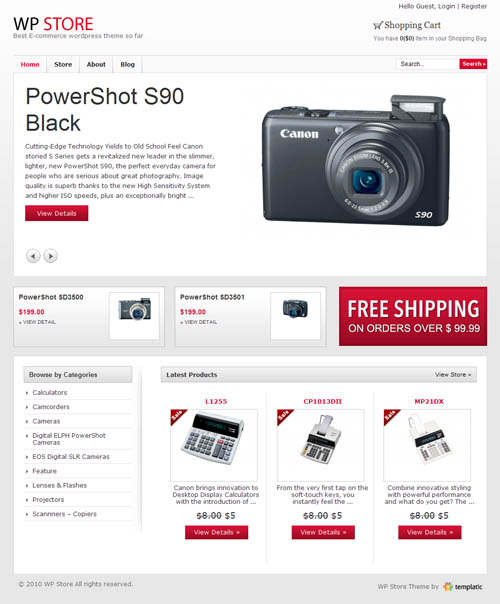 Demo / Download
WP Store is a clean and elegant store / ecommerce WordPress theme from Templatic designed for selling products online. Templatic has a range of ecommerce WordPress themes in different styles. The WP Store theme has a long list of features and options (see below) making it easy to setup and run an online store with WordPress. It comes with two colour options: white and black.
Sellers can establish an online store from scratch with this theme, showcasing products and with easy payments, shipping and stock management.
Kidz Store: A cute store wordpress theme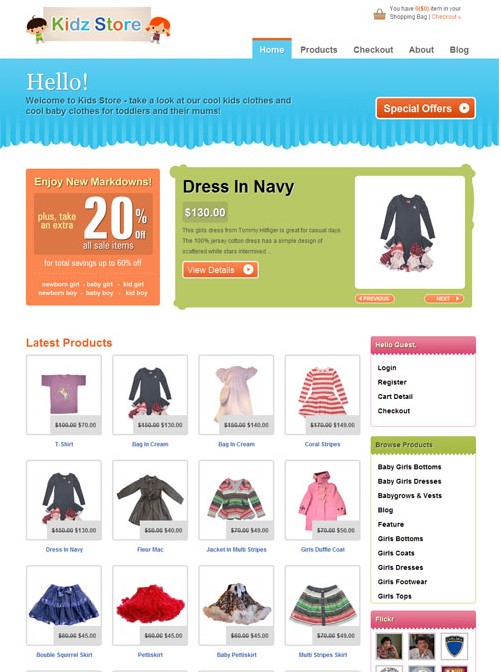 Demo / Download
Kidz Store is a fully functional online shop / ecommerce premium WordPress theme from Templatic designed for selling children's products (clothes, toys, books etc) online. Templatic also has other ecommerce WordPress theme in different styles including eShop and Store. The theme has a long list of features and options (see below) making it easy to setup and run an online store with WordPress.
This bright and friendly theme is a great way to present products aimed at children and, more importantly, their parents. The colourful and functional shop front is supported with backend administration and all the necessary ecommerce features.
eShop Theme: A good ecommerce wordpress theme sale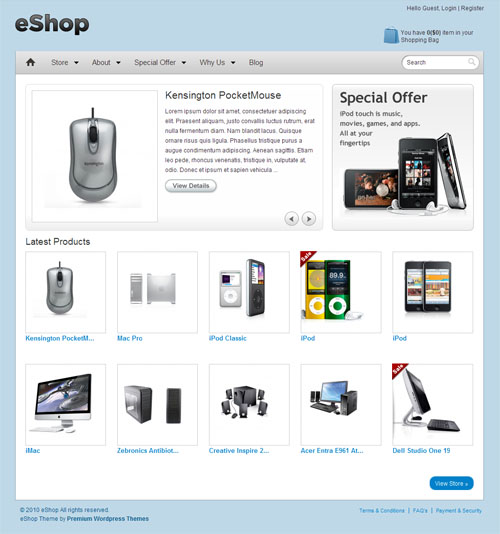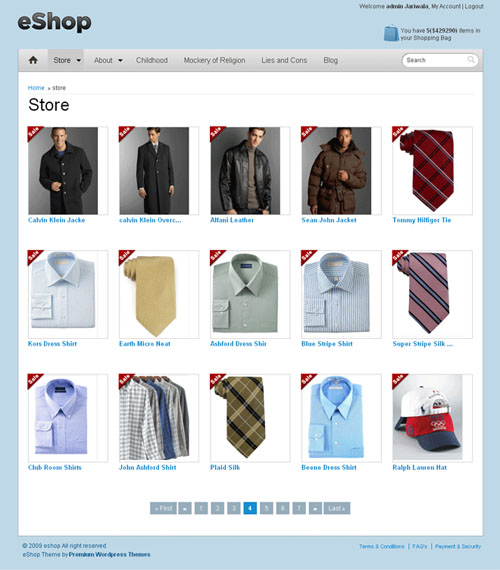 Demo / Download
eShop is an ecommerce WordPress theme by Templatic. The eShop theme allows you to create a fully functional ecommerce store using WordPress. It comes with 5 colour scheme options and an astonishing array of features (see below) making it ideal for business of any size to easily sell their tangible or digital goods online.
This theme offers extreme ease of use for both sellers and customers, simple to configure with an intuitive and crisply designed interface. The template has powerful features and can be tweaked to suit any product.
Store WordPress Theme from Templatic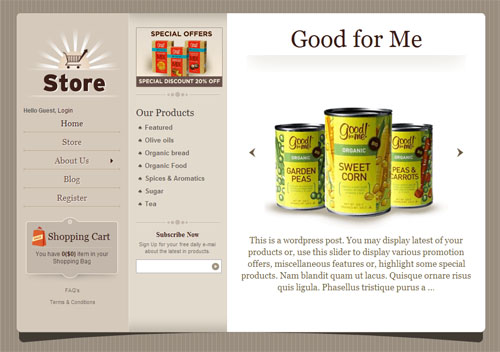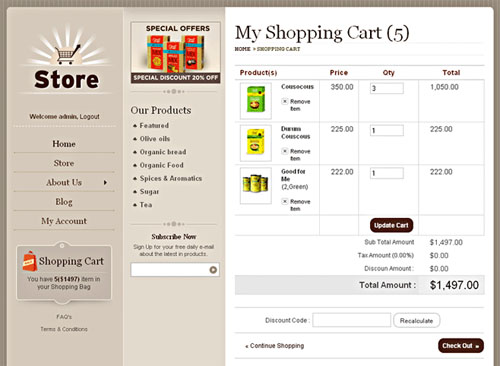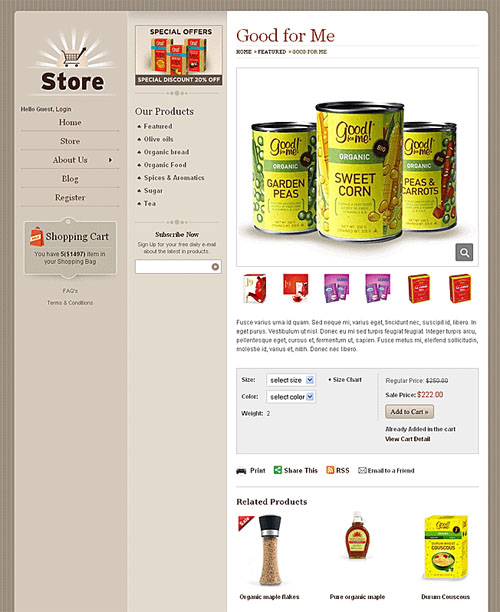 Demo / Download
Store is an ecommerce WordPress theme from Templatic ideal for online small business websites. The theme will transform WordPress into a fully functional ecommerce store website allowing you to sell tangible or digital goods online easily. The Store theme is a complete ecommerce solution for WordPress which includes an astonishing array of features (see below) with no additional plugins required.
Ecommerce Theme from ithemes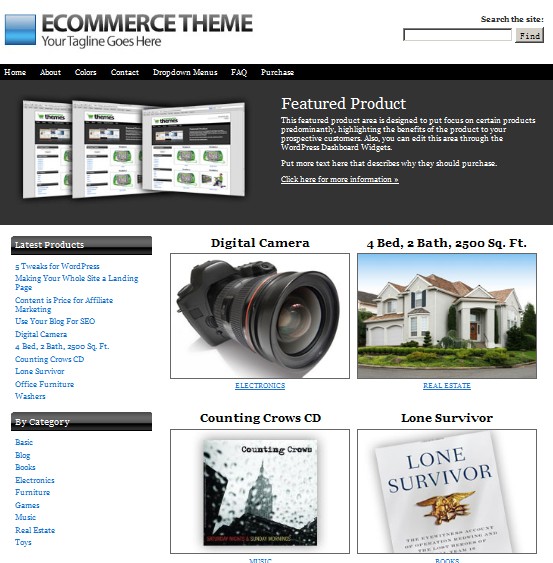 Demo / Download
This is a very popular theme enabling users to set up and manage effective ecommerce stores. The theme is search engine optimised and customisable so can be adapted to suit any home-based business niche.
ClassiPress WordPress Theme
ClassiPress is a professional theme for turning WordPress blogs into classified ads sites. The latest version of the theme features unlimited custom fields and forms, ad packages, blog option, directory-style homepage, email alerts, featured ads carousel, transaction logging and Twitter feed.