Use wordpress as CMS! Use WordPress to build your online store! It's easy to create high quality Shopping/Ecommerce websites! Try the professional Shopping/Ecommerce wordpress themes and give your websites good looks!
2010 Popular e-Commerce WordPress Themes for sales
There are many premium/free wordpress themes out there, most of them are magazine,persional blog,corporate focused wordpress themes, there are few themes focus on sales, months ago,most of us may use wordpress e-Commerce plugin to build our online stores,and the features are no enough, we need powerful,functional,good looking e-Commerce WordPress Themes!  Don't worry, you needn't to searching high quality wordpress e-Commerce themes anymore, we have collected all popular e-Commerce wordpress templates here! Check it out.
They are: templatic kidz store theme ,templatic store theme,templatic eShop theme,ithemes e-Commerce theme,shopperpress,markettheme
1 Templatic Kidz Store e-Commerce WordPress Theme
This is the latest e commerce wordpress theme from templatic,the layout looks great,right?Kidz Store is a fully functional online shop / ecommerce premium WordPress theme designed for selling children's products (clothes, toys, books etc) online.Of course you can sell other products, this cute kids store is just the default theme, you can customize it easily.Also you can use this theme for affiliates programs,you can sell CB,CJ,linkshare products to make affliate commissions. A good look will increase your sales as you know that.
2 Templatic eShop WordPress Theme
This is second e commerce wordpress theme from templatic.Best wordpress e-commerce theme so far with balanced features! An ecommerce WordPress premium theme. The eShop theme by Templatic allows you to create a fully functional ecommerce store using WordPress.Create your own online store easily in wordpress.It transforms your WordPress install into a fully functional Ecommerce store complete with backend administration. Use wordpress to easily manage your store that sells Tangible or intangible/digital goods. If you want to create a online shop, this theme is an deal one.
3 Templatic Store WordPress Themes for Sales
Another professional e commerce wordpress template for online shops. Good for sell products. If you are looking for a professional products wordpress theme for market, this is a good one, with functional e commerce features, it is easy to install and easy to use.Just try this ecommerce WordPress Theme for Products Sells!
We believe WordPress can also help you manage and run an ecommerce store.And a lot people do it.Usually, if you want to sell products use wordpress, you need to install other ecommerce plug ins,but if you use this theme, there is no need to install any wordpress ecommerce plugins.Because this is a functional ecommerce wordpress template you searching for!
PS: The templatic has big discount in March, buy 1 templatic theme and get 3 FREE, that means you can buy anyone of these ecommerce wordpress theme now,you can get these templates free and one more free! Buy 1 get 4! Save big. No templatic coupons need!
4 iThemes e commerce wordpress theme
Ecommerce has all the features an online shop could ever want, a dark background to make your product/s stand out, a top featured window for presenting your main product, a bottom row of several featured windows for possible related items and of course a sliding image for maybe your corporate logo or a range of pictures. This is a great professional WordPress theme that doesn't take the look to far.
Build Your Own Online Store easily!Using this Ecommerce Theme and the free WordPress software, you can create and manage your own ecommerce store and sell your products.Why Use Ecommerce Themes For Your Shop:Easily customizable,Search engine optimized,Manage your store online,Use your own domain name.Save time, money and hassle of building a custom ecommerce online site!# NEW! Ecommerce Plugin Styling Included – It's ready for the Ecommerce Plugin so you can manage your storefront from WP
# Easily customizable – Make it your own by tweaking the CSS stylesheet and your own images (includes 6 pre-built color styles)
PS: Use ithemes coupon code to get 10% off. The discount code for ithemes wordress themes is: MARCH2010
5 ShopperPress wordpress theme for online shops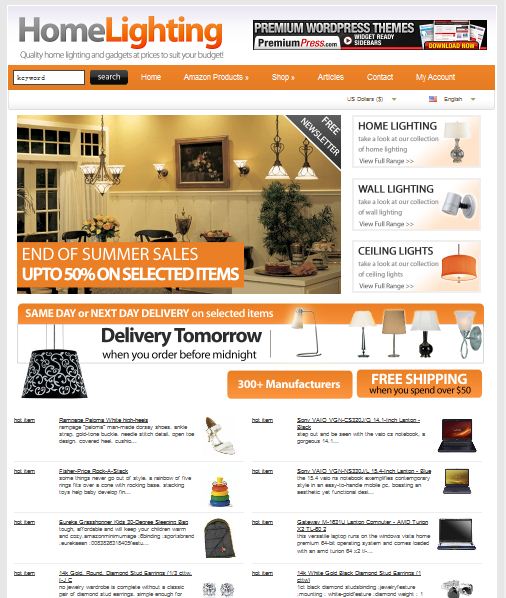 Demo / Download
Best WordPress Shopping Cart! ShopperPress is a fully featured shopping cart theme for WordPress, suitable for selling any types of products, services, and digital downloads online.This shopping cart theme is very popular among store owners who are selling home based products online.Since WordPress is free, secure, SEO friendly and supports thousands of extra plugins, its the best platform for any successfully online store.
Every purchase of ShopperPress includes over 20 quality shopping cart designs and lots of great features such as shipping options, tax, coupon codes, articles, promotions, payment gateways and lots more!
Built on top of the amazingly popular WordPress platform, ShopperPress takes the security, stability and flexibility of WordPress, combines them with features and designs of an ecommerce store front to create the most popular Shopping cart themes for WordPress. Buy it now and use shopperpress coupon code to save money!
6 Markettheme wordpress template for online stores
Demo / Download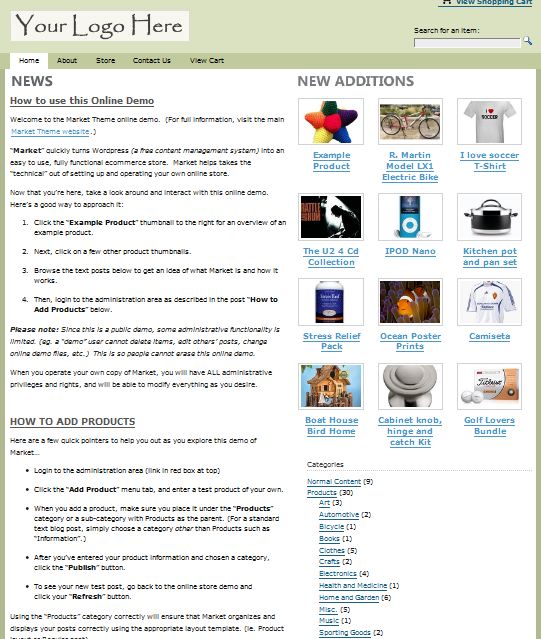 This is the last popular ecommerce wordpress themes for you.Market is the revolutionary theme that transforms any standard WordPress install into a fully functional Ecommerce store complete with backend product administration.The Market Theme works with just about any version of WordPress from 2.0 to the current 2.8.2 release. Clean permalinks will continue to work with the theme, so do not worry about SEO issues. Plus, Market is extremely easy to customize, and you are getting a theme built by someone who has released many other public themes. (It is also widget ready!)
Market is an original WordPress theme, handcrafted to look like a regular blog but act like a storefront. Use it "as-is" or edit, customize, and change it however you like.Market utilizes its very own ajax shopping cart. No need for a third-party system that requires your visitor to leave your website every time they add an item.The Market Product Manager plugin that comes included makes adding products a breeze. If you can write a post, you can add a product. The MPM makes it easy.
Don't want to use the standard blog & products split homepage? Use the included Storefront template to display a gridded product view instead.
We will update more new ecommerce wordpress themes for you as we get new ones.