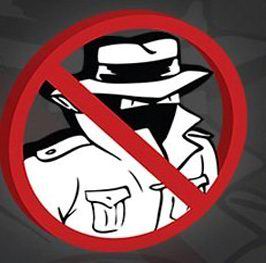 If you got spyware on your computer, you can use these two software two get rid of them.
Malwarebytes' Anti-Malware
Malwarebytes Anti-Malware is a surprisingly effective freeware antimalware tool. It's a relatively speedy malware remover, with the quick scan taking about 8 minutes even with other high-resource programs running. Malwarebytes' Anti-Malware is considered to be the next step in the detection and removal of malware.Whether you know it or not your computer is always at risk of becoming infected with viruses, worms, trojans, rootkits, dialers, spyware, and malware that are constantly evolving and becoming harder to detect and remove. Only the most sophisticated anti-malware techniques can detect and remove these malicious programs from your computer.
Download The Malwarebytes' Anti-Malware Free  version
SUPERAntiSpyware
SUPERAntiSpyware is the most thorough scanner on the market.  The Multi-Dimensional Scanning and Process Interrogation Technology will detect spyware that other products miss! SUPERAntiSpyware will remove ALL the Spyware, NOT just the easy ones!# Quick, Complete and Custom Scanning of Hard Drives, Removable Drives, Memory, Registry, Individual Folders and More! Includes Trusting Items and Excluding Folders for complete customization of scanning!Detect and Remove Spyware, Adware, Malware, Trojans, Dialers, Worms, KeyLoggers, HiJackers and many other types of threats.Repair broken Internet Connections, Desktops, Registry Editing, Task Manager and more with our unique Repair System! Spyware application often disable system components to prevent removal – SUPERAntiSpyware resets and restores these items in seconds!