Here is a wordpress Review Theme from elegantthemes. This Review wordpress Theme is an advanced Review template that allows you to transform your WordPress blog into a fully-functional ratings website. The products review wordpress theme makes rating products easy with our custom options and integrated user-review system. No other rating plugin needed. This wordpress product review theme also includes affiliate integrated and custom widgets to help you increase conversions. Yes, before the customers buy products, most of them will search the reviews, that means make a professional website and write good reviews will help the customers a lot. Also you can use your affiliate links to get some commissions.
WordPress Review Theme for products review websites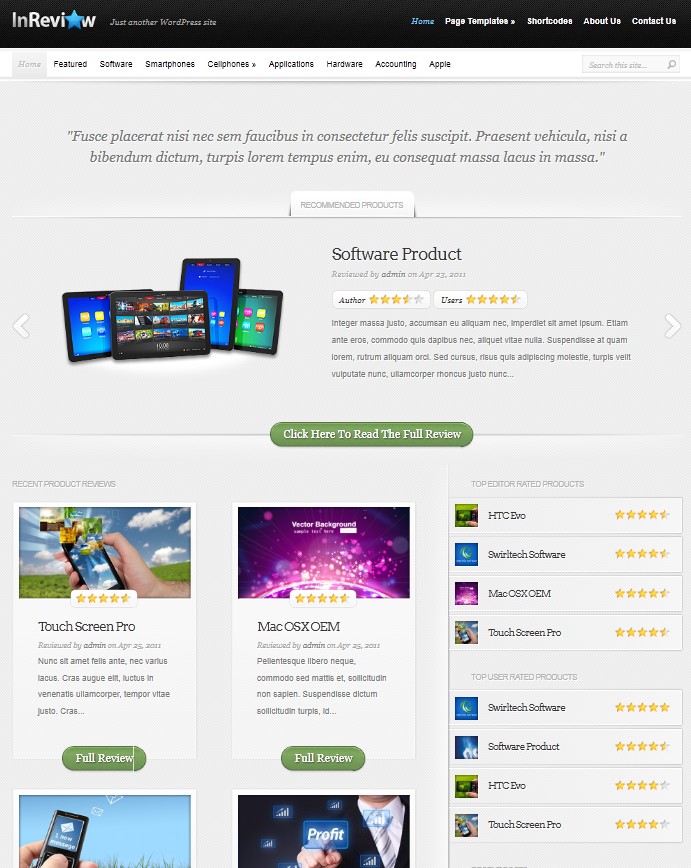 Download
Features:

optional blog-style structure
Even though InReview was created to be a CMS with a Page-Based structure, you can also run the theme like a normal blog instead.
five unique color schemes
InReview comes with five different color variations. If White isn't your style, then try switching to the Black, Blue, Green or Purple color schemes.

user rating system
Users can easily submit ratings when posting comments. These ratings are combined automatically into an overall user rating.
advertising management
With InReview you can place 125×125 banner images in your sidebar and 468×60 ads to your post pages with ease. Advertisements are handled from within wp-admin, and can be turned on and off at any time.
custom ratings widgets
We have added custom widgets to the theme that allow you to display the top rated editor and user reviewed listings.
automated thumbnail resizing
This theme utilizes timthumb to automatically resize your thumbnail images. Because of this, only one thumbnail images is required per post, despite the various thumbnail sizes used in the theme.
advanced author ratings
Easily add ratings to your posts broken into separate categories via our custom write panels.
affiliate integration
InReview allows you to easily add a call-to-action sales button to each post that leads to your affiliate URL.
Price:
WordPress review theme: $0.6 or less
(Join the theme club just for $39! And you can download all more than 60 premium wordpress themes!)
Demo / Get it now!