Woothemes has released the free ecommerce framework recently, and today they released a new premium wordpress theme which is based on that functional easy to use store framework.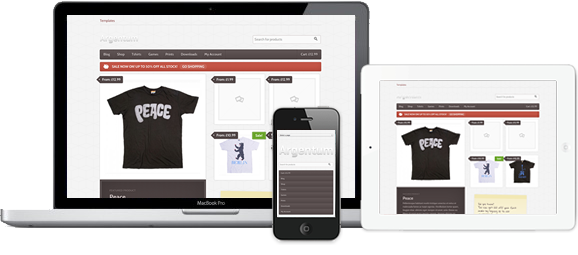 You read that right, a responsive online shop, and trust us that's harder to make then you think, yet minimally styled, with slick CSS3 goodness to allow for further customizations.
Argentum is a WooCommerce theme featuring a unique, responsive design optimized for mobile devices. It is the perfect theme for selling your catalog of products, small or large to users at their desktop computers, or on their smartphones.
Features
Responsive design
Possibly the best feature of Argentum is it's device agnostic design. That means whether you're viewing the theme on your desktop, your tablet or your smartphone, it responds and adapts delivering an optimised design for that device.

WooCommerce Goodness
As you'd expect, WooStore makes full use of all of WooCommerce features. We've painstakingly married theme and plugin to provide a seamless front-end experience. Every single one of WooCommerce widgets has been lovingly styled to match the beautiful design, as has each key component of the plugin such as the product categories, product descriptions, cart, checkout and user account sections. Read all about the benefits of WooCommerce here.

Customisability
There are several colour schemes built into Argentum ensuring there is a look to match your brand identity.
Custom Homepage
The homepage showcases your featured and recent products while providing 2 widgetised areas, and a space for your latest blog post.
Shortcodes
We've included two custom shortcodes in Argentum. A sticky note which you can use to highlight a message on your site and a sale banner to notify users when you're running special offers.
Sale template
A unique template developed specifically to showcase products which are currently on sale.
The homepage showcases your featured and recent products while providing 2 widgetised areas, and a space for your latest blog post. Argentum also comes with custom shortcodes to add a sticky note with shop information, and a sale flash banner.
As you would expect, each and every WooCommerce widget / template / shortcode has been styled to match the Argentum aesthetic and elegantly scale depending on the viewing device.
There's loads of nifty css3 enhancements such as subtle animation, drop shadows and border radiuses as well as laboriously refined typographical rules and hierarchy to match the beautiful custom typeface.
View this beauty on our demo site, make sure you scale the browser window, and view it on your iPhone, Android or iPad. Find out more about the theme's key features on the theme listing page.
Price:
Single theme: $70
Developer: $150
Demo / Download Woothemes Argentum Theme

Grab Argentum with an 11% discount coupon, valid until 13 October. Just use ARGENTUM11 as your coupon code on checkout. 🙂