Introduce you 3 pretty professional magazine style theme for blogger (blogspot), you can use these blogger magazine templates free!
These three blogger magazine layouts are coming from bloggertricks.com, who have present a lot very beautiful blogger themes. Here are 3 blogspot magazine style templates for all of you.
1 The first blogger Magazine Style xml template is "TURN OUT MAG"
this was originally a wordpress Premium theme designed by ChiQ Montes and kranthi converted it to Blogger version.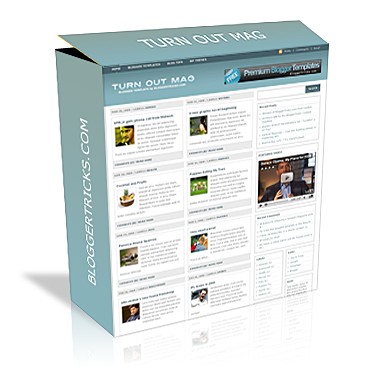 The Adsense ready SEO blogger cms magazine template comes with so many built in features including:
» Thumbnails on homepage (automatic)
» Two main columns on the Homepage (Mag style)
» Banner ad / Adsense ready
» SEO Optimized
» 468 x 60 px Banner ad on the header
» Three Columns
» Search Box
» blogger "Read More.." (automatic summarize)
» Featured Video
LIVE DEMO | DOWNLOAD Blogger Magazine Style Templates
2 The second Magazine style Blogger Template is "SchemerMag"
As usual, this is a magazine wordpress to blogger conversion,wp theme by Chiq Montes of wpthemedesigner.com and converted to Blogger by kranthi .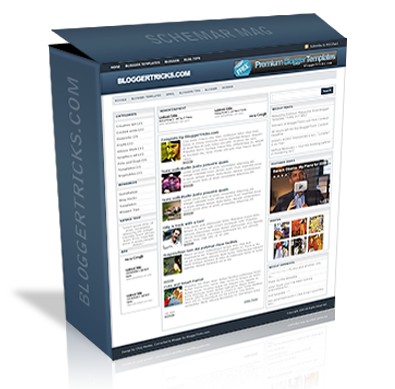 The features of this new blogger xml theme,Special Features:
» Thumbnails on articles (automatic resize)
» Google Adsense/banner ready
» 3 Columns
» SEO Optimized
» Featured video
» Read more..(automatic summarize)
(how to install this blogspot template?)
LIVE DEMO | DOWNLOAD Blogger Magazine Style Templates
3 The last free blogspot cms magazine xml template is Mind Blowing Magazine style Blogger Template "Falkner Press" , also this one kranthi's latest blogger template. I love this better than the other two magazine style blogger theme.
It's simply Mind Blowing with so many cool features including Automatic Thumbnails and Automatic Post summarize on homepage, Youtube video integration,etc.This was converted from a wordpress theme designed by CamelGraph.com.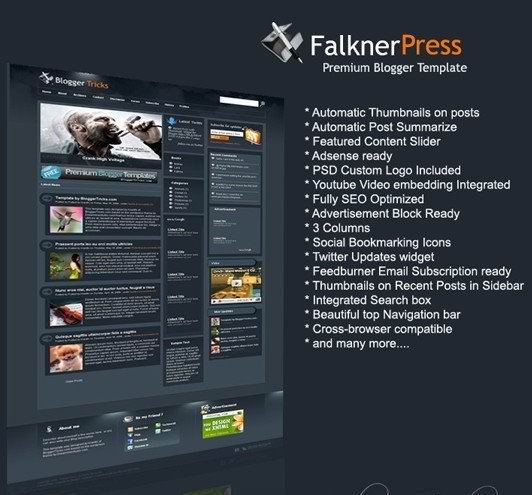 Main Features:
* Automatic Thumbnails on posts
* Automatic Post Summarize
* Advertisement Block Ready
* 3 Columns
* Social Bookmarking Icons
* Twitter Updates widget
* Featured Content Slider
* Adsense ready
* PSD Custom Logo Included
* Youtube Video embedding Integrated
* Fully SEO Optimized
* Feedburner Email Subscription ready
* Thumbnails on Recent Posts in Sidebar
you can install this theme following these steps